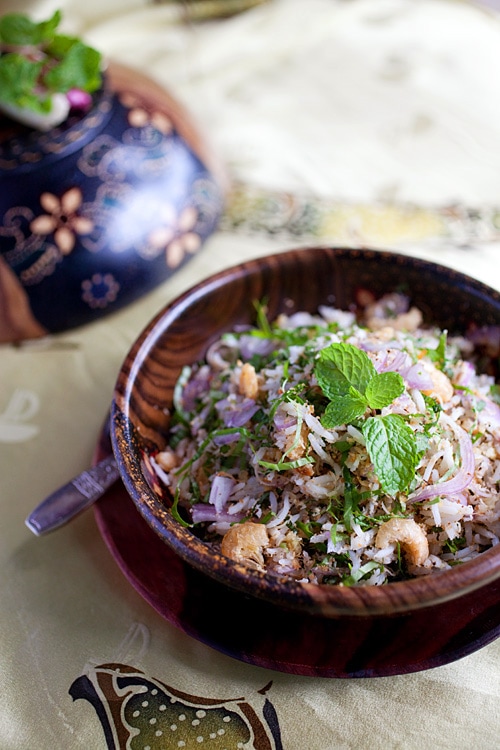 Nasi Ulam Recipe (Malaysian Mixed Herb Rice)
Prep Time: 40 minutes | Total Active Time: 50 Minutes
Ingredients:
1/3 cup dried shrimp
1/2 cup fresh or frozen shredded coconut
2 cups cooked rice, chilled
5-6 medium daun kadok (wild betel leaves), finely sliced
1/4 cup Thai basil leaves, finely sliced
1/4 cup mint leaves, finely sliced
1/4 cup daun kesom (polygonum leaves/Vietnamese mint leaves), finely sliced
3 kaffir lime leaves, finely sliced
5 shallots, peeled and thinly sliced
1 lemongrass, white part only, thinly sliced
1 teaspoon salt
1 teaspoon sugar
3 heavy dashes white pepper powder
3 heavy dashes black pepper powder
Method:
Soak the dried shrimp in warm water until softened. Coarsely pound them using a mortar and pestle. Heat up a wok and dry toast the pounded shrimp until they are dry or smell aromatic. Do not burn the dried shrimp.
Make the shredded coconut into kerisik by stir-frying them continuously in a wok, until they turn golden brown in color. Transfer to the mortar and pestle and pound until fine. Set aside.
In a big bowl, combined the cooked rice and all the herbs, shallots, toasted coconut, and dried shrimp together. Add the salt, sugar, and peppers. Toss to combine well. Serve immediately.
Cook's Note:
For nasi ulam, I prefer to use basmati rice as the rice is drier and less sticky, fluffy, and nutty in flavor compared to Thai jasmine rice. I find the texture of basmati rice the best for nasi ulam. If you use regular rice for this recipe, you might want to chill it in the fridge overnight to lose the moisture content in the rice.
Most-Pinned Recipes
Ginger Garlic Baked Chicken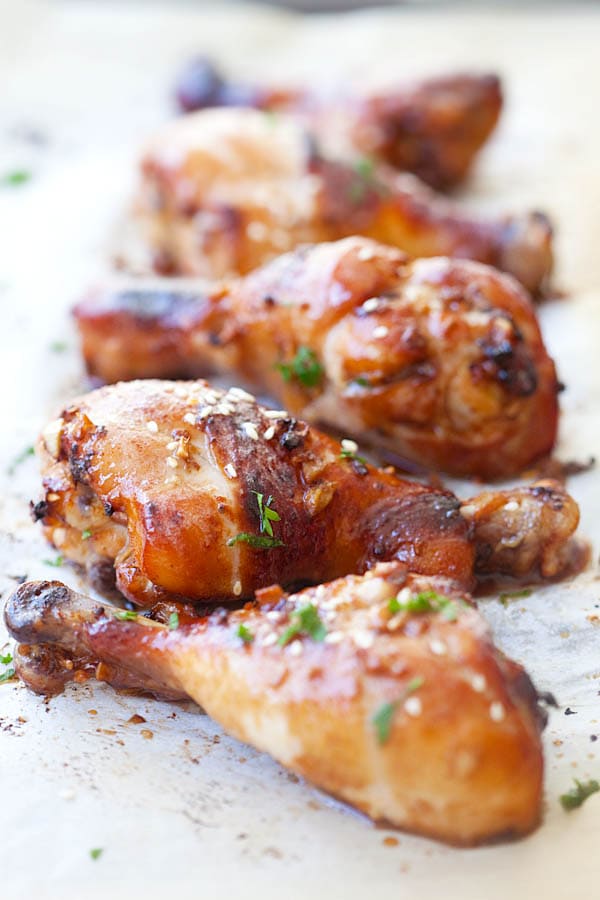 Crab Rangoon (Cream Cheese Wontons)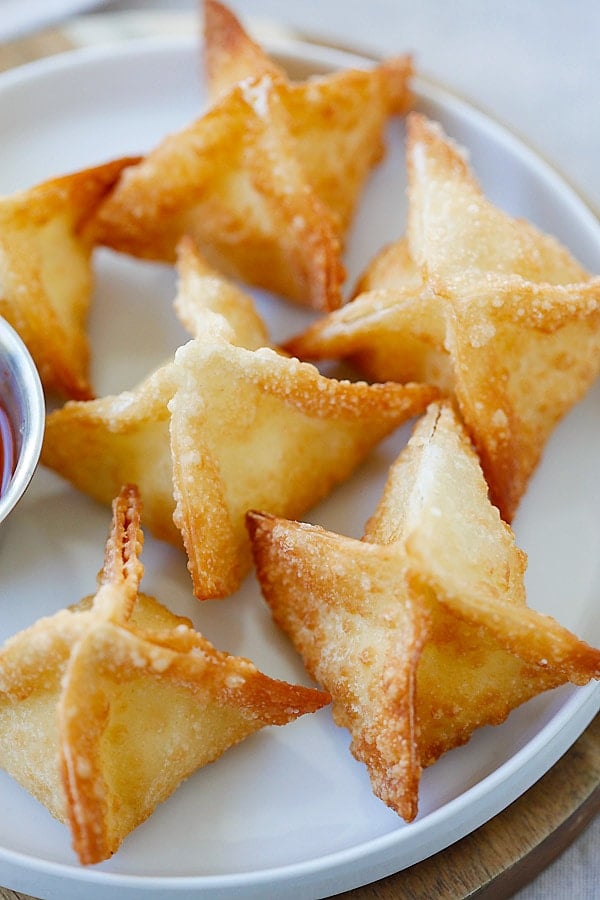 Chicken Wontons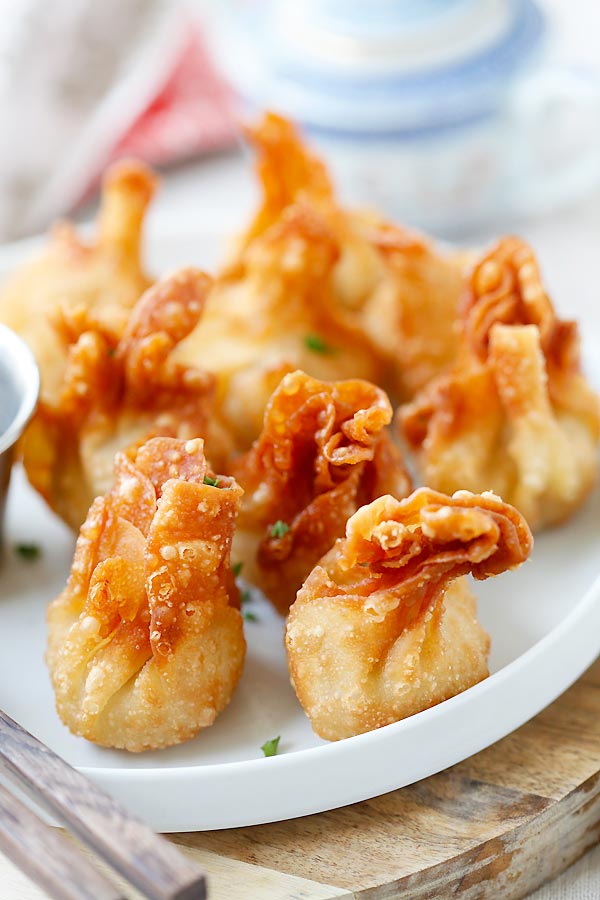 Onion Scallion Beef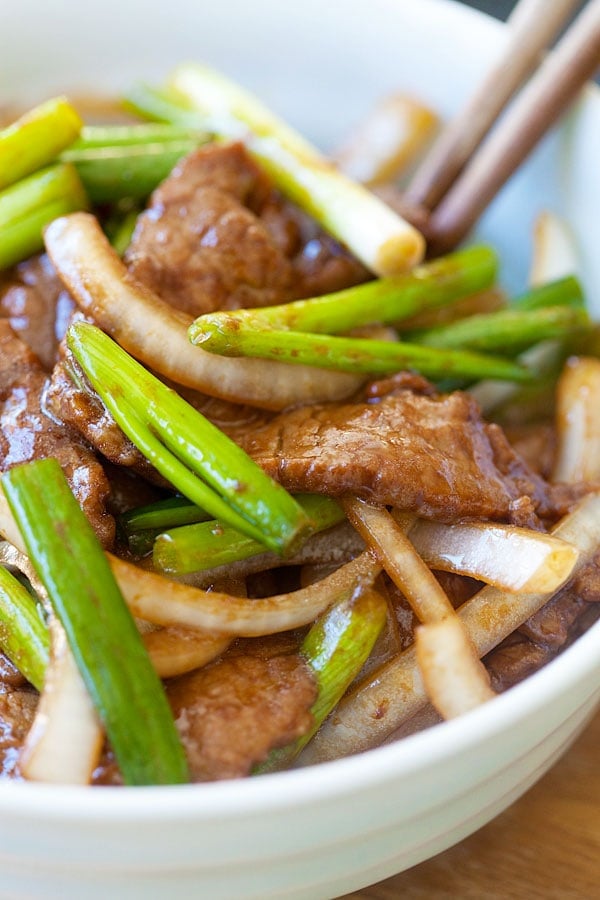 Thai Chicken Sate with Peanut Sauce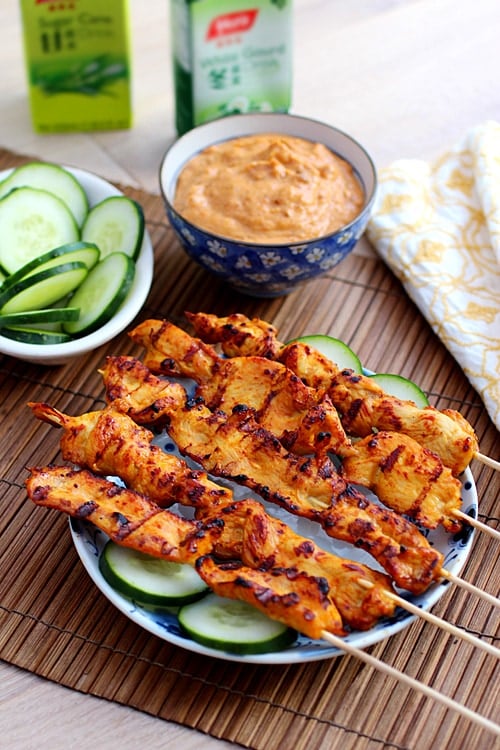 Thai Peanut Sauce