Pan Mee (Hakka Flat Noodle Soup)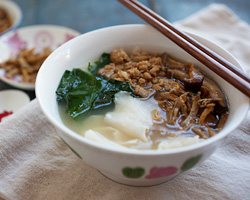 http://rasamalaysia.com/pan-mee-recipe/
Pan Mee (Hakka Flat Noodle Soup)
Click "Like" to Get New Recipes
and Updates on Facebook Daily!
Pan Mee Recipe
Serves 4 | Prep Time: 45 minutes | Cook Time: 1 1/2 hours
Ingredients:
1 cup dried anchovies, heads removed
Oil, for frying
A bunch of mani cai
Soup:
1 cup dried anchovies, heads removed
1 lb pork bones
10 cups water
3 stalks scallions, white part only
Salt to taste
Dough:
2 cups all-purpose flour
1 large egg
1/4 cup water + 2 tablespoons water
Extra flour, for dusting
Ground Pork and Mushroom Topping:
1 tablespoon oil
1 clove garlic, finely minced
4 oz ground pork
4 dried Shiitake mushrooms, soaked in warm water and stems removed, cut into strips
1 tablespoon black soy sauce
1 tablespoon soy sauce
1 teaspoon oyster sauce
1 1/2 teaspoons sugar
1/2 teaspoon sesame oil
3 heavy dashes white pepper
1/2 cup water
1 teaspoon cornstarch + 1 tablespoon water
Method:
Wash the two cups of anchovies thoroughly with water. Rinse about 5 times or until the water turns clear. Drain and set aside. Wash the pork bones thoroughly and scald them with some hot boiling water. Leave the pork bones in the water for a few minutes and then discard the cloudy water. Rinse again with cold running water to remove all impurities from the pork bones. This step ensures that the soup will be clearer once cooked. Bring the 10 cups of water to boiling point, then add 1 cup of the anchovies, pork bones, and scallions, turn the heat to medium low and slowly boil the soup for over 1 hour, or until the soup is flavorful. Add more water once the soup evaporated and season with some salt, to taste.
Prepare the dough by combining all the ingredients together in a big mixing bowl, stirring and mixing with a spoon first, then knead the dough with your hand until the dough is no longer sticky. You might add a little bit water or flour to get to the desired consistency. Cover with a damp cloth and rest for an hour.
In the meantime, prepare the Ground Pork and Mushroom Topping by firing up a wok. Add the oil and when the oil is heated, add the garlic and stir-fry until aromatic. Add the ground pork and continue to stir-fry and use the spatula to break up the lumps into smaller pieces. Add the mushrooms and stir to combine well. Season with all the seasonings and add the water. Turn the heat to low and braise for about 5 minutes or so. Add the cornstarch and water mixture to thicken up the sauce. Dish out and set aside.
Prepare the remaining anchovies by frying with some oil. Make sure the anchovies are perfectly fried until golden brown in color and crispy. Set aside the fried anchovies.
Bring a pot of water to boil while you prepare the dough. There are two ways to prepare the dough, with hand or a pasta machine. If you don't have a pasta machine, divide the dough into a few portions and flatten the dough with a rolling pin on a flat surface dusted with some flour. At this point, you can cut the dough into thicker strands of noodles using a knife to make them into broad noodles, or you can just tear the dough into pieces. The shapes will be irregular but they are perfectly fine, like the photo below. (If the dough is hand torn, this dish is called mee hoon kuih.) If you have a pasta machine, you can roll out the dough with the machine and cut to fettuccine shape. Cook the noodles in the boiling water until they float to the surface or completely cooked. Dish out using a colander.
To assemble a bowl of Pan Mee, bring some soup to boil in another sauce pan and add some mani cai into the soup. Add a dash or two of white pepper. In a serving bowl, add a portion of the noodles and then pour the soup and mani cai into the bowl. Add the ground pork and mushroom topping and the fried anchovies. Serve immediately with cut red chilies and soy sauce.
Cook's Notes:
If you can't find mani cai, you can substitute with other vegetables, for example: spinach, choy sum, or sweet potato leaves.
The dish I made above is technically called "mee hoon kuih" because the dough was hand-torn into pieces. It's called Pan Mee when the dough is made into noodles using a pasta machine. Ultimately, it's the same. I personally love the mee hoon kuih because it has better texture/mouthfeel (口感), and every mouthful is a surprise because of the irregular shapes.
Many Pan Mee hawkers sell a combination of mee hoon kuih, thick noodles, thin noodles, and some even with 3-color noodles made from vegetables juice. Please refer to this great picture illustration by Lengs Kitchen.
Click Images Below for Similar Recipes:
LOVE THE RECIPE & PHOTOS? PLEASE SHARE:
Sign Up for Email Updates
Enter your email for new updates: recipes, giveaways, and more!