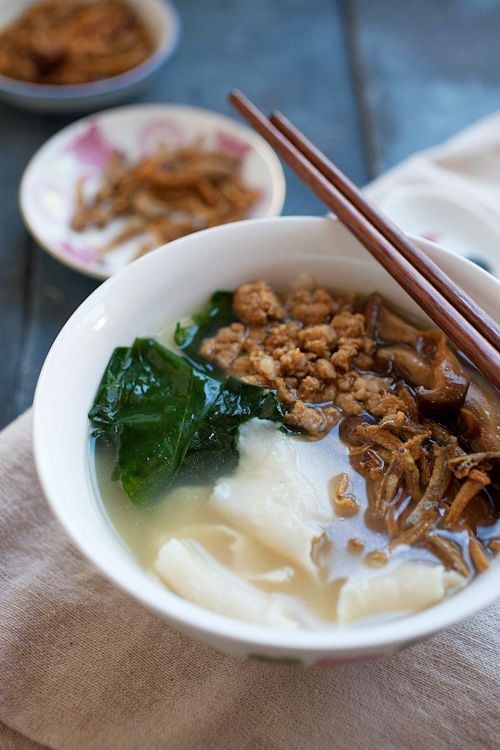 Pan Mee – Malaysian dish with hand-torn noodles in a rich anchovy broth and topped with ground pork, veggie and crispy anchovies.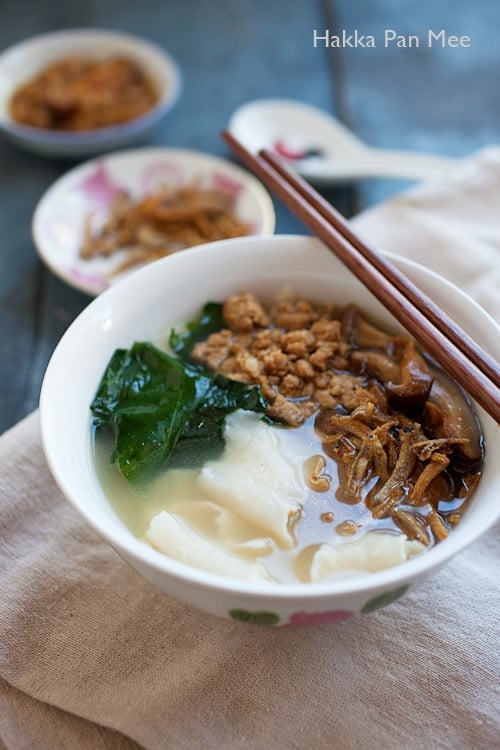 Pan Mee (板面) is a popular Hakka noodle dish in Malaysia, especially in central and southern part of Malaysia where most Hakka people reside.
Hakka Pan Mee is made with a simple flour-based dough, with anchovy broth, and topped with crispy fried anchovies, ground pork, shiitake mushrooms, and some vegetables.
Pan Mee is also known as Mee Hoon Kuih (面粉糕), which is commonly prepared at home.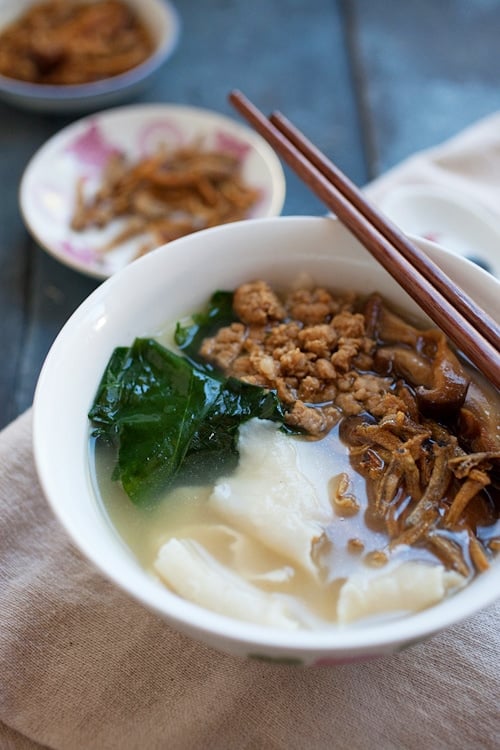 I will be honest, before I develop this Pan Mee recipe here, I have had Pan Mee once.
Yes, once, some twenty years ago while I was visiting Kuala Lumpur. While I was growing up in Penang, Pan Mee was never sold in the hawker centers or street food stalls, so it has never been in my culinary dictionary.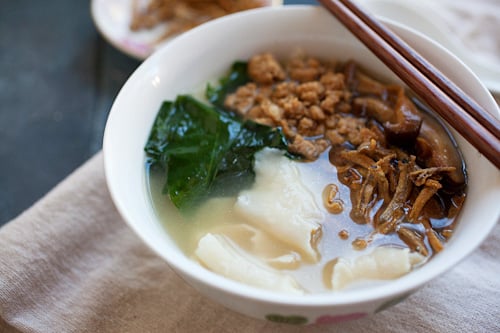 Anyway, what prompted me to develop a recipe for Pan Mee?
Well, it all started with a HUGE bunch of mani cai (马尼菜), or cekur manis/sayur manis in Malay.
Mani cai, my favorite vegetable and a key ingredient of Pan Mee, is not available in the United States.
The vegetable is not grown here and thus it's one of those things that I could never get in the US.
My friend Eddie grows his own plant, and gave me a big batch of his harvest.
I promised him I would make Pan Mee.
I reached out to my friend Anna and she taught me how to make pan mee.
It was a success and Anna, who used to live in Pan Mee paradise of KL, gave me her thumbs up.
I invited a couple friends over to my house to taste my Pan Mee and they all gave me their rave reviews.
I, for one, who have never been a fan of Pan Mee, is now a converted fan.
I finally understand why so many people love Pan Mee.
It is a Hakka comfort food in a bowl—nothing flashy or glamorous about this dish, but it is tasty and very satisfying.
If you are of Hakka descent and far away from Malaysia, I hope my Pan Mee recipe could bring the tastes of home to wherever you are.
Happy cooking!
How Many Calories per Serving?
This recipe is only 378 calories per serving.
What Dishes to Serve with This Recipe?
For a wholesome meal and easy weeknight dinner, I recommend the following recipes.
For more great recipes like this, sign up for our newsletter. We'll send daily recipes you'll love!
Join
Sign up for our newsletter!
Pan Mee (Hakka Flat Noodle Soup)
Pan Mee - Malaysian dish with hand-torn noodles in a rich anchovy broth and topped with ground pork, veggie and crispy anchovies,
Ingredients
1

cup

dried anchovies

(heads removed)

oil for frying

1

bunch mani cai
Soup:
1

cup

dried anchovies

(heads removed)

1

lb.

pork bones

10

cups

water

3

stalks scallions

(white part only)

salt to taste
Dough:
2

cups

all-purpose flour

1

large egg

1/4

cup

water

(+ 2 tablespoons water)

extra flour for dusting
Ground Pork and Mushroom Topping:
Instructions
Wash the two cups of anchovies thoroughly with water. Rinse about 5 times or until the water turns clear. Drain and set aside. Wash the pork bones thoroughly and scald them with some hot boiling water. Leave the pork bones in the water for a few minutes and then discard the cloudy water. Rinse again with cold running water to remove all impurities from the pork bones. This step ensures that the soup will be clearer once cooked.

Bring the 10 cups of water to boiling point, then add 1 cup of the anchovies, pork bones, and scallions, turn the heat to medium low and slowly boil the soup for over 1 hour, or until the soup is flavorful. Add more water once the soup evaporated and season with some salt, to taste.

Prepare the dough by combining all the ingredients together in a big mixing bowl, stirring and mixing with a spoon first, then knead the dough with your hand until the dough is no longer sticky. You might add a little bit water or flour to get to the desired consistency. Cover with a damp cloth and rest for an hour.

In the meantime, prepare the Ground Pork and Mushroom Topping by firing up a wok. Add the oil and when the oil is heated, add the garlic and stir-fry until aromatic. Add the ground pork and continue to stir-fry and use the spatula to break up the lumps into smaller pieces.

Add the mushrooms and stir to combine well. Season with all the seasonings and add the water. Turn the heat to low and braise for about 5 minutes or so. Add the cornstarch and water mixture to thicken up the sauce. Dish out and set aside.

Prepare the remaining anchovies by frying with some oil. Make sure the anchovies are perfectly fried until golden brown in color and crispy. Set aside the fried anchovies.

Bring a pot of water to boil while you prepare the dough. There are two ways to prepare the dough, with hand or a pasta machine. If you don't have a pasta machine, divide the dough into a few portions and flatten the dough with a rolling pin on a flat surface dusted with some flour.

At this point, you can cut the dough into thicker strands of noodles using a knife to make them into broad noodles, or you can just tear the dough into pieces. The shapes will be irregular, but they are perfectly fine, like the photo below. (If the dough is hand torn, this dish is called mee hoon kuih.)

If you have a pasta machine, you can roll out the dough with the machine and cut to fettuccine shape. Cook the noodles in the boiling water until they float to the surface or completely cooked. Dish out using a colander.
To assemble a bowl of Pan Mee
Bring some soup to boil in another sauce pan and add some mani cai into the soup. Add a dash or two of white pepper. In a serving bowl, add a portion of the noodles and then pour the soup and mani cai into the bowl. Add the ground pork and mushroom topping and the fried anchovies. Serve immediately with cut red chilies and soy sauce.
Notes
If you can't find mani cai, you can substitute with other vegetables, for example: spinach, choy sum, or sweet potato leaves. The dish I made above is technically called "mee hoon kuih" because the dough was hand-torn into pieces. It's called Pan Mee when the dough is made into noodles using a pasta machine. Ultimately, it's the same. I personally love the mee hoon kuih because it has better texture/mouthfeel (口感), and every mouthful is a surprise because of the irregular shapes. Many Pan Mee hawkers sell a combination of mee hoon kuih, thick noodles, thin noodles, and some even with 3-color noodles made from vegetables juice. Please refer to this great picture illustration by Lengs Kitchen.
Nutrition

Nutrition Facts

Pan Mee (Hakka Flat Noodle Soup)

Amount Per Serving (4 people)

Calories 378

Calories from Fat 108

% Daily Value*

Fat 12g18%

Cholesterol 63mg21%

Sodium 614mg27%

Carbohydrates 53g18%

Protein 14g28%

* Percent Daily Values are based on a 2000 calorie diet.

Notice: Nutrition is auto-calculated, using Spoonacular, for your convenience. Where relevant, we recommend using your own nutrition calculations.