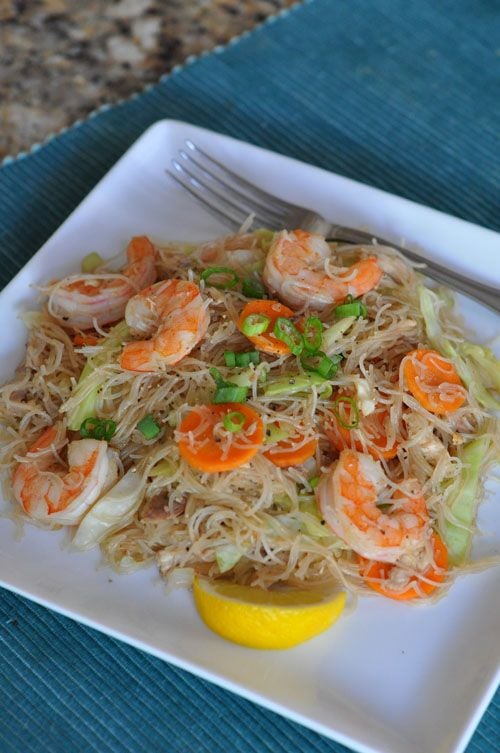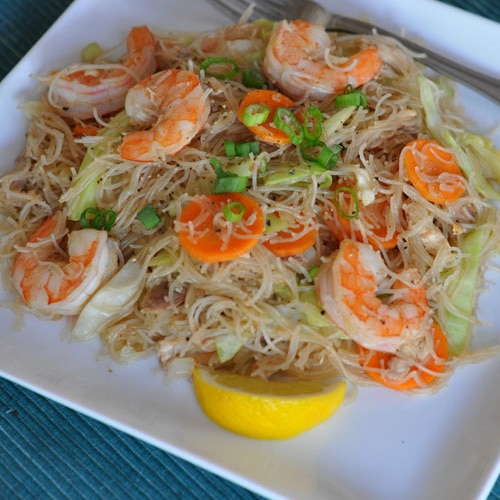 Pancit Bihon Recipe (Filipino Fried Rice Noodles)
Pancit Bihon (Filipino Fried Rice Noodles) recipe – This classic Filipino noodle dish is relatively easy to make and can be put together using simple ingredients. Consider this a basic recipe to build on.
Makes4-6
Ingredients:
8 ounces "Excellent" brand rice sticks
2-3 pieces chicken thighs or drumsticks
1 small green cabbage (shredded in 1/2 inch pieces)
2-3 medium carrots (either shredded or chopped thinly crosswise)
1 small onion (finely chopped)
2 cloves garlic (minced)
1/2 pound shrimp (shelled and deveined)
1 tablespoon canola oil
2 tablespoons dark soy sauce
1 tablespoon fish sauce (optional, add 1 tablespoon soy sauce  if not adding fish sauce)
Freshly ground black pepper
Method:
Boil chicken in 4 cups of water to make the stock. Once cooked, shred the chicken meat into thin strips. Discard the bones and set the stock aside.
Heat a large wok to medium-high heat. Add canola oil. Stir fry the garlic and onions until the onions turn clear. Be careful not to burn the garlic. Add the shredded chicken pieces and shrimp (if using). Once the shrimp turns pink, add cabbage and carrots. Lightly stir fry 2-3 minutes. Pour the mixture onto a bowl and set aside.
Pour the chicken stock into the heated wok. Once it starts boiling, turn the heat down to medium. Add rice sticks, soy sauce, and fish sauce. Boil for another 5 minutes or so until there is approximately 1/4 cup stock left. Add the meat mixture back into the wok. Lightly stir fry until all the liquid has evaporated. Add freshly ground pepper to taste.
Garnish with a lemon wedge, chopped scallions, and chili garlic oil.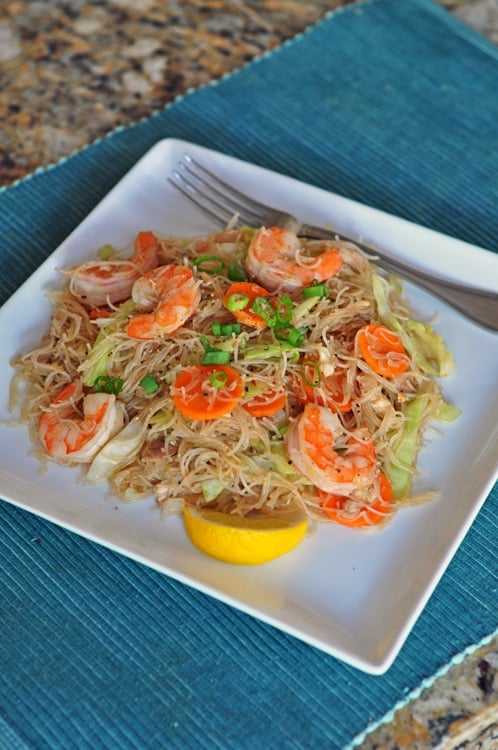 I have been so busy as of late. My sister and nephew are in town since before Christmas and every day has been fun since they got here—eating out, shopping, sightseeing, and showing them around. I haven't had much time to get online and cook, other than cooking and shooting for my cookbook (details to follow soon!). Anyway, today, I have a guest blogger Charlotte from Javafoto here with a pancit recipe. I love pancit and am so glad Charlotte—a Filipino born and raised in Manila but now lives in Portland, Oregon—came to my rescue. Please welcome Javafoto to Rasa Malaysia and let's all learn more about Filipino food, an interesting and delicious Asian cuisine that I resolve to explore further. Enjoy!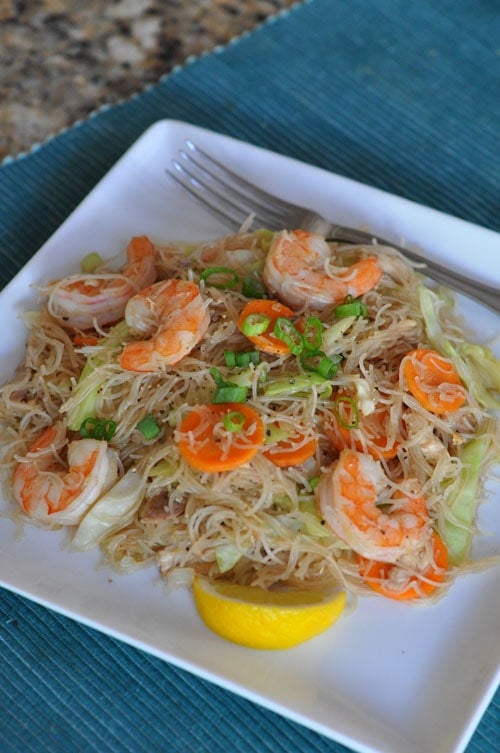 Pancit literally means noodles in Filipino, so just like other Asian cuisines there are several variations of it around the Philippines. Growing up in Manila, we always celebrated birthdays at home with some kind of pancit. "Pampahaba ng buhay (for long life)", my lola (grandmother) would say. My favorite is the pancit bihon. This classic Filipino noodle dish is relatively easy to make and can be put together using simple ingredients.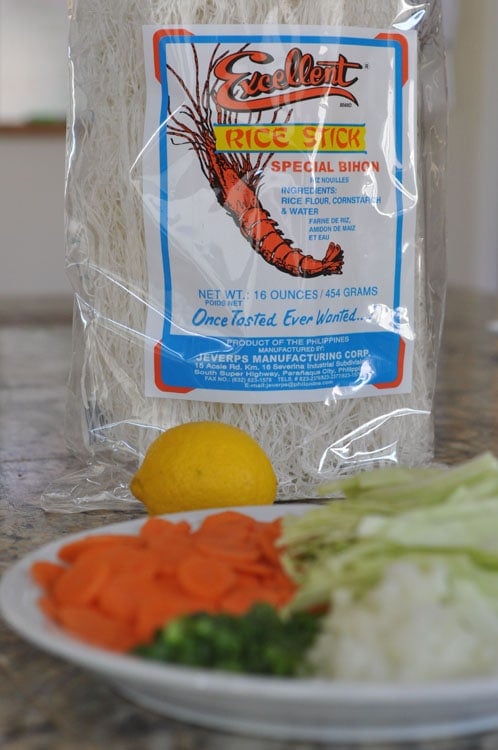 Consider this a basic recipe to build on. Some variations include the addition of Chinese sausage, chorizo, or simply vegetarian. When short on time, store-bought chicken stock will work fine. I prefer an organic stock or at least one that is minimally processed and low in sodium. This pancit recipe assumes homemade stock with no salt added. Adjust flavorings if using store-bought chicken stock.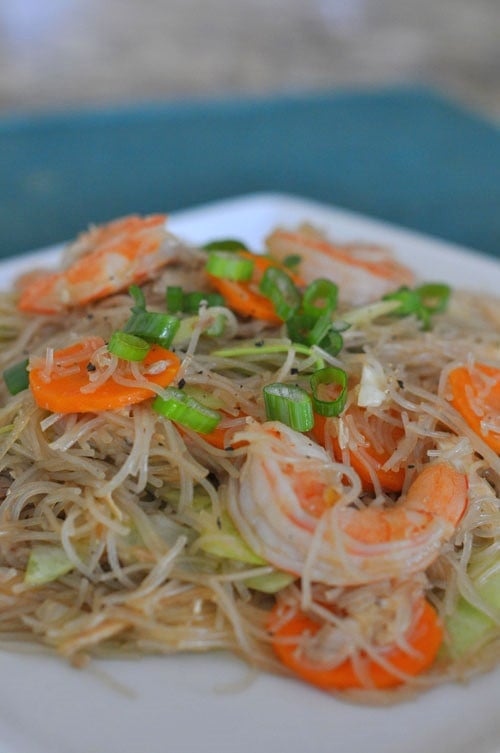 Pancit bihon goes well with lumpiang shanghai and steamed rice. Enjoy!