Longan Tong Sui Recipe (龙眼糖水)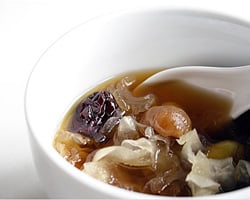 http://rasamalaysia.com/recipe-longan-dessertlongan-tong-sui/
Longan Tong Sui Recipe (龙眼糖水)
Click "Like" to Get New Recipes
and Updates on Facebook Daily!
Recipe: Longan Dessert/Longan Tong Sui (龙眼糖水)
Ingredients:
2-3 oz dried longan
6 cups water
6 dried red dates
12 ginkgo nuts
5 pieces snow fungus (soaked until soft)
Sugar to taste
You Might Also Like These Recipes Below:
LOVE THE RECIPE & PHOTOS? PLEASE SHARE:
Sign Up for Email Updates
Enter your email for new updates: recipes, giveaways, and more!