Dongzhi Tang Yuan - One of the most important recipes for the Winter Solstice Festival for the Chinese. Make it at home yourself!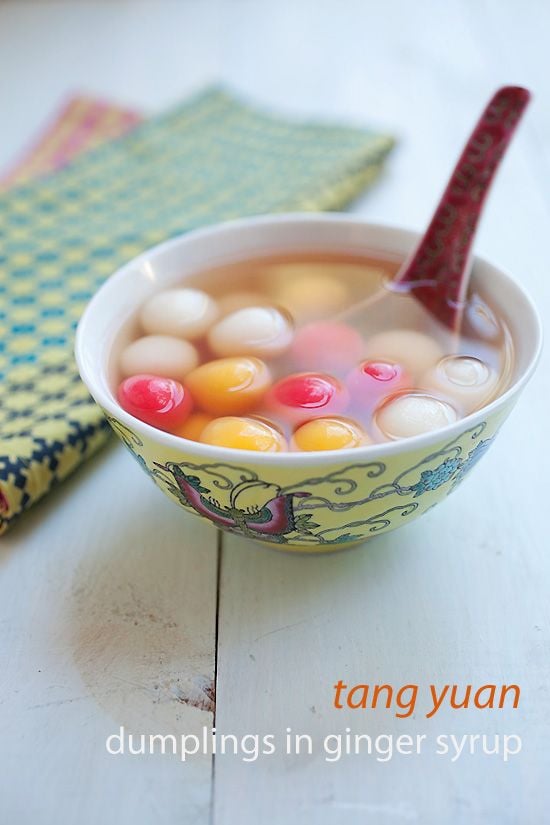 Dongzhi (冬至) or Winter Solstice festival is one of the most important celebrations for Chinese people.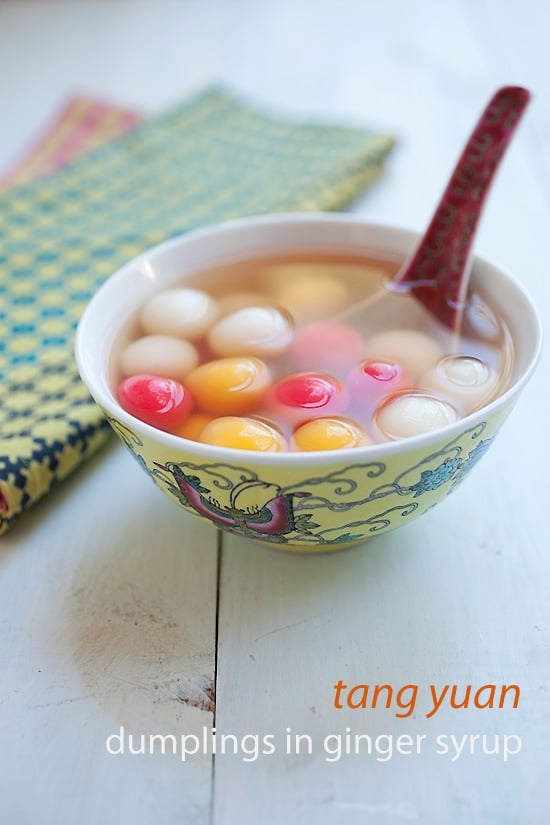 It falls on December 22 this year, which is tomorrow.
I have never written about Dongzhi festival on Rasa Malaysia, but this year, I've decided to write a post about it, sharing my family's tang yuan recipe, as a tribute to my late aunt who recently passed away.
Last December, I was home in Penang. My son and I spent three months and celebrated Dongzhi (and then Chinese New Year) with my family.
Little did I know those three months would be the last time I spent time with my aunt.
My aunt, who passed away in October, had always been the ones tasked with all the celebrations and ceremonial rituals in our family, for as long as I could remember.
She was the gate keeper for us, constantly reminded us and made sure that we observed the important festivities so ingrained in our culture.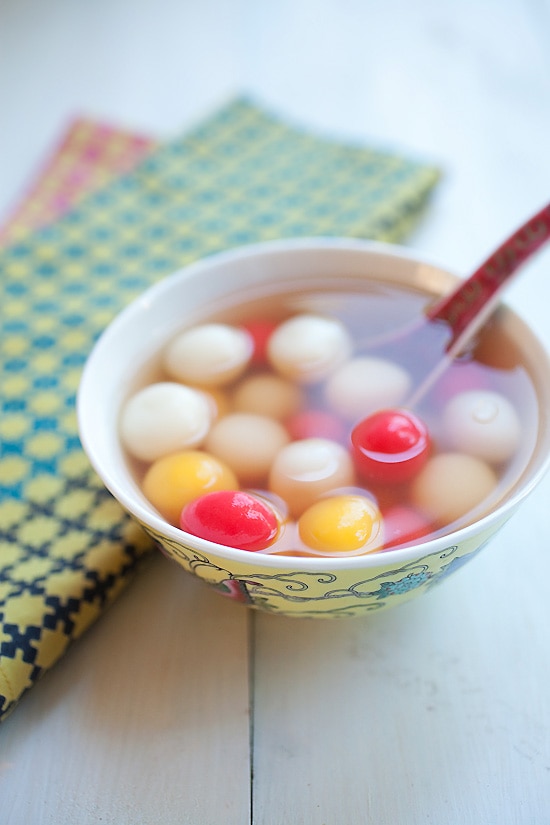 As a child, Dongzhi had always been a fun festival that I so looking forward to.
The reason is simple: I love tang yuan, or sweet dumplings served in pandan leaf and ginger infused syrup.
In my native dialect Hokkien, tang yuan is "nyee," which aptly means "round or circle."
I have countless childhood memories when all of us—my aunt and cousins—would gather around in the kitchen area, helping my aunt rolling the dough into small round balls.
As a young child, I absolutely loved and enjoyed playing with the dough balls.
My aunt would make a big batch of white dough, then she would separate it into three different portions: plain white, pink, and yellow. She would start off by adding the red color powder into the white dough to make the pink dough, and then the yellow coloring to make the yellow dough.
My cousins and I would then help to roll the dough balls into small, beautiful round balls.
My aunt was so skillful as she could roll a few tang yuan at one time, and each of them would always come out beautiful and perfectly round.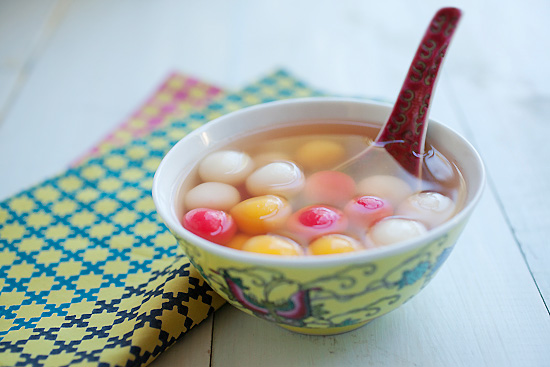 On the morning of Dongzhi, other than Tang Yuan, she would have plenty of dishes, specially made and prepared for prayers.
All the foods would be served in traditional serveware (like the bowl and spoon pictured above) and as offerings to our ancestors.
After the prayers, my big family would all gather around having a feast, savoring delicious tang yuan and the amazing array of foods prepared by her.
Year after year, for numerous times a year, she followed our rituals religiously, and keeping our rich family legacy alive…
You might also try my other sweet dumplings recipes: black sesame dumplings, red bean dumplings, peanut dumplings.
Happy Dongzhi festival!
How Many Calories per Serving?
This recipe is only 406 calories per serving.
For more great recipes like this, sign up for our newsletter. We'll send daily recipes you'll love!
Join
Sign up for our newsletter!
Dongzhi Tang Yuan (Sweet Dumplings) Recipe
Dongzhi (冬至) or Winter Solstice festival is one of the most important celebrations for Chinese.
Ingredients
Ginger Syrup
1/3

cup

sugar

1 1/2

cups

water

2-3

pandan leaves or screwpine leaves

(tie into a knot)

1

piece

ginger

(peeled and slightly pounded with a cleaver 2-inch)
Glutinous Rice Dumplings
2

cups

glutinous rice

(sticky rice flour)

7

oz.

water

red and yellow food coloring
Instructions
To prepare syrup, boil the water in a pot. Add the screwpine leaves and ginger and bring it to boil on medium heat until you smell and ginger and pandan leaves aroma. Add sugar and let it simmer for another 15 minutes minutes. Add more or reduce the sugar, to taste. Set aside.

In a big bowl, mix glutinous flour with water and knead with hands to form a dough. The dough is done when it doesn't stick to your hands anymore.

Divide the dough into 3 portions, with the plain dough the biggest portion. Add 2-3 drops of each food coloring to make the pink and yellow dough.

Pinch the dough into small balls and roll them in between your palms into round balls. Set aside on a flat surface lined with paper or a slightly damp cloth.

Boil another pot of water, drop the dumplings into the boiling water. As soon as they float, transfer them into the syrup water. Serve immediately.
Notes
Adjust the water level to the flour. Add more water if the dough is too dry. Add more flour if it's too wet.
Nutrition

Nutrition Facts

Dongzhi Tang Yuan (Sweet Dumplings) Recipe

Amount Per Serving (4 people)

Calories 406

% Daily Value*

Sodium 13mg1%

Carbohydrates 92g31%

Protein 6g12%

* Percent Daily Values are based on a 2000 calorie diet.

Notice: Nutrition is auto-calculated, using Spoonacular, for your convenience. Where relevant, we recommend using your own nutrition calculations.