Peanut Dumplings. - Served in a ginger syrup, these dumplings are perfect as a dessert for Chinese New Year dinner.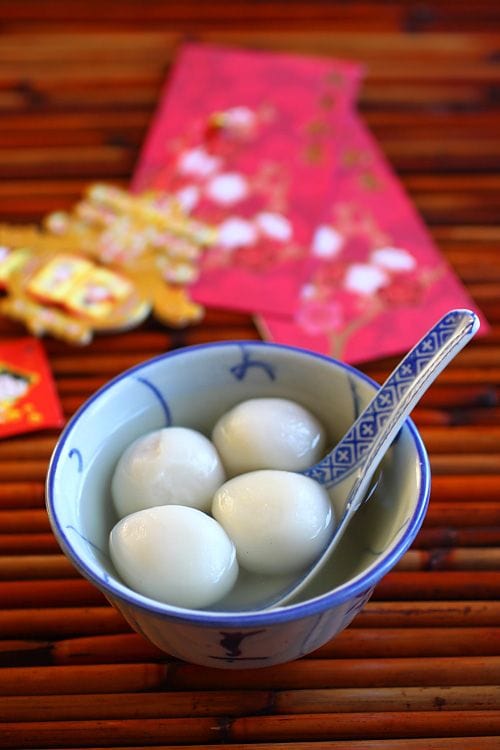 Soft Chinese mochi dumpling with sweet peanuts fillings, usually served as a dessert. Try this easy Chinese peanut dumplings(Tang Yuan) dessert recipe now!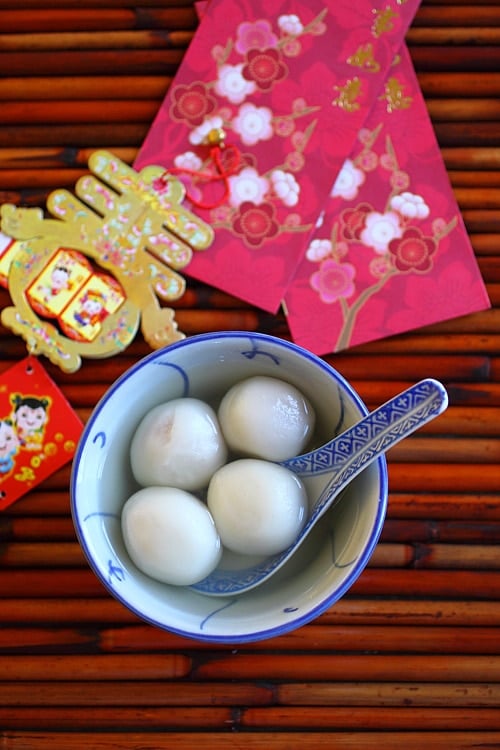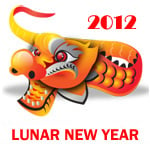 I hope you have had a lot of fun following my Lunar New Year series.
To close this festive celebration on a sweet note, here is the much-loved and popular peanut dumplings (花生汤圆) recipe, served in a ginger syrup.
If you remember, I posted the popular black sesame dumpling recipe a few years ago (which caused quite a big stir not too long ago) and these peanut dumplings recipe is high on the requested recipe list.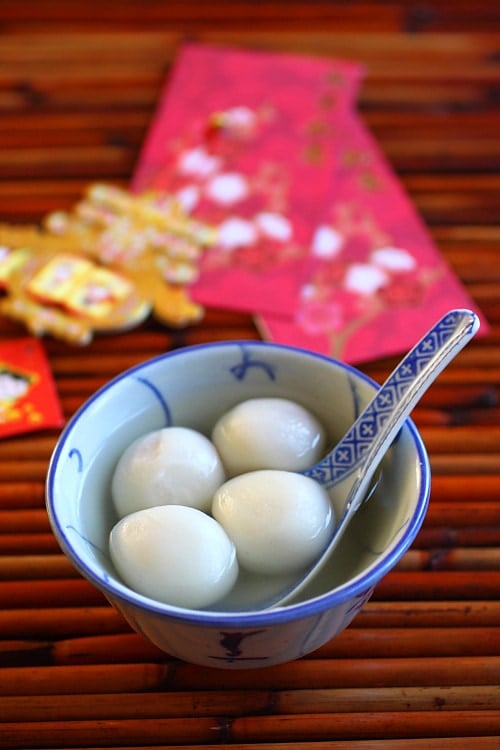 Anyway, Chinese New Year celebration is incomplete without a serving of sweet dessert, for example: Longan Tong Sui Dessert, which was my late mother's favorite.
Peanut dumplings are just perfect as a dessert for Chinese New Year dinner, or as an offering to guests who come to visit during the celebration.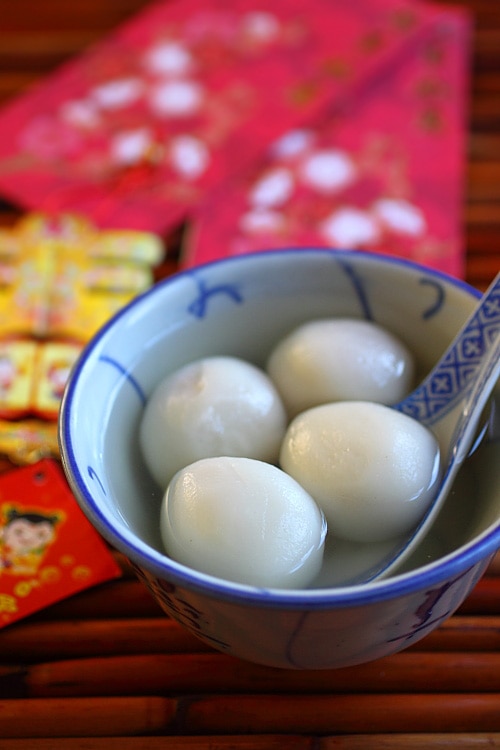 I wanted to wish you all happy dragon year and that the new year brings you abundance of joy, great health and prosperity.
Gong Xi Fa Cai!
How Many Calories per Serving?
This recipe is only 111 calories per serving.
5 Secrets to 20 Min Dinners
Get tricks for quick & easy meals!
Yield: 24 dumplings
Peanut Dumplings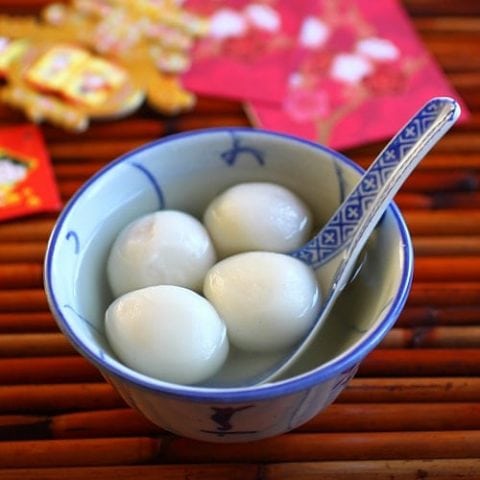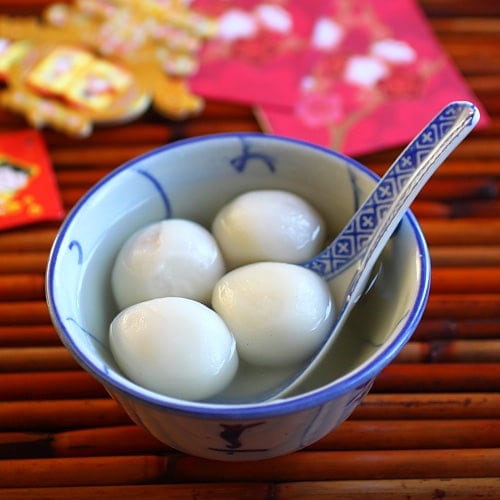 Peanut Dumplings Recipe | Easy Asian Recipes.
Ingredients
8 oz. (236 g) glutinous rice, sticky rice flour
180 ml (3/4 cup) water
Filling:
3 oz. (85 g) ground peanuts
3 1/2 tablespoons fine sugar
3 1/2 tablespoons peanut butter
Ginger Syrup (姜茶):
5 cups water, reduced to 4 cups after boiling
1 cup sugar
4 oz. (115 g) old ginger, skin peeled and then lightly pounded with the flat side of a cleaver
2 screwpine leaves or pandan leaves, tie them into a knot, optional
Instructions
Mix all the ingredients of the Filling in another bowl until well-combined and that it can be easily shape into a ball. Add a little more peanut butter if your Filling is dry. Divide into 24 balls.
In a big bowl, mix the glutinous rice flour with the water until it forms a smooth paste and no longer sticks to your hands. Divide it equally into 24 balls. Flatten each ball in your palm, and then place the Filling in the middle of the flatten ball. Fold the edge to seal the dumpling. Lightly roll it into a ball shape using both palms, very gently and delicately. Make sure the peanut balls are completely wrapped by the dough. Set aside.
Prepare the ginger syrup by boiling the water. Add the ginger and screwpine/pandan leaves (optional) into the water and boil for 10-15 minutes with medium heat. Add sugar and boil for another 5 minutes. Lower heat to simmer and reduce to about 4 cups of water. Add more sugar to taste if you like.
Heat up another pot of boiling water. Drop the dumplings into the hot boiling water. As soon as they float to the top, transfer them out and into the ginger syrup. Turn off heat and serve the peanut dumplings in a bowl immediately.
Nutrition Information
Yield
24
Serving Size
24 dumplings
Amount Per Serving
Calories

111
Total Fat

3g
Unsaturated Fat

0g
Sodium

15mg
Carbohydrates

19g
Sugar

10g
Protein

2g