4.7
16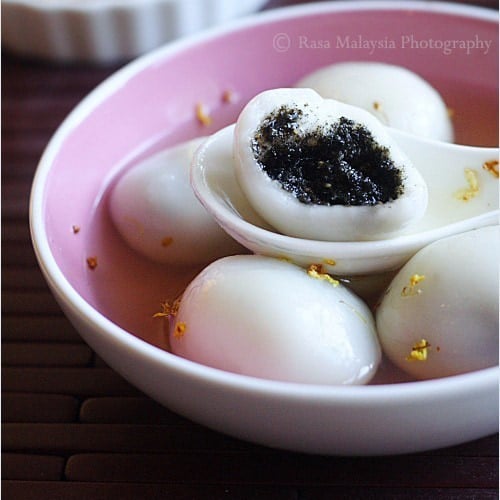 Black Sesame Dumplings (Tang Yuan)
Black sesame dumplings (tang yuan) and black sesame dumplings (tang yuan) recipe. This recipe makes sweet dumplings with black sesame paste, with ginger syrup.

Ingredients:
8 oz. glutinous rice (sticky rice) flour
180 ml water (3/4 cup water)
1/4 cup black sesame seeds
1/4 cup sugar
1/2 stick unsalted butter (1/4 cup or 4 tablespoons)
Ginger Syrup (姜茶):
5 cups water (reduced to 4 cups after boiling)
1 cup sugar
4 oz. old ginger (skin peeled and then lightly pounded with the flat side of a cleaver)
1/2 teaspoon sweet osmanthus (optional)
2 screwpine leaves or pandan leaves (tie them into a knot, optional)

Method:
Lightly toast the black sesame seeds over medium fire until you smell the aroma of the black sesame seeds. Please take note that the sesame seeds will start popping when they are heated, so use your lid to cover. Don't burn the black sesame seeds; transfer them out and let cool as soon as they smell aromatic.Use a mini food processor to grind the black sesame seeds until they become fine. Transfer the ground black sesame into a wok, add sugar and butter and stir well to form a thick paste. If they are too dry, add more butter. Dish out and let cool in the fridge. (This will make the filling easier.)
In a big bowl, mix the glutinous rice flour with water until it forms a smooth paste and no longer sticks to your hands. Divide it equally into 16-20 balls (depends how you like the size, the bigger the size, the easier it is to do the filling). Flatten each ball in your palm, and then use a pair of chopsticks to pick up some black sesame paste and lay it in the middle of the flatten ball. Fold the edge to seal the dumpling. Lightly roll it into a ball shape using both palms, very gently and delicately. Set aside.
Prepare the ginger syrup by boiling the water. Add the ginger and screwpine/pandan leaves (optional) into the water and boil for 10-15 minutes with medium heat. Add sugar and sweet osmanthus and boil for another 5 minutes. Lower heat to simmer and reduce to about 4 cups of water. Add more sugar to taste if you like.
Heat up another pot of boiling water. Drop the dumplings into the hot boiling water. As soon as they float to the top, transfer them out and into the ginger syrup. Turn off heat and serve the black sesame dumplings in a bowl immediately.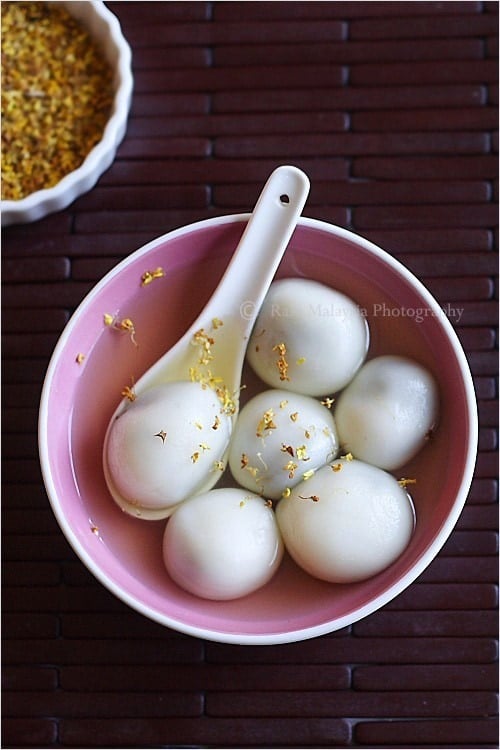 Black Sesame Dumplings
Black Sesame Dumplings (Tang Yuan) – This recipe calls for a perfect dessert with sweet black sesame paste dumplings served in ginger syrup.
I don't have much of a sweet tooth, except for a few desserts. One of the Chinese desserts I absolutely love is tang yuan (汤圆) or sweet dumplings filled with black sesame paste or ground peanuts. I am especially partial to black sesame dumplings or 芝蔴汤圆. They are absolutely decadent, with intensely flavorful, sinful rich, and aromatic black sesame filling oozing out of the dumplings, as pictured above.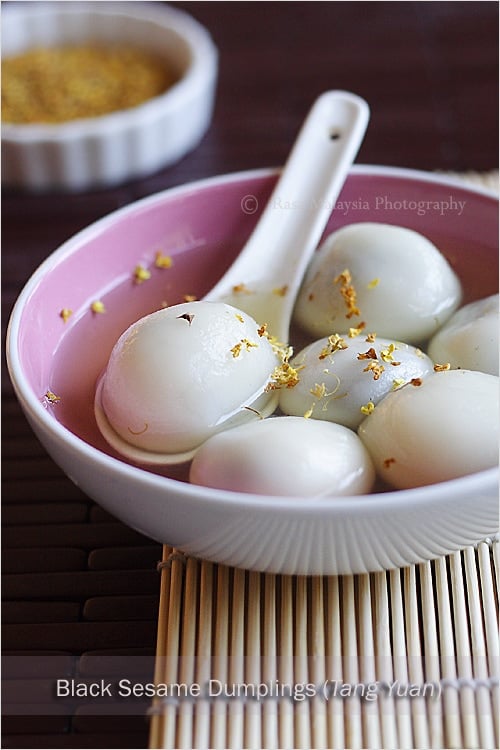 Black sesame dumplings can be served with plain hot water or with ginger syrup (姜茶). Either way works fine for me, but during colder days, nothing feels quite as invigorating as having a bowl of black sesame dumplings steeped in ginger syrup. Ginger has many health benefits and warms up a cold body like no other…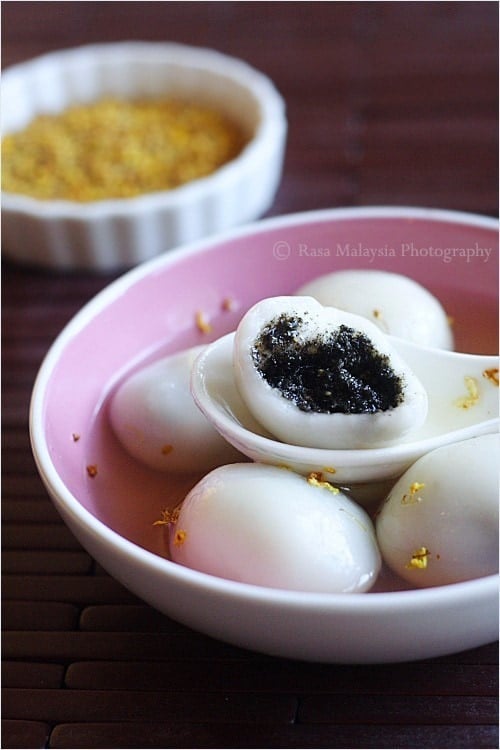 I used both screwpine "pandan" leaves and dried sweet osmanthus (桂花) for my black sesame dumplings. They impart very subtle and delicate fragrances into the ginger syrup and smell wonderful!
Here is my black sesame dumplings recipe. I will warn you that it takes some patience to make them, but the end results will be well-worth the efforts.
AVG RATING

Based on 7 Review(s)5
SUBSCRIBE TO RASA MALAYSIA NEWSLETTER AND GET EASY AND DELICIOUS RECIPES DELIVERED TO YOUR INBOX. If you try my recipe, please use hashtag #rasamalaysia on social media so I can see your creations! Follow me on Facebook | Instagram | Pinterest | Twitter for new recipes, giveaways and more.