Shrimp with Curry Leaves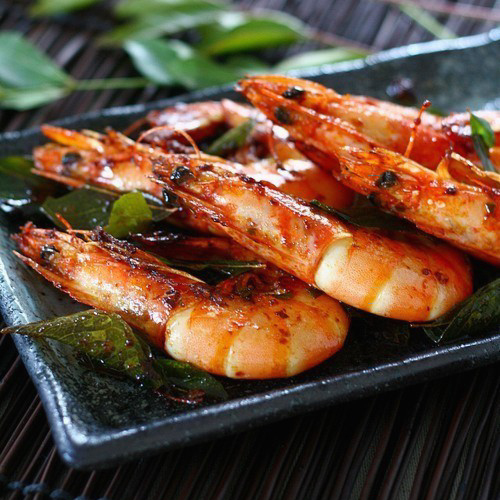 http://rasamalaysia.com/shrimp-with-curry-leaves/
It is not easy to come by fresh curry leaves here in Orange County. So whenever they are available at the local Indian grocery store, I rarely let the opportunity to whip up something spicy slip by, especially during the winter months. The curry leaf is one of the many Indian influences that blends really well into Malaysian cuisine, which is exotic and predominantly spicy. The leaves impart an unmistakable fragrance when used in any cooking, especially stir-fries, that I can best describe as smoky with a citrusy note. Ironically, unlike its namesake implies, the curry leaf doesn't smell or taste like curry powder, although it is used to enhance the flavor of many curry dishes.
Growing up on an island where jumping fresh seafood is abundantly available has nurtured my deep affinity for seafood as my ingredient of choice. And one of the scents that evokes fond memories of my childhood is the distinct aroma of curry leaves coupled with the briny-sweet aroma of fresh shrimp wafting from my mother's kitchen whenever she prepared her pièce de résistance—"Shrimp with Curry Leaves". This dish is one of the truly "old school" seafood with curry leaves favorites before the advent of new creations such as Butter Prawn, Black Pepper Crab, or Creamy Butter Crab.
To fully savor the intense flavor of spices in this shrimp with curry leaves recipe, you have to lick the sauce coated on the shrimp shell as you take a bite of the shrimp, so be prepared to get your fingers "dirty."
Sign Up for Email Updates
Enter your email for new updates: recipes, giveaways, and more!