Spicy Chicken with Cashew Nuts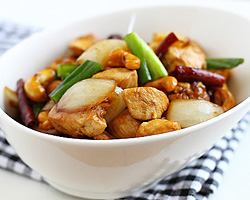 http://rasamalaysia.com/spicy-chicken-with-cashew-nuts/
Spicy Chicken with Cashew Nuts
I love Thai food. Come to think about it, a lot of Thai recipes that I like are basically Chinese in origin, with local influences, which add an exciting layer of taste structure to the originals. There are many examples: Rad Na, Pad See Ew, and in this case, chicken with cashew nuts. In Chinese cuisine, these dishes are prepared the Chinese way, but the Thai versions are flavored with fish sauce or other local seasoning sauces, spices (yes!), and slightly varied ingredients. The end results are always delicious, sometimes more so than the Chinese equivalents. I always appreciate the local touch, which make good recipes even better…
This Spicy Chicken with Cashew Nuts is adapted from my favorite Thai cookbook "Thai Cooking Made Easy." This variation of cashew chicken is also popular in Malaysia. In fact, it's one of my favorite chicken dishes whenever I eat out at local hot stir-fries stalls. To me, it's the local interpretation of Chinese cashew chicken and Kung Pao Chicken.
If you love cashew nuts and like your chicken spicy, this is a great recipe to try out.
Click Images Below for Similar Recipes:
LOVE THE RECIPE & PHOTOS? PLEASE SHARE:
Sign Up for Email Updates
Enter your email for new updates: recipes, giveaways, and more!