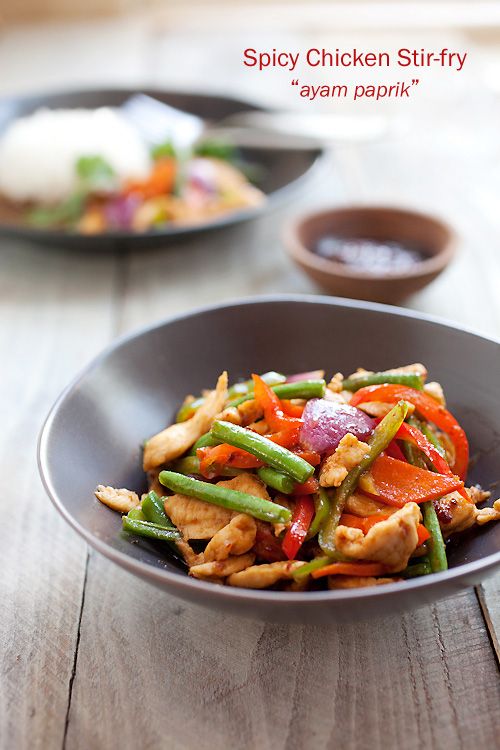 Spicy Chicken Stir-Fry – this is my spicy chicken stir-fry recipe, or ayam paprik, a very popular and well-loved dish in Malaysia. Enjoy!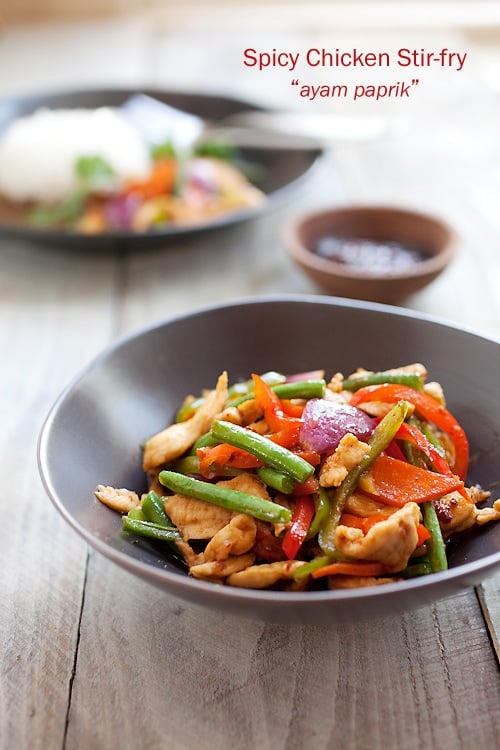 My college years in Kuala Lumpur (commonly known as "KL"), right after my high school and A-levels in Penang were one of the best times of my life.
It was during those years in KL that I met Mr. Rasa Malaysia, and formed precious and lasting friendships with some of my best friends.
Lots of beautiful memories, laughter, admirers (yep, I had lots of admirers in the college back then), and scrumptious foods.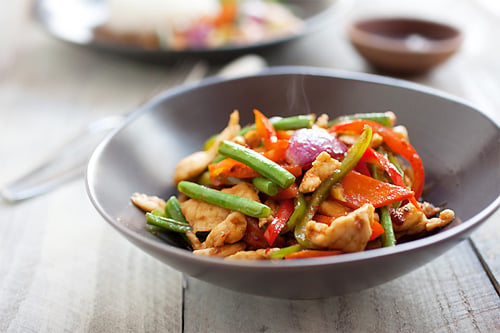 At least once a week, after the tedious and boring lectures at the college, Mr. Rasa Malaysia and our best friends would descend to the Malay warung (Malay food stall) right outside of our college.
We would always order our favorite ayam paprik—a mouthwatering spicy chicken stir-fry, tom yum, and telur dadar (omelet), to go with the warm and fluffy steamed rice.
It was then that I fell in love with Malay cooking, or in this case, Thai-style Malay food.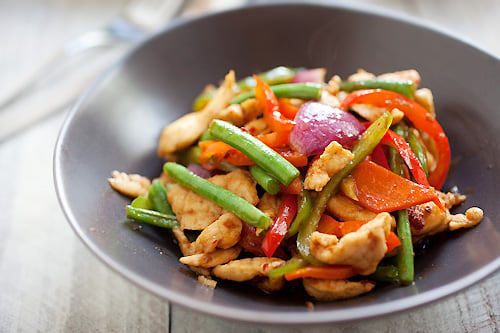 There are many Malay warung dotting the streets of Malaysia—a simple set up with gas stoves, fresh ingredients, and 2-3 people manning the stall.
These Malay warung make everything fresh, or on orders placed by patrons.
The menu ranges from nasi goreng (fried rice), tom yum (Thai hot and sour shrimp soup), to various rice plates.
One of the most popular rice plates is probably nasi paprik, a rice plate with a serving of ayam paprik or spicy chicken stir-fry.
The dishes served at these Malay warung are not "pure" Malay food, but Thai-influenced Malay food.
Many of the cooks learned their recipes from northern Malaysia, close to the borders of southern Thailand.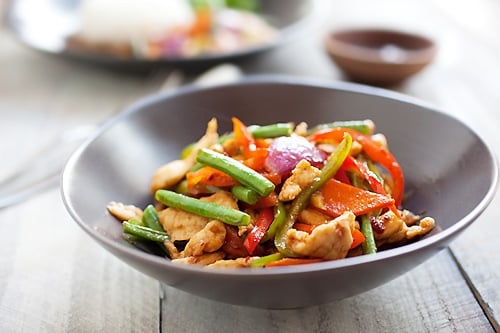 Here is my ayam paprik recipe. The word paprik is derived from Thai words "Pad Prik."
I asked my friend She Simmers who is a Thai linguist/food blogger and she told me that "pad" means "fry" and "prik" means "chili."
So this is my spicy chicken stir-fry recipe, or ayam paprik, a very popular and well-loved dish in Malaysia.
Enjoy!
How Many Calories per Serving?
This recipe is only 321 calories per serving.
What Dishes to Serve with This Recipe?
For a wholesome meal and easy weeknight dinner, I recommend the following recipes.
5 Secrets to 20 Min Dinners
Get tricks for quick & easy meals!
Yield: 2 people
Spicy Chicken Stir-Fry (Ayam Paprik)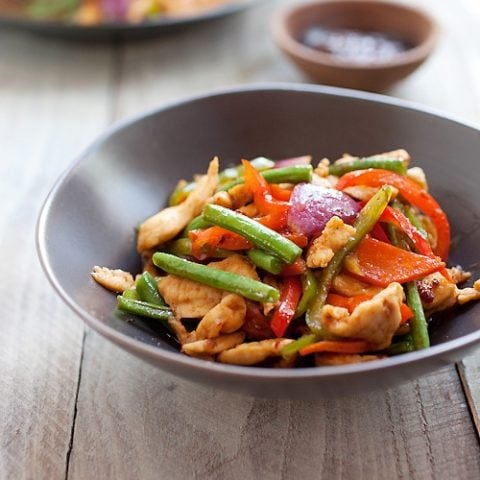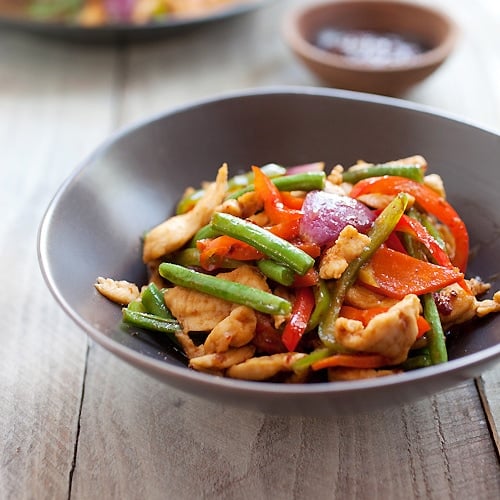 Spicy Chicken Stir-Fry – this is my spicy chicken stir-fry recipe, or ayam paprik, a very popular and well-loved dish in Malaysia. Enjoy!
Ingredients
2 tablespoons oil
2 garlic, minced
2 tablespoons Thai roasted chili paste, nam prik phao
8 oz. (226 g) chicken breast, sliced into thin pieces
1/4 onion, cut into pieces
2 oz. (56 g) green beans, tips removed and cut into 2-inch strips
1/2 small carrot, peeled and sliced
1/4 green bell pepper, capsicum, deseeded and thinly sliced
1/4 red bell pepper or 1 red chili, deseeded and thinly sliced
chilies, lightly pounded, optional
1 1/2 teaspoons sweet soy sauce, kecap manis
1 1/2 teaspoons fish sauce
Instructions
Heat up a wok on high heat and add the oil. Add the garlic into the wok and stir-fry until aromatic, follow by the Thai roasted chili paste or nam prik pao. Add the chicken and quickly stir fry, until the chicken is half cooked. Add the onion, green beans, carrot, green and red bell peppers, bird's eye chilies and stir to combine well with the chicken. Add the sweet soy sauce and fish sauce, stir to blend well. (If you want your chicken to be a little saucy, you can add two tablespoons of water now.) As soon as the chicken and all ingredients are cooked through, dish out and serve immediately with steamed rice.
Notes
Thai roasted chili paste or nam prik pao is a key ingredient in Thai cooking. You can purchase bottled nam prik pao from Asian supermarkets, Southeast Asian (Thai & Vietnamese) food stores, or online here. To make it from scratch, you can follow SheSimmer's recipe here. There are many variations of this recipe...you can use cauliflower or broccoli instead of green beans, you can also add fresh or canned young corns. The essence of the dish is in the sauce, not the vegetables used. This recipe is the version I like best.
Nutrition Information
Yield
2
Serving Size
2 people
Amount Per Serving
Calories

321
Total Fat

17g
Saturated Fat

12g
Unsaturated Fat

0g
Cholesterol

73mg
Sodium

584mg
Carbohydrates

17g
Fiber

2g
Sugar

8g
Protein

26g