Three-Cup Squid (三杯小卷)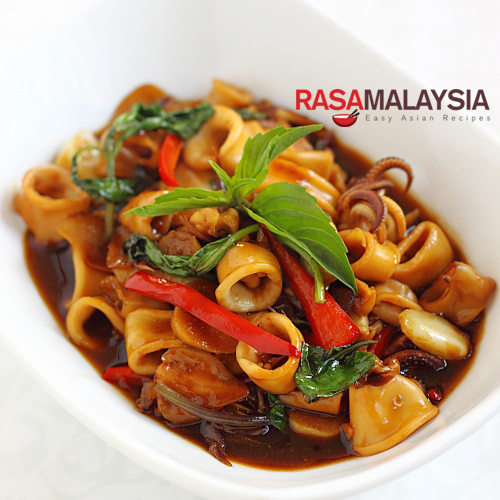 http://rasamalaysia.com/three-cup-squid-recipe/
I love squid but I hate cooking squid. There is just too much work when it comes to squid—peeling off the membrane, removing the ink, and so forth. I had so many "accidents" when the squid ink squirted all over my clothes and face, and it really wasn't pleasant, and I would smell like a squid no matter how hard I cleaned off the stain. So, as much as I love squid, I hardly make it at home, unless I really have a serious craving for it.
After the confinement, I have been on a binge of eating seafood, so I bought some squid, took the time to clean them (no accident this time!) and made three-cup squid, or 三杯小卷, a popular Taiwanese recipe that I love. (Check out my three-cup chicken recipe.)
The three-cup squid was fabulous, and I think I really should be making more squid dishes at home. ;)
Sign Up for Email Updates
Enter your email for new updates: recipes, giveaways, and more!