Squid with Black Bean Sauce - squid, red bell peppers, ginger, scallion, black beans, soy sauce, chicken broth.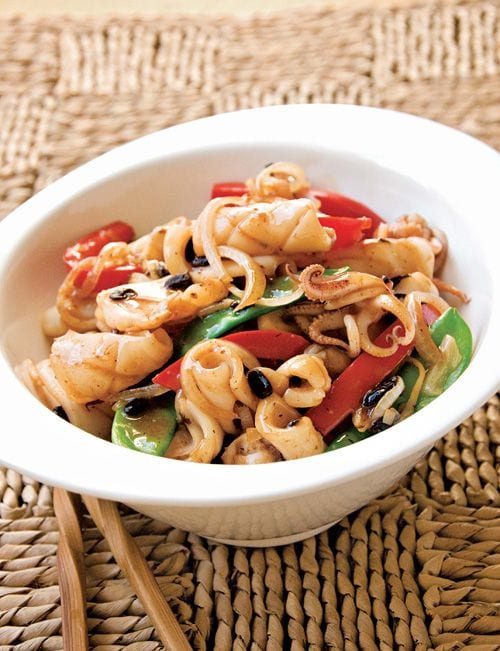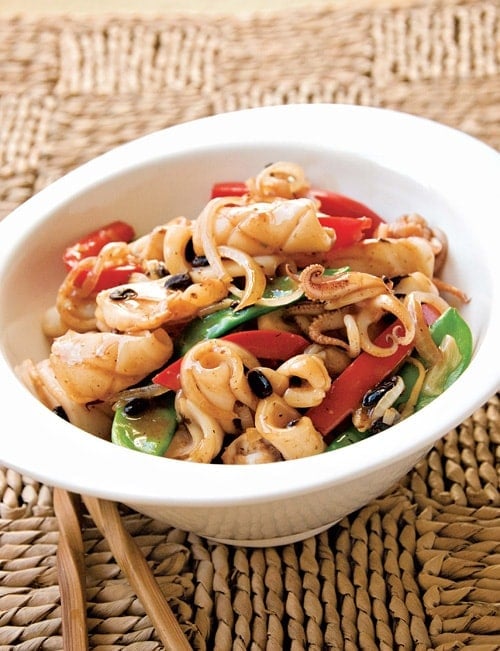 My cookbook manuscript is due in the next few days and I am very happy—and relieved—that I am almost done, well, at least the toughest part: cooking, shooting, writing, recipe testing, and editing. To prep me for the writing part of my cookbook, I have read and researched many Chinese cookbooks in the past few months. One of my recent favorites is "Stir-Frying to the Sky's Edge" by Grace Young.
I have been a fan of Grace Young since I first read her award-winning cookbook "The Breath of a Wok" and then discovered "The Wisdom of the Chinese Kitchen."
Her deep knowledge and intense passion for Chinese woks (and stir-frying) are eminently admirable. To me, her investments—both in time and dedication—in these fundamentals of Chinese cooking is way beyond being a cookbook author; in fact, she has become a scholar in my eyes, the ones that I hold high respect and regard for.
Even though I grew up eating Chinese food and watching my late mother cooking with a wok, my knowledge about these subjects was mostly taken for granted. I've never questioned the why's and how's, until I read Grace's books. Needless to say, I have personally learned so much about Chinese stir-frying and the wok from reading her books…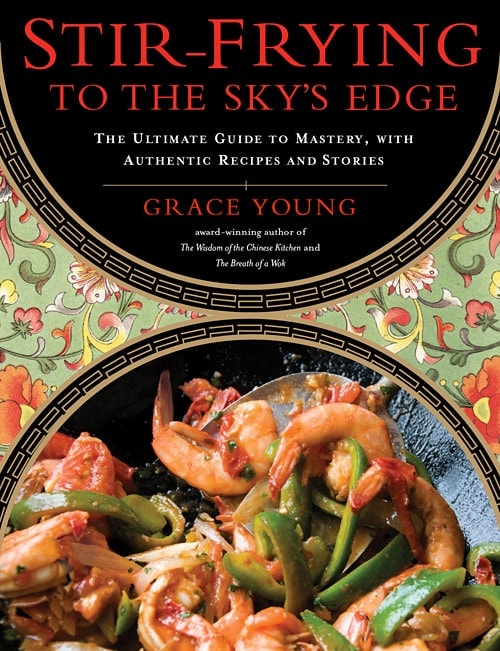 "Stir-Frying to the Sky's Edge" is a collection of authentic Chinese stir-fry recipes, shared by Grace and many Chinese home cooks and chefs from around the world. Coming from Malaysia, I am especially delighted to find a Malaysian-style stir-fried shrimp recipe in the cookbook.
The chapters on woks, seasoning methods, and stir-frying are resourceful and insightful, especially for those who have just started to learn about Chinese cooking.
What's so special about the book is that it's the first cookbook to explain in detail all the tips one needs to know to stir-fry with success, including the best oil for stir-frying, cooking in a newly seasoned wok, and more.
The book is also chock-full of beautiful and colorful photographs of the recipes, prepared and styled by Grace. I have to confess that I have a serious case of prop envy when I look through her book. I only wish that Grace would live in Southern California so I could borrow her props.
Here is one of my favorite stir-fried recipes in the book: stir-fried squid with black bean sauce. I am on a special diet that doesn't allow me to consume squid now, but as soon as I can, I am definitely going to try this recipe.
To learn more about Grace Young and her work, please check out her site: graceyoung.com. If you wish to buy "Stir-Frying to the Sky's Edge," please click here. To connect with Grace on Twitter, follow her at @stirfrygrace.
How Many Calories per Serving?
This recipe is only 226 calories per serving.
What Dishes to Serve with This Recipe?
For a wholesome meal and easy weeknight dinner, I recommend the following recipes.
For more great recipes like this, sign up for our newsletter. We'll send daily recipes you'll love!
Join
Sign up for our newsletter!
Squid with Black Bean Sauce
Squid with Black Bean Sauce - squid, red bell peppers, ginger, scallion, black beans, soy sauce, chicken broth.
Ingredients
1

pound

fresh cleaned squid

2

tablespoons

chicken broth

2

teaspoons

oyster sauce

2

teaspoons

soy sauce

1

teaspoon

dark soy sauce

1

teaspoon

sesame oil

1/2

teaspoon

corn starch

2

tablespoons

peanut or vegetable oil

2

tablespoons

fermented black beans

(rinsed and mashed)

1

tablespoon

chopped scallion

(white part only)

1

tablespoon

thinly sliced garlic

3/4

cup

thinly sliced onions

2

teaspoons

finely shredded ginger

1/2

cup

julienned red bell peppers

1/4

teaspoon

salt

1/8

teaspoon

freshly ground pepper

1

tablespoon

Shaoxing wine or dry sherry

12

snow peas

(strings removed)
Instructions
Cut each squid body in half lengthwise. Using a very sharp knife, lightly score the inside of the bodies in a crisscross pattern. Cut the squid into 1 1∕2-inch (3 cm) squares and the tentacles into 2-inch pieces (5 cm).

In a 2-quart saucepan, bring 1 quart water to a boil covered over high heat. Add the squid and blanch 10 seconds or until the squid turns opaque and curls. Drain well in a colander, shaking out all the excess water. Set the squid on paper towels and blot dry to remove excess moisture.

In a small bowl, combine 1 tablespoon of the broth, oyster sauce, soy sauce, and dark soy sauce. In another small bowl, combine the sesame oil, cornstarch, and the remaining 1 tablespoon broth.

Heat a 14-inch flat-bottomed wok or 12-inch skillet over high heat until a bead of water vaporizes within 1 to 2 seconds of contact. Swirl in the peanut oil, add the fermented black beans, scallion, and garlic and stir-fry 10 seconds or until the aromatics are fragrant. Add the onions and ginger and stir-fry 1 minute or until the onions just wilt.

Add the bell peppers, sprinkle on the salt and pepper, and stir-fry 30 seconds or until the bell pepper begins to soften. Add the rice wine and stir-fry 20 seconds, or until just combined. Next, add the squid and snow peas to the wok, swirl in the soy sauce mixture, and stir-fry 1 minute or until the snow peas are bright green. Restir the cornstarch mixture, swirl it into the wok, and stir-fry 30 seconds or until the squid is just cooked.
Nutrition

Nutrition Facts

Squid with Black Bean Sauce

Amount Per Serving (4 people)

Calories 226

Calories from Fat 90

% Daily Value*

Fat 10g15%

Cholesterol 264mg88%

Sodium 859mg37%

Carbohydrates 10g3%

Protein 21g42%

* Percent Daily Values are based on a 2000 calorie diet.

Notice: Nutrition is auto-calculated, using Spoonacular, for your convenience. Where relevant, we recommend using your own nutrition calculations.