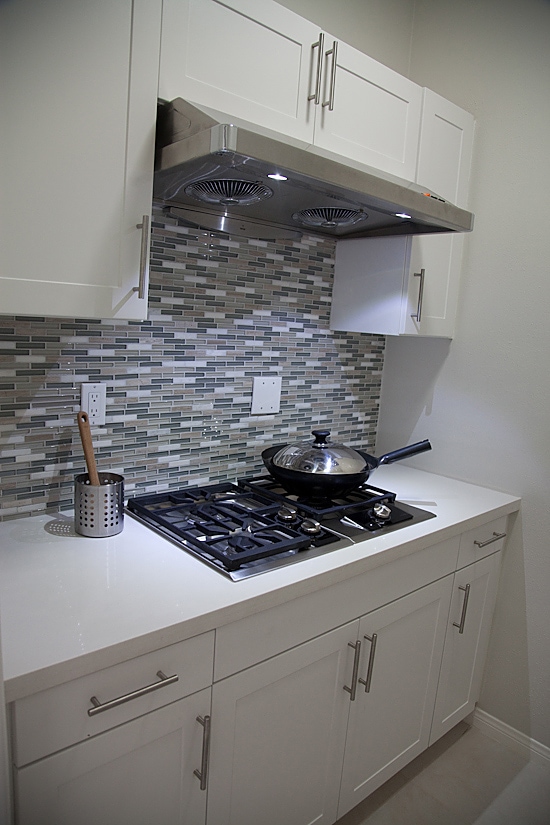 I am so thrilled to let you know that I finally completed my remodel project of converting my small walk-in-pantry into an Asian wok kitchen, thanks to my sponsors Atherton Appliance and BSC Culinary in the San Francisco Bay Area!
Being an Asian cooking enthusiast, especially wok cooking, I have never been happy with my American kitchen with regular cook tops and range hood. I have lost count of how many times I set off the smoke detector and alarm in my house when I fire up my wok for a quick stir-fry. If you are into Asian cooking or wok cooking, you would understand what I mean. The heat is not hot enough, the range hood doesn't suck away the grease and smoke, and the smoke alarm would go off the hook whenever we are trying to create "wok hei" (breath of wok). So, it's been my dream to have a wok kitchen—in addition to a regular kitchen. I cook so much for the blog and for my family that I indeed need two kitchens, and thanks to Atherton Appliance and BSC Culinary, my dream finally comes true.
My walk-in-pantry is small, in fact, it's just 67-inches wall-to-wall. However, space is not an issue if you know how to plan and design the small space into something functional for your needs. I wanted to have two (2) 15-inch gas cooktops, and one of them specifically for wok cooking with high-power burner / BTU. I do not need a huge counter space as long as I have some space on both sides of the burner. I called in a kitchen designer and we drew out the plan. It's the best way to use up the limited space I have, while being completely functional and efficient. There are cabinets, drawers in the wok kitchen, and one of the cabinets is equipped with a roller shelf unit for my sauces so my limited kitchen counter space will be mostly clutter free.
I reached out to Atherton Appliance and BSC Culinary. When I lived in the bay area, I visited Atherton Appliance in Redwood City and fell in love with its ample offerings of high-end and specialty kitchen appliances. I proposed my plan to them and that my dream cook tops for my wok kitchen would be Wolf gas cooktops. They came back to me and proudly sponsored the Wolf 15-inch multi-function cooktop and the Wolf 15″ gas cooktop. Thanks so much to their generosity.
The remodel took a little long than anticipated but I now have an amazing and modern looking wok kitchen. Even though the space is small, it's exactly what I wanted—a kitchen where I can whip up Chinese stir-fries with ample wok-hei (breath of wok), making curries, stews, soups, and all sorts of delicious Asian food. The wok kitchen is going to be my everyday kitchen where I cook while the regular kitchen can be used for lighter cooking. Now that's the perfect set up for a cooking enthusiast like me. Let's check out my wok kitchen.
Here is my walk-in pantry before the remodel.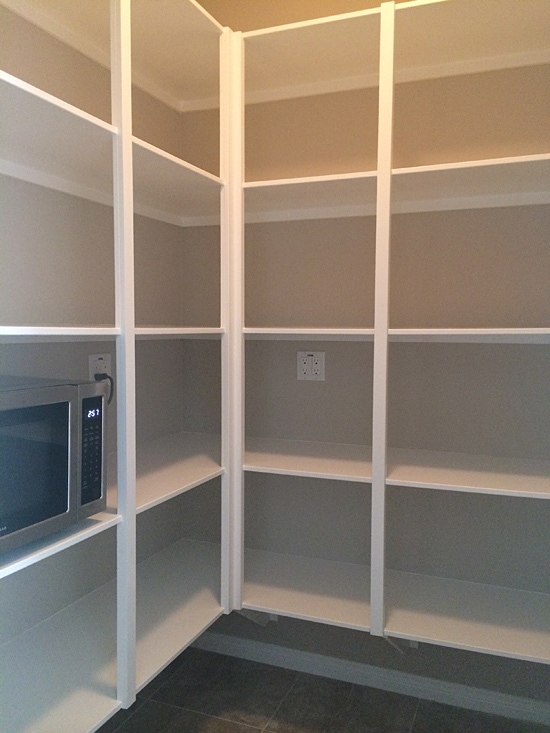 After the remodel, the Asian wok kitchen.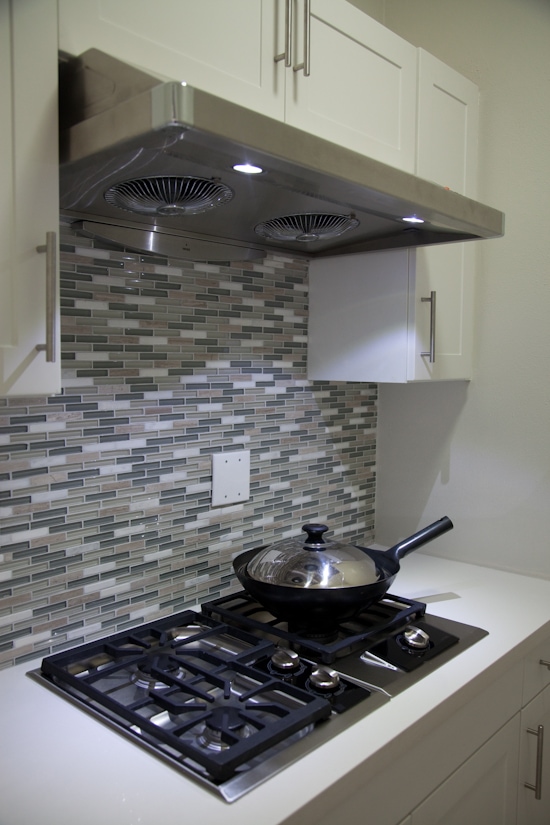 The gorgeous Wolf gas cooktops. I have two (2) 15-inch cooktops side-by-side, and I can cook up to 3 dishes at the same time.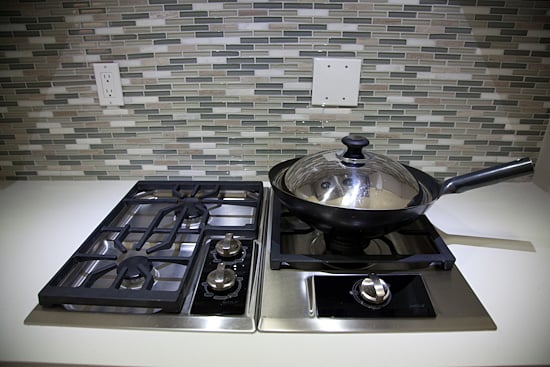 This Wolf 15-inch Multi-Function Cooktop is made specifically for Asian cooking. The bottom of the wok sits perfectly on top of the flame, which is 22,000 BTU/hour. The direct heat will make sure that I get Asian stir-fries with plenty of "wok hei" (breath of wok).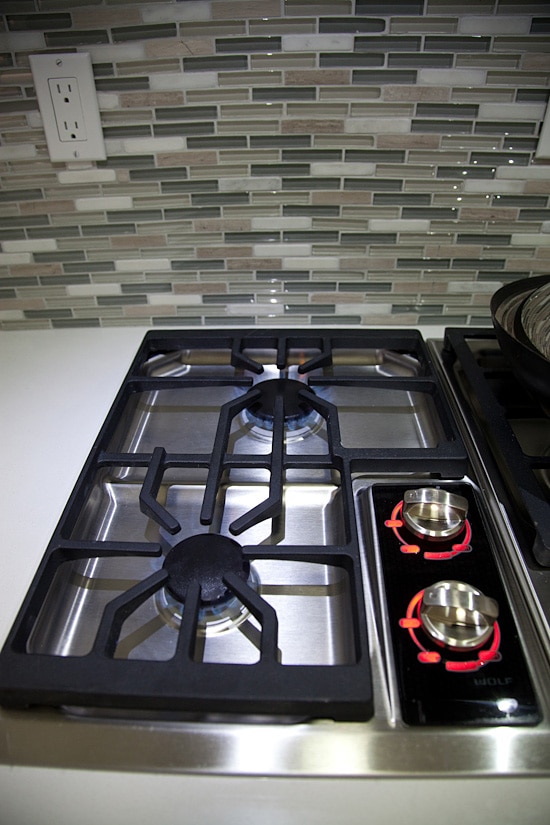 This Wolf 15-inch Gas Cooktop has two hobs that allow me to make soup, stew, curry, or other dishes while I am stir-frying.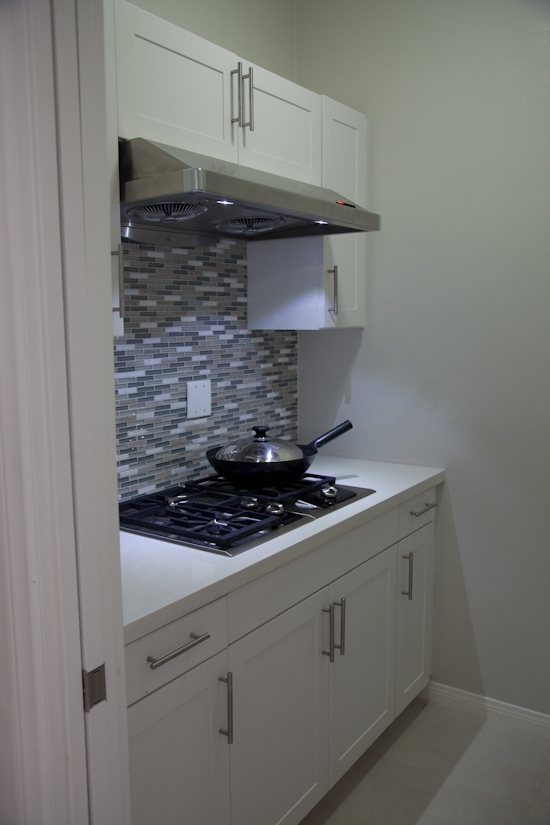 Even though the space is small, my Asian wok kitchen is practical, functional, and I can comfortably cook in the kitchen. I have a roll-out shelf for my Asian sauces and cooking oil, etc. It's so convenient and saves space, plus my countertop will be mostly clutter free. Because the kitchen is small, it's also easier for me to clean up and I can keep my regular kitchen spotless all the time.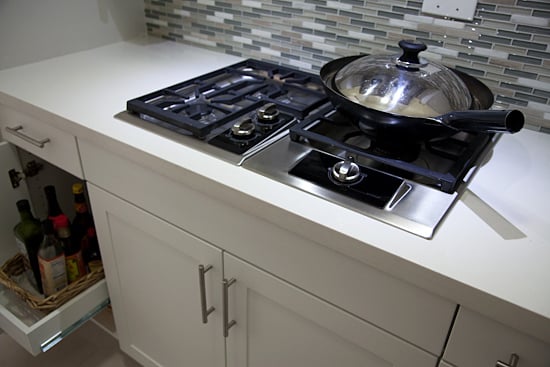 I have also shot a short video walk-through of my kitchen below. Please check it out now.
If you are in the Bay Area and are planning to have a kitchen upgrade, remodel, or to equip your new home, do stop by Atherton Appliance and BSC Culinary to browse their wide selections of kitchen appliances. I am sure you will be able to find something you love there, and while you are at it, tell them that Rasa Malaysia sends you there!
About Atherton Appliance and BSC Culinary:
Atherton Appliance and BSC Culinary offers high end appliances, design consultation, drawings, cabinetry and countertops for those in need of a complete kitchen remodel.
Atherton pride itself on educating its customers and continue to match them with appliances that suit their cooking styles and add value back to their lives and homes. They feature several fully functioning kitchens that allow their customers to experience the fit and finish of their cabinetry and the trusted appliances that they offer.
The company was founded in 1956 with the idea that they could make a meaningful impact on their customers lives by helping them find the right appliances for their homes and, in turn, increase the enjoyment of their home life.
Brands: Miele, Bosch, AGA, BlueStar, Aficionado, Dacor, GE, Gaggenau, Viking, Wolf-SubZero, Thermador, Body Glove, Capital, and more!
Like on Facebook: http://www.facebook.com/athertonapplianceandkitchens
Follow on Twitter: http://twitter.com/athertonkitchen
YouTube: http://www.youtube.com/cgea
Videos: http://www.youtube.com/watch?v=LsJnKPHiO0M
Google+ : https://plus.google.com/114695392869736046870
Pinterest: http://www.pinterest.com/bscculinary/