The best roasted tomatoes recipe with garlic, olive oil, Italian seasoning and oregano. These perfect Italian Roasted Tomatoes take only 10 mins active time!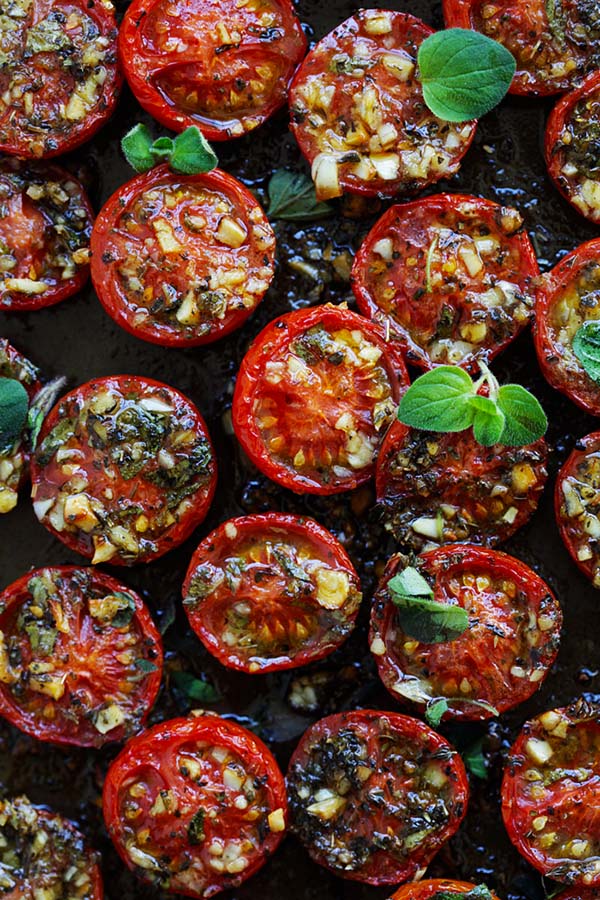 How to Roast Tomatoes
In this recipe, you will learn the step-by-step of slow roasted tomatoes with Italian seasoning, olive oil and oregano.
You will also learn the right temperature of roasting tomatoes and how long it takes for oven toasted tomatoes.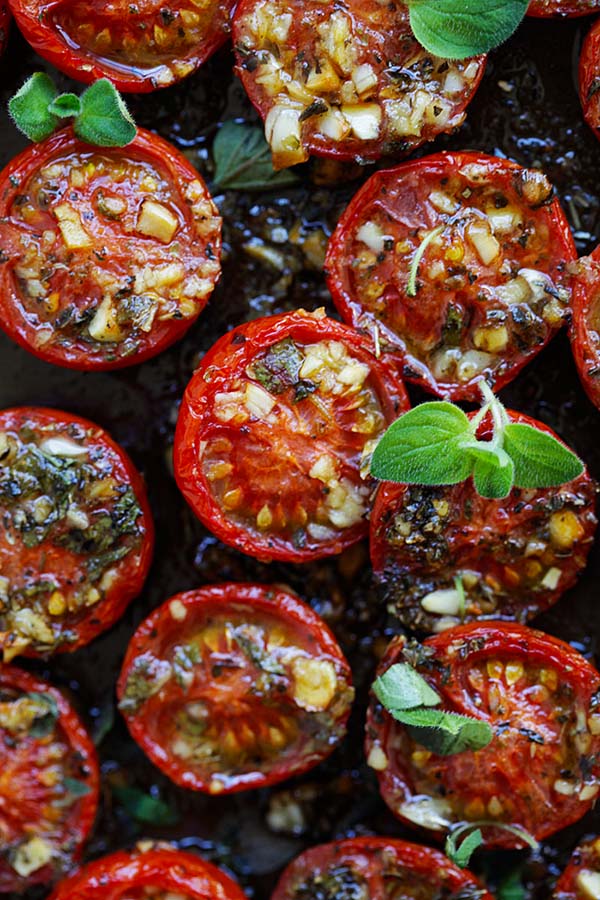 I love tomatoes, especially oven roasted tomatoes where every bite is bursting with the juicy and fresh tastes of the produce. These Italian roasted tomatoes are the BEST roasted tomatoes I have ever tasted!
This is a healthy side dish that goes well with almost every thing. In fact, they are so good that I can pretty much finish them all by myself.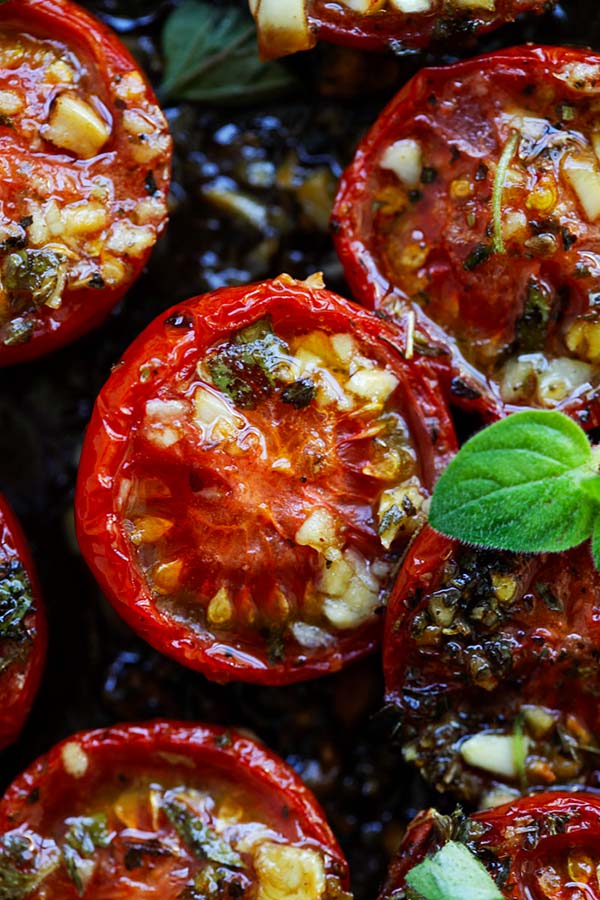 Other Recipes You Might Like
Roasting Tomatoes
Roasting tomatoes in the oven is one of the easiest ways to cook tomatoes. I prefer Roma Tomatoes for their sweetness; the size of Roma tomatoes is ideal for slow roasting.
However, you can also use cherry tomatoes or grape tomatoes. The temperature, time and seasonings used are crucial in roasting tomatoes. For the best roasted tomatoes, you have to use a lower temperature (300F) and roast for an hour.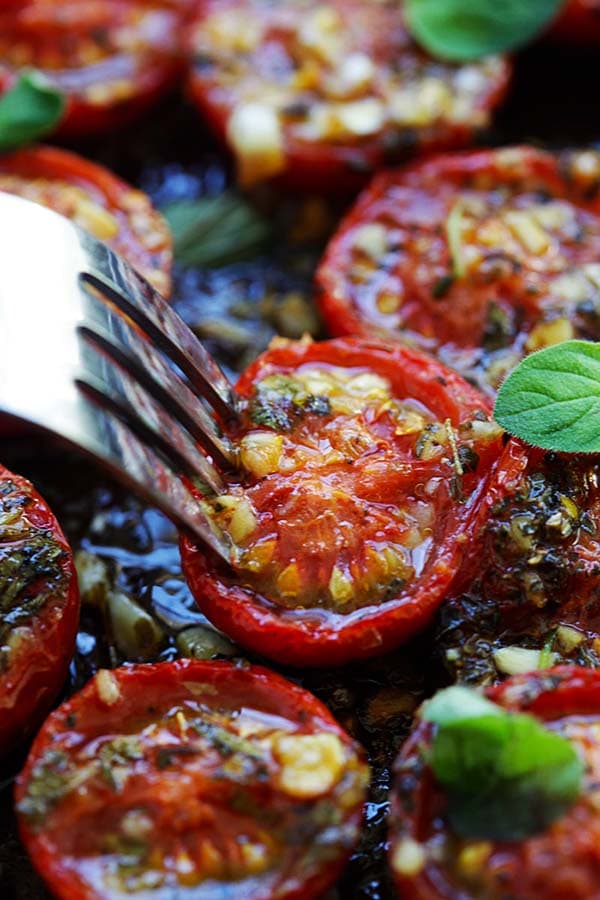 Fresh off the oven, these roasted tomatoes are oozing with flavors. They are garlicky, infused with the aroma of olive oil, juicy and absolutely delightful.
The best thing about this recipe is that it takes only 15 minutes active time and the oven does the rest. Enjoy!
How Many Calories per Serving?
This recipe is only 153 calories per serving.
What Dishes to Serve with This Recipe?
For a wholesome meal and easy weeknight dinner, I recommend the following recipes.
5 Secrets to 20 Min Dinners
Get tricks for quick & easy meals!
Yield: 6 people
Italian Roasted Tomatoes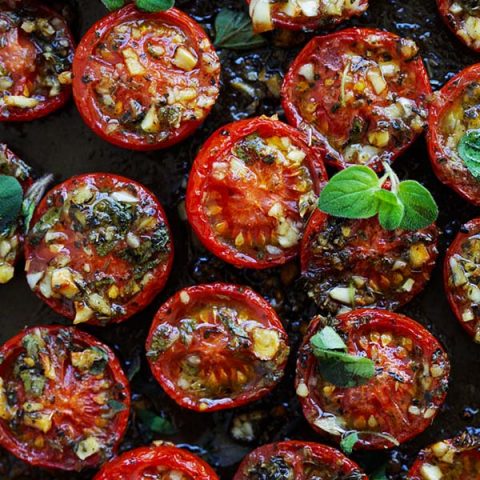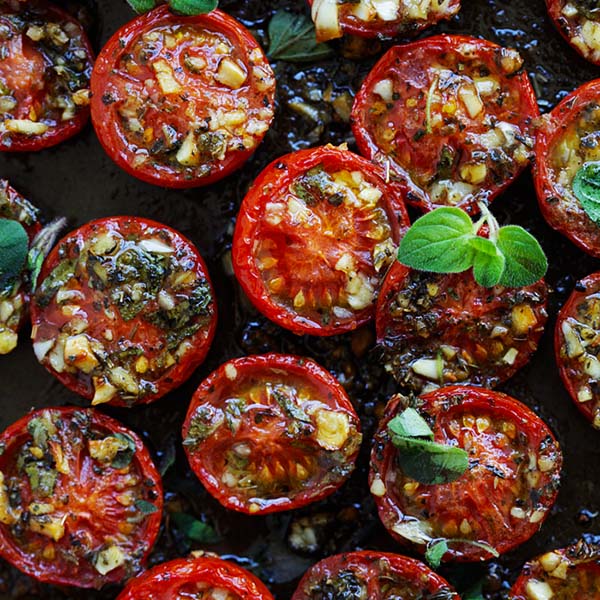 Italian roasted tomatoes - the best roasted tomatoes recipe with garlic, olive oil, Italian seasoning and oregano. These perfect oven roasted tomatoes take only 10 mins active time!
Total Time
1 hour
15 minutes
Ingredients
2 lbs. (1 kg) Roma tomatoes
1/3 cup olive oil
6 cloves garlic, minced
1 tablespoon bottled Italian seasoning
1 tablespoon sugar
1 pinch salt
3 dashes ground black pepper
2 tablespoons oregano, coarsely chopped
Instructions
Preheat oven to 300°F (148°C).
Rinse the Roma tomatoes with water, drain and pat dry with paper towels. Slice them into halves and transfer them to a big bowl.
Add the olive oil, garlic, Italian seasoning, sugar, salt, ground black pepper and oregano. Gently stir to mix well.
Transfer the tomatoes to a baking sheet or sheet pan. Arrange them in one single layer. Slow roast the tomatoes for 1 hour. Dish out and serve immediately.
Nutrition Information
Yield
6
Serving Size
6 people
Amount Per Serving
Calories

153
Total Fat

12g
Saturated Fat

2g
Unsaturated Fat

0g
Sodium

16mg
Carbohydrates

11g
Fiber

3g
Sugar

6g
Protein

2g