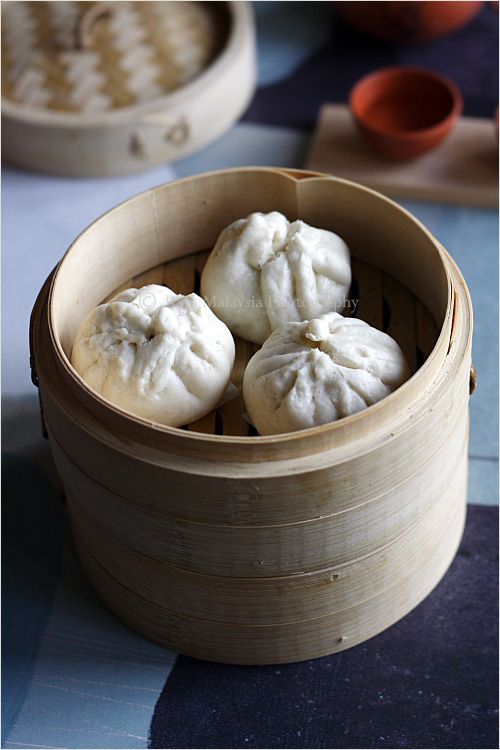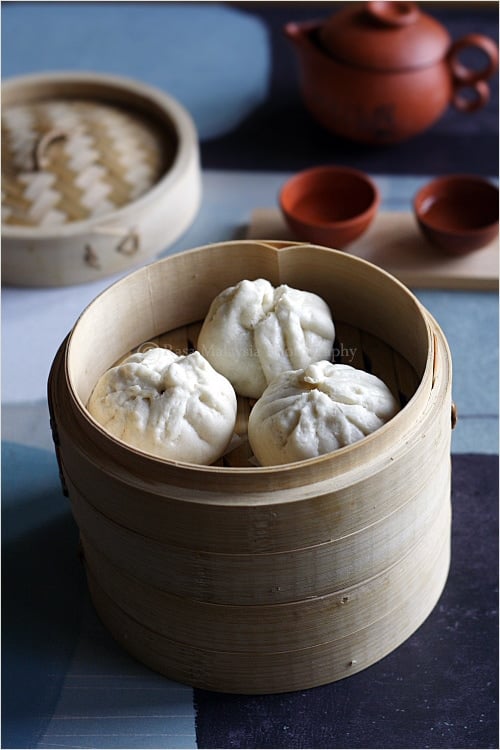 (Chinese recipes, prepare authentic Chinese food now!)
Chinese dim sum is my favorite. Other than the regular har gao (steamed shrimp dumplings) and sui mai, I also love steamed buns . (Previously, I made some red bean steamed buns.) I simply love the soft and pillowy texture of chinese steamed buns–known as bao (包)–filled with meat, vegetables, or a combination of both.
Sinking my teeth into a steaming hot and soft Chinese steamed bun, slowly chew it to savor the flavors, and then down it with a cup of Chinese tea is a ritual that often reminds me of how great life is.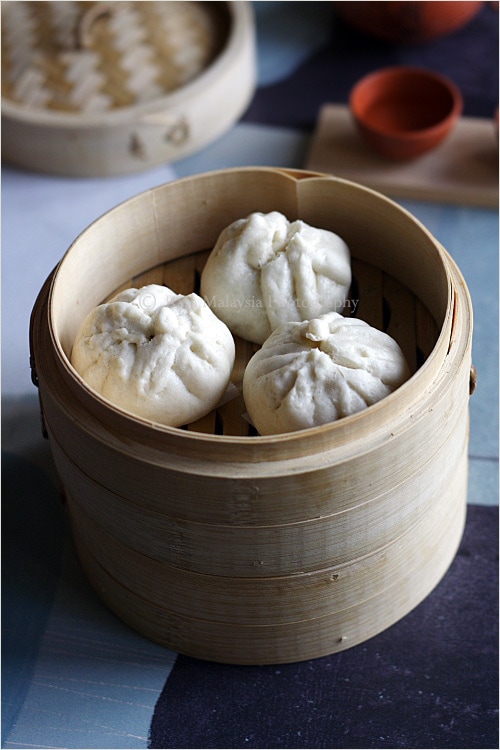 Last weekend, I had a tray of steamed chicken buns or 鸡仔包 at a dim sum restaurant; they were so good that I was longing for more after I came home.  I made my own chicken buns to satisfy my craving the next day.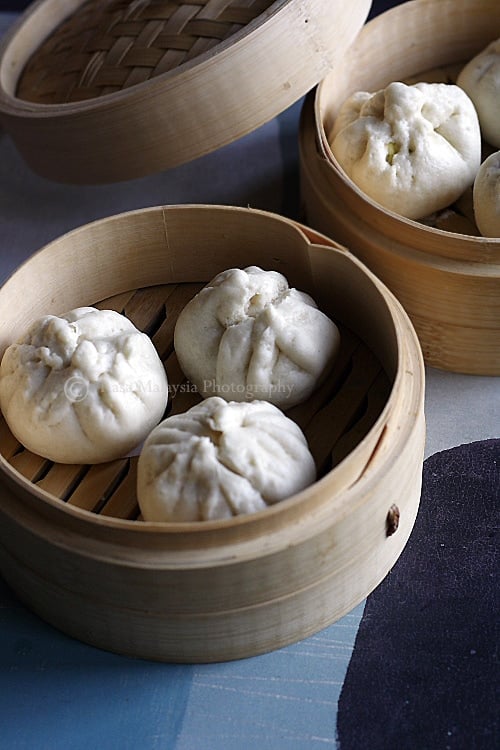 The toughest part of making steamed buns is the pleating and folding to make them perfect looking. I am really not good at it (as you can see from the shape of my bao!).
Anyway, if you love bao or Chinese steamed buns, you can try my steamed chicken buns recipe below. The taste is rather close to the ones served at dim sum restaurants.
If you like Chinese recipes, don't forget to check them out.
Do you like Chinese steamed buns?
How Many Calories Per Serving?
This recipe is only 360 calories per serving.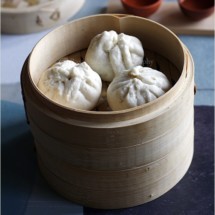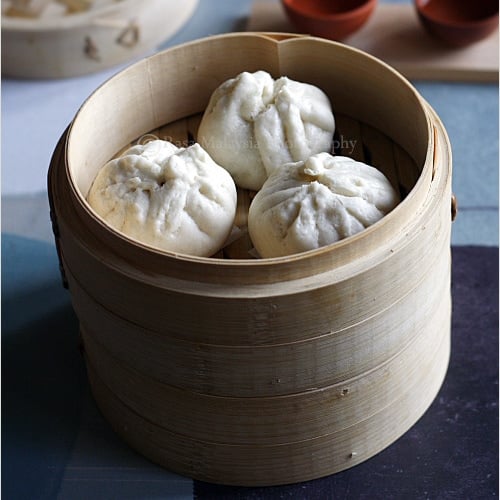 Chicken Buns Recipe
Chicken buns or Chinese steamed chicken buns is a popular dim sum item. Learn how to make Chinese chicken buns (bao) with this chicken buns recipe. A must try!
Ingredients
8

oz.

steamed bun flour, 大包粉(Picture source: Steamy Kitchen)

1/2

tablespoon

oil

1/4

cup

sugar

1/2

cup

milk

1/4

teaspoon

lime juice, (optional)
Chicken Buns Filling:
8

oz.

skinless and boneless chicken breast, cut into small pieces

1

big leave of napa cabbage, finely shredded

2

dried black fungus or dried shitake mushrooms, soak in hot water to soften, then diced into thin strips/pieces

Some cilantro leaves, chopped coarsely

3/4

teaspoon

cornstarch

1/2

teaspoon

sugar

1/4

teaspoon

salt

1/4

teaspoon

chicken bouillon powder

1/2

teaspoon

fish sauce

3

dashes

white pepper, powder
Click Here for Conversion Tool
Directions
Follow the instructions of the steamed bun flour, mix it with milk, sugar, and oil. Knead the dough for 15 minutes or longer until it becomes soft and smooth. Roll the dough into a cylinder (about 1.5 inches in diameter). Cover them with a wet towel and set aside. Mix the chicken buns filling ingredients and set aside.

Take a small piece of parchment paper and cut it into 1.5 x 1.5 inch squares.

Cut the dough into small pieces (about 1 inch thick) and use a rolling pin to flatten it. Put about 1 teaspoon+ filling into the center. Pleat the dough and seal it tight with your finger tips. Place it on top of a paper square. Repeat until you finish the dough and ingredients.

Lay the chicken buns into a bamboo steamer (make sure you leave some space in between the chicken buns as they expand after steaming). Heat up a wok with water. Place two wooden blocks (for steaming purposes) into the wok and place the bamboo steamer on top of them. Steamed for 10 minutes. Transfer out and serve immediately.
Recipe Notes
Adding a few drops of white vinegar into the boiling water would make the steamed chicken buns whiter. Adding a few drops of lime juice into the dough makes the buns whiter, too.
Nutrition Facts
Chicken Buns Recipe
Amount Per Serving (4 people)
Calories 360
Calories from Fat 36
% Daily Value*
Fat 4g6%
Cholesterol 39mg13%
Sodium 314mg14%
Potassium 327mg9%
Carbohydrates 58g19%
Protein 19g38%
Vitamin A 90IU2%
Vitamin C 2.6mg3%
Calcium 51mg5%
Iron 3mg17%
* Percent Daily Values are based on a 2000 calorie diet.