Chinese steamed chicken buns are popular at dim sum restaurants. Learn how to make soft and fluffy chicken steamed buns baozi with this easy and delicious recipe!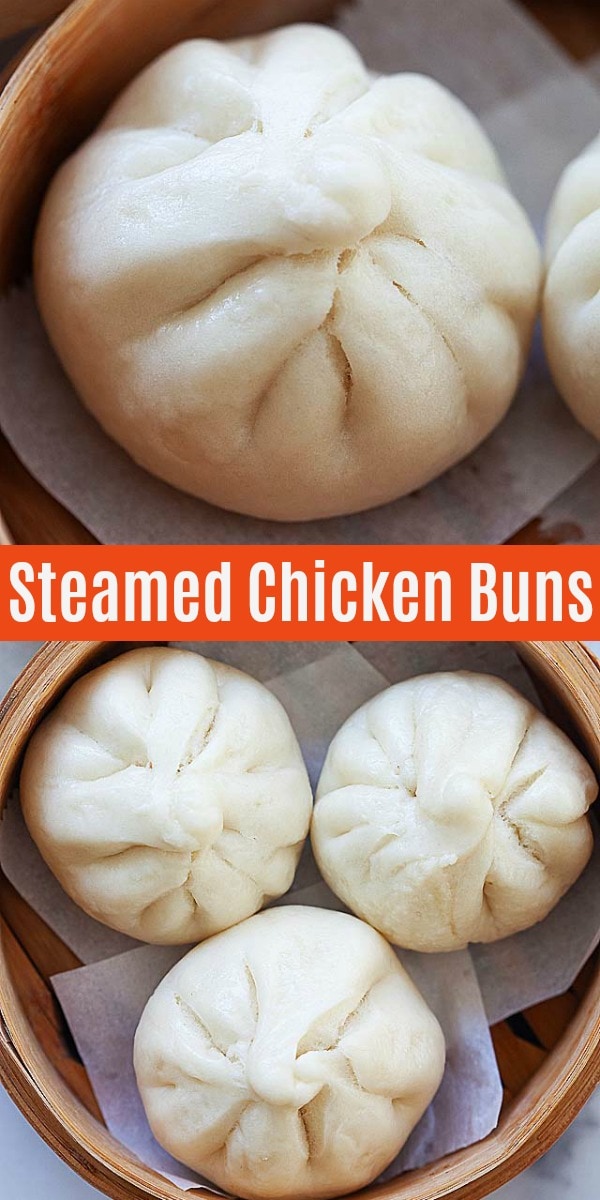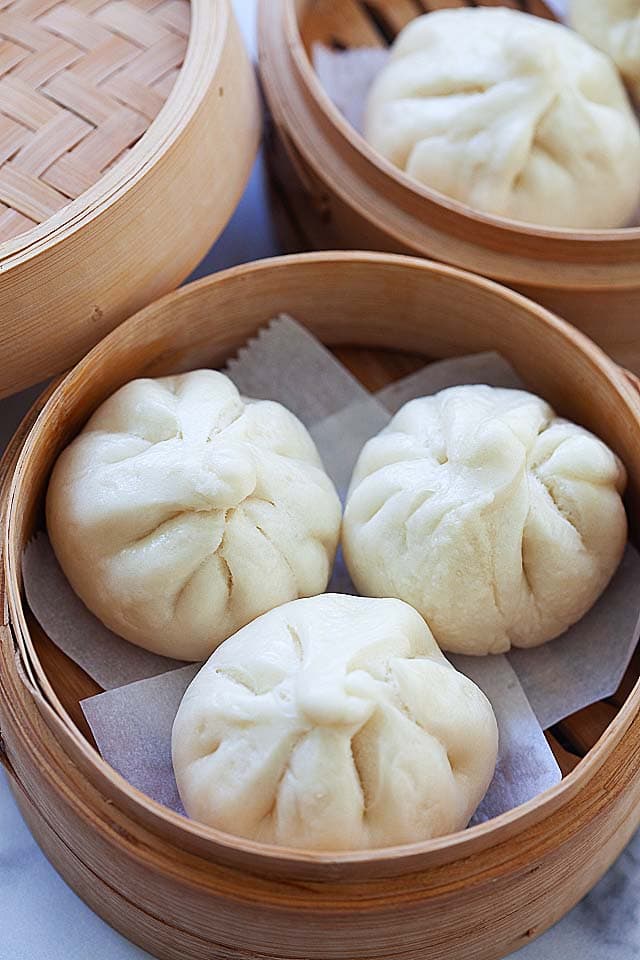 Chicken Steamed Buns
Chinese dim sum is my favorite.
Other than char siu bao, har gao (steamed shrimp dumplings) and sui mai, I also love steamed buns.
I love the soft and pillowy Chinese steamed buns with fillings, known as bao (包) or baozi (包子).
The fillings can be meat, vegetables or a combination of both.
Eating a steaming hot and soft and fluffy steamed bun with a cup of Chinese tea is a ritual that often reminds me of how amazing Chinese food is.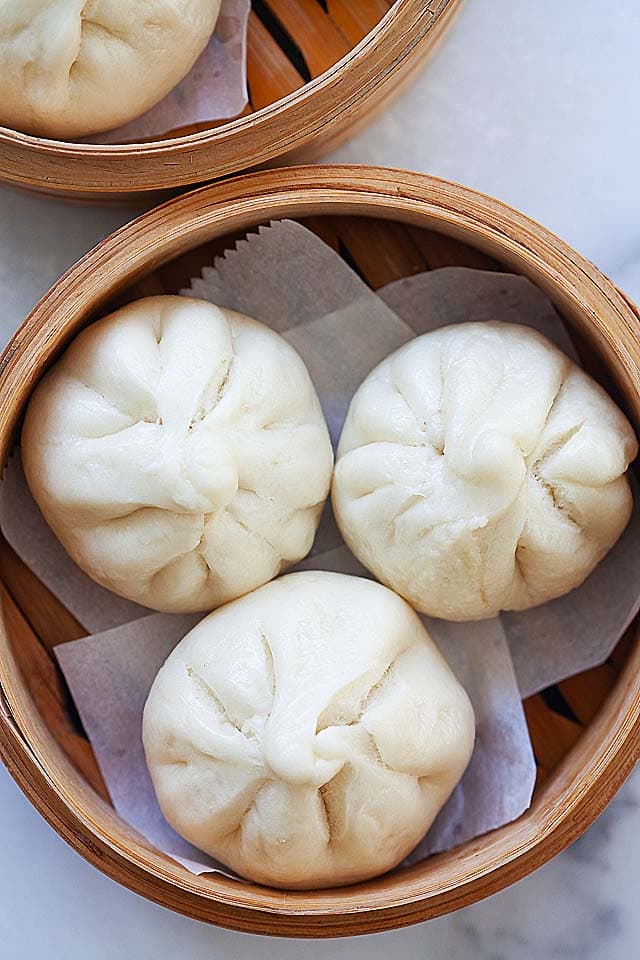 Other Recipes You Might Like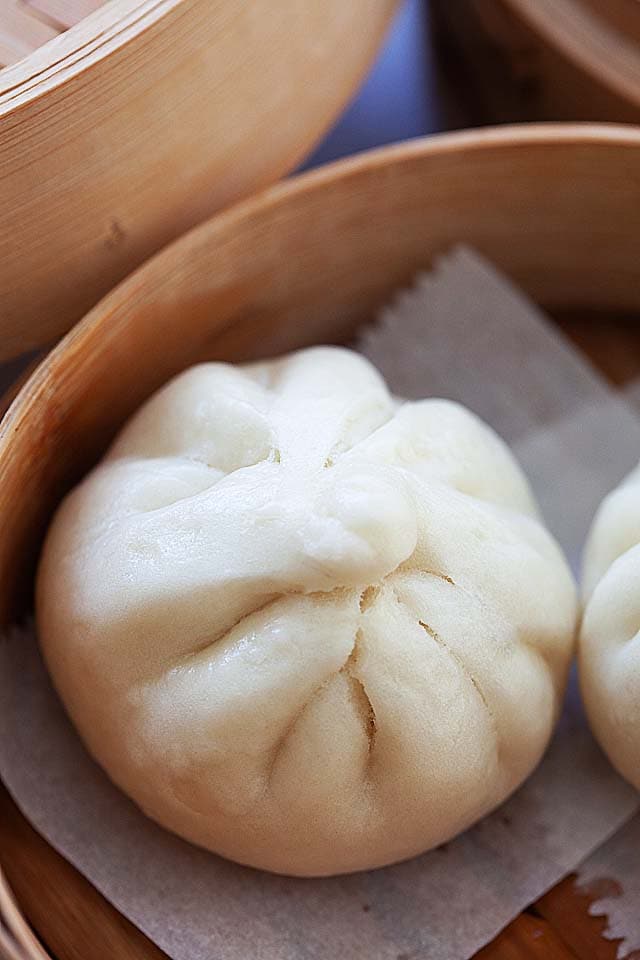 How to Make Steamed Chicken Buns?
I made these chicken buns (鸡仔包) after having them at a dim sum restaurant.
The filling is made of chicken and vegetable filling. The taste is savory and delicious.
The toughest part of making stuffed steamed buns is the folding part of it. You want to make sure that you have just enough filling so each of them look dainty and pretty.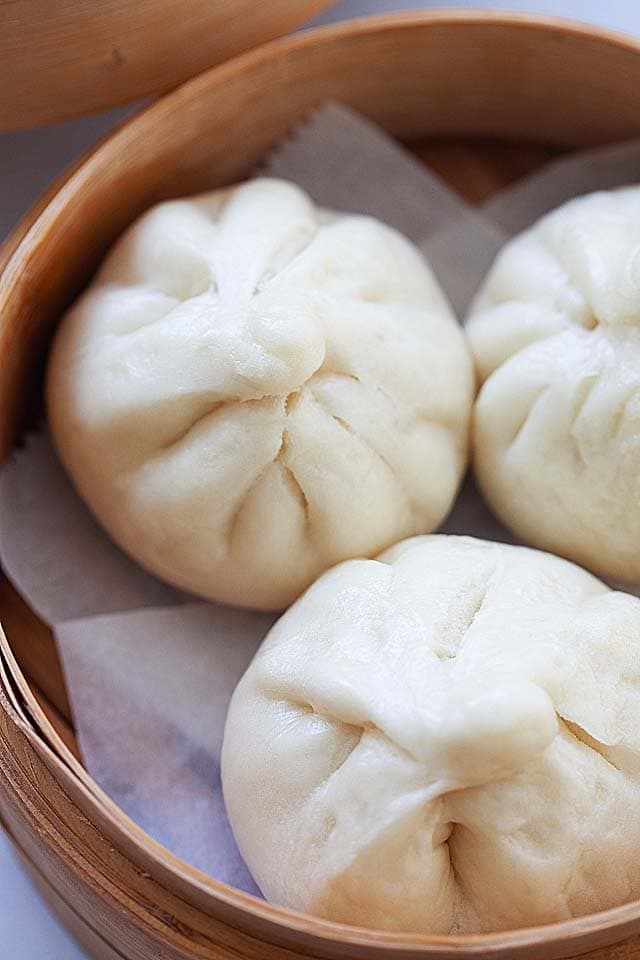 The Best Chicken Steamed Buns
If you love dim sum, you must my easy recipe.
The taste of these baozi is exactly like the ones served in Cantonese dim sum restaurants.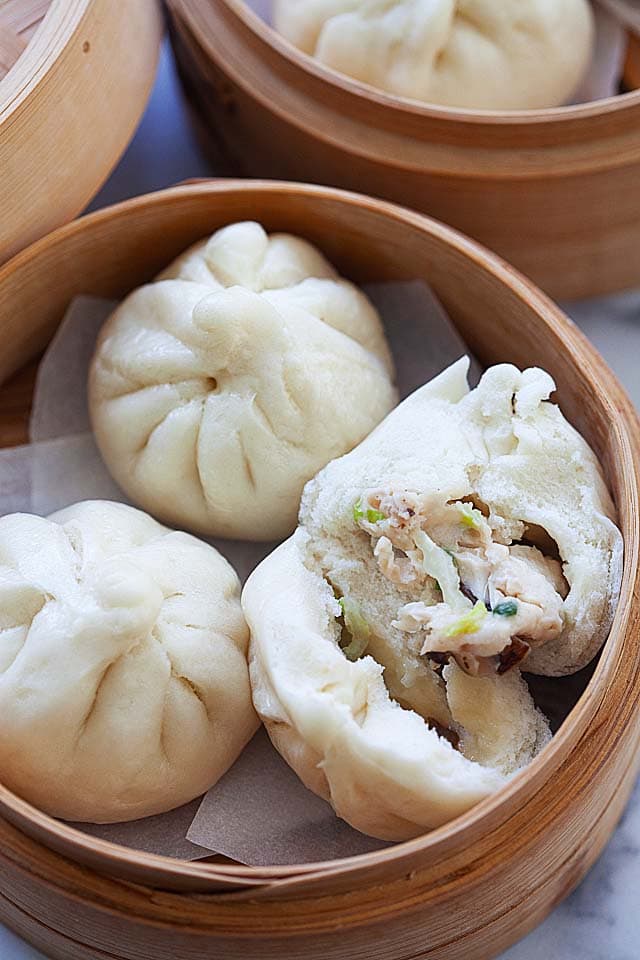 How Many Calories per Serving?
Each chicken bun is only 179 calories.
What Dishes to Serve with This Recipe?
Serve these buns with other Chinese dim sum. For an authentic dim sum meal at home, I recommend the following recipes.
5 Secrets to 20 Min Dinners
Get tricks for quick & easy meals!
Yield: 8 buns
Steamed Chicken Buns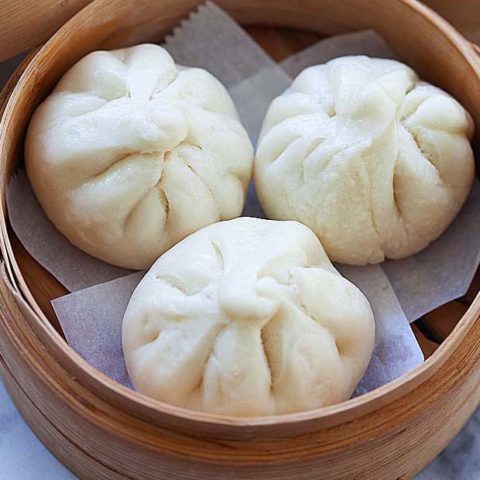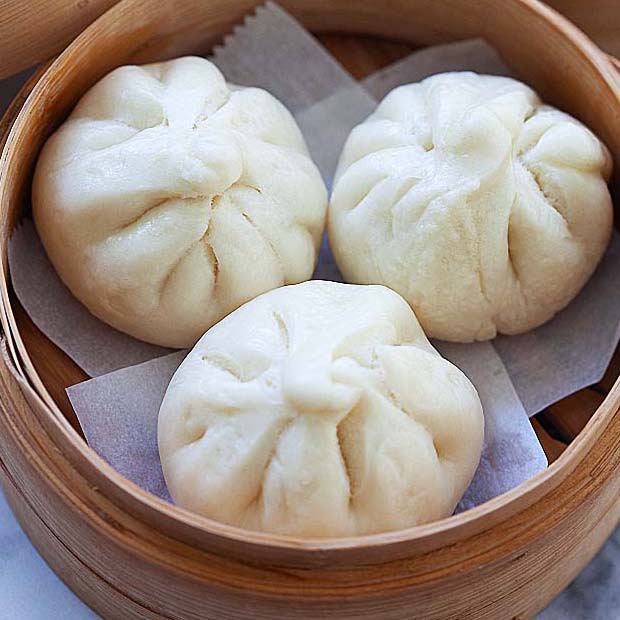 Chinese steamed chicken buns are popular at dim sum restaurants. Learn how to make soft and fluffy chicken steamed buns baozi with this easy and delicious recipe!
Total Time
1 hour
35 minutes
Ingredients
140 g (5 oz) all-purpose flour
50 g (1.5 oz) wheat starch
45 g (1.5 oz) powdered sugar
4 g (1.5 teaspoons) active dry yeast or instant yeast
80 ml lukewarm water
1 tablespoon oil
1 teaspoon baking powder
1 teaspoon cold water
Chicken Filling:
225 g (8 oz) skinless and boneless chicken breast, cut into small pieces
1/2 cup finely sliced napa cabbage
2 dried shiitake mushrooms, soak in hot water to soften, then diced into thin strips
1/4 teaspoon salt
1/4 teaspoon chicken bouillon powder
1 teaspoon fish sauce
1/2 teaspoon sugar
3 dashes white pepper
1 teaspoon corn starch
1 tablespoon chopped scallion
Instructions
Sift the flour, wheat starch and powdered sugar. Transfer to a large mixing bowl. Make a well in the middle of the flour mixture and add the yeast and lukewarm water. Gently dissolve the yeast with the water. Slowly bring together the flour mixture and add in the oil.
Knead with hands for 10-15 minutes or until a soft dough is formed. It should be smooth and shiny on the surface.
Cover the dough with a damp cloth and let rise for 60 minutes or until it expands in size.
Dissolve the baking powder with the cold water, sprinkle over the dough and knead until well combined. Roll the dough into a cylinder shape. Cut and divide the dough to 8 equal portions.
Mix all the Chicken Filling ingredients together. Set aside.
Use e a rolling pin to flatten each dough ball to a 3" circle. Place a portion of the filling in the middle.
Wrap and fold the dough up.
Pinch and twist to enclose the opening. Make sure the chicken bun is sealed tight at the top. Place it on a 2" x 3" piece of parchment paper. Repeat the same until you make 8 buns.
Arrange the chicken buns on a steamer, leave about 1" gap in between buns. Steam in a preheated steamer on high heat for 10 minutes. (You may add 1 teaspoon of Chinese white vinegar to make the steamed chicken buns white.)
Remove buns from the steamer, serve immediately.
Notes
Adding a few drops of white vinegar into the boiling water would make the steamed chicken buns whiter. Adding a few drops of lime juice into the dough makes the buns whiter, too.
Nutrition Information
Yield
8
Serving Size
1
Amount Per Serving
Calories

179
Total Fat

3g
Saturated Fat

0g
Trans Fat

0g
Unsaturated Fat

2g
Cholesterol

24mg
Sodium

150mg
Carbohydrates

26g
Fiber

1g
Sugar

6g
Protein

12g