3-ingredients Chocolate Souffle Cheesecake – AMAZING, light, and the BEST cheesecake ever, get the easy recipe now!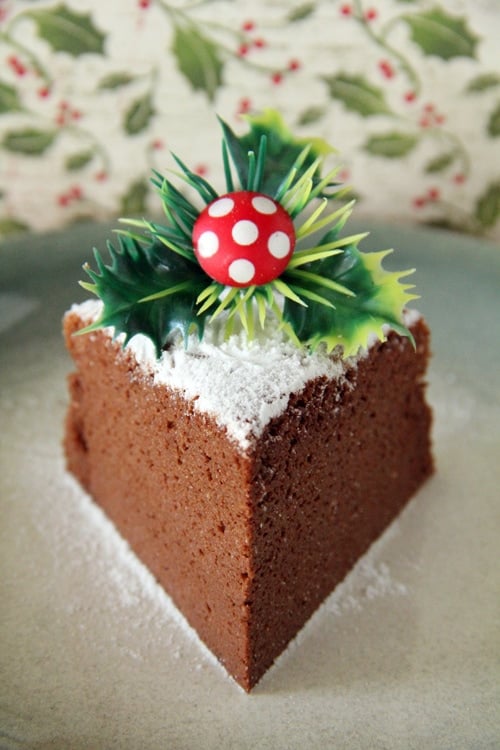 Would you like to make a holiday-themed cake with only 3 ingredients?
Yes, 3 ingredients, but more importantly, it's sinfully good and you can dress up the cake and make it into a Christmas or holiday centerpiece!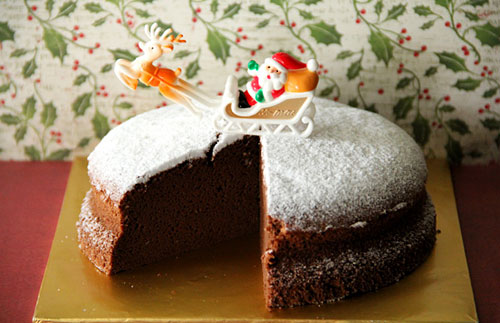 This chocolate souffle cheesecake recipe is the only RECIPE you will need, if you want a dessert recipe that is fuss-free and sure-to-please.
To dress up the cake, you can do what my contributor CP Choong did, get some festive cake toppers such as Santa and reindeer, Christmas trees, snowman, etc.
The end result is a decadant, cheesy, chocolatey, and a gorgeous winter/holiday themed cake that you can serve for your holiday parties or dinners.
It's brilliant!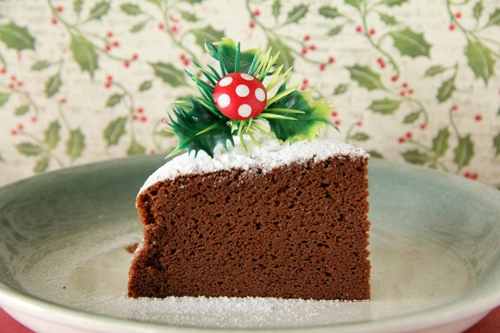 What I love most about this chocolate souffle cheesecake recipe is that it calls for only 3 ingredients, and you don't even need flour: eggs, cream cheese, and chocolate.
Sweet and easy.
I love it that the technique is about making the egg whites into meringue and then fold it in with the chocolate and cream cheese mixture.
As you can see from the photos, the end result is a cottony, airy, and light cheese cake that you won't stop eating.
You have to try this Chocolate Souffle Cheesecake recipe and I am sure you would be very pleased that you did!
How Many Calories Per Serving?
This recipe is only 658 calories per serving.
5 Secrets to 20 Min Dinners
Get tricks for quick & easy meals!
Yield: 2 people
Chocolate Souffle Cheesecake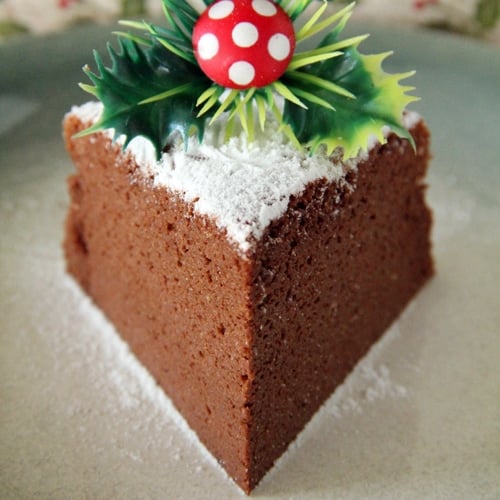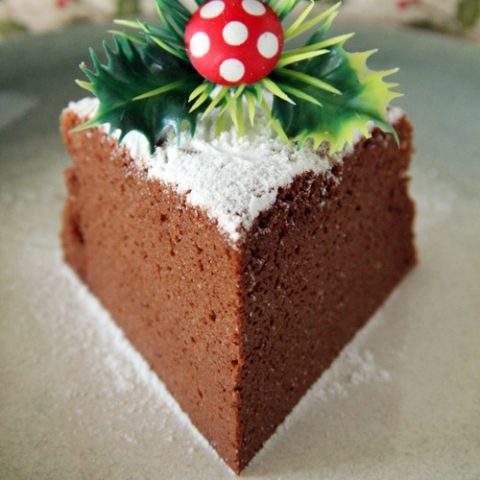 3-ingredients Chocolate Souffle Cheesecake - AMAZING, light, and the BEST cheesecake ever, get the easy recipe.
Ingredients
3 Eggs, separated
120 g (4 oz.) Dark Chocolate
120 g (4 oz.) Cream Cheese
1 teaspoon lemon juice
Instructions
Preheat oven to 170°C (325°F). Place the rack on the lower third level.
Grease a 6-inch (non-removable base) baking tin and lined bottom with parchment paper.
Melt chocolate and cream cheese over a simmering water, just hot enough to melt the chocolate, do not boil. Removed from heat.
Add egg yolks and mixed well. Set aside.
Add lemon juice into egg whites and beat until almost peak form.
Gently fold meringue into cheese mixture in 3 batches.
Pour the well combined batter into the prepared tin.
Place the baking tin in a roasting pan filled with hot water (1cm height) and bake in preheated oven for 15 minutes 170°C (325°F), then turn down the temperature to 160°C (300°F) and bake for 15 minutes.
Turn off the heat, keep the cake in the oven with the oven door closed for another 15 minutes.
Remove from oven, let the cake cool completely then chill in fridge for at least 2 hours or overnight.
Notes
1. I used one Hershey's Baking Bars – Semi-sweet Chocolate. You may use milk chocolate, bittersweet chocolate or white chocolate.
2. Please take note that there is NO sugar in the recipe, if you opt for sweeter taste, please add sugar to egg whites and beat till almost peak form.
3. If loose base baking tin is used, please double wrap with aluminium foil to prevent water seepage.
4. It is perfectly normal that the cake shrinks after cooling. If the meringue is whipped up to the right stage and did not deflate much when folding in the cheese mixture, you will get approximately a 2" height cake.
Nutrition Information
Yield
2
Serving Size
2 people
Amount Per Serving
Calories

658
Total Fat

52g
Saturated Fat

28g
Unsaturated Fat

0g
Cholesterol

313mg
Sodium

298mg
Carbohydrates

30g
Fiber

6g
Sugar

16g
Protein

16g