Chocolate Crinkle Cookies - sweet, easy and the BEST chocolate crinkle cookie recipe with butter, cocoa and powdered sugar. These cookies are great for Christmas and holidays!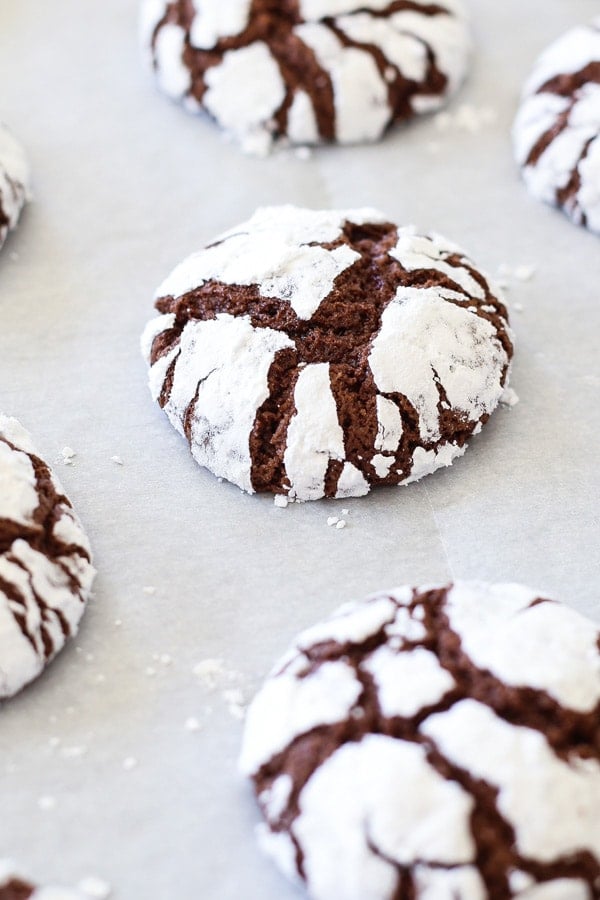 Chocolate Crinkle Cookie Recipe
Chocolate crinkle cookies is one of the most popular Christmas cookies, other than butter cookies and melting moments cookies.
This is an easy recipe that yields the best chocolate crinkle cookies ever! The recipe is 100% fail-proof and novice baker friendly.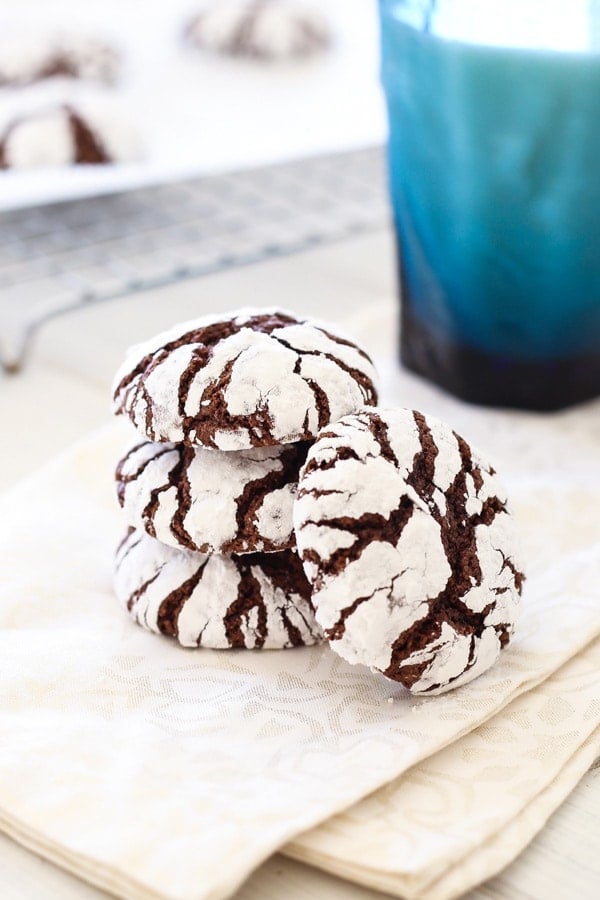 I love the cracked look and the contrast of the powdery white against the dark cocoa. These cookies have a brownie-like texture, moist, soft and a bit chewy.
They look absolutely festive and make the best Christmas and holiday gifts to neighbors, friends and family.
Other Cookie Recipes You Might Like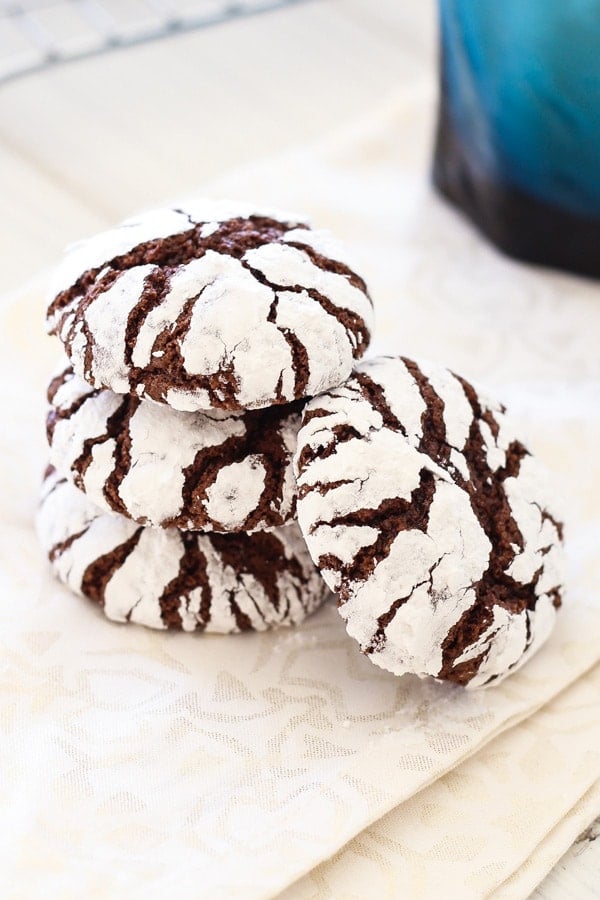 How to Make Chocolate Crinkle Cookies?
This is an easy recipe that calls for a simple 3-step process:
Make the cookie dough using a stand mixer. Chill the dough in the refrigerator for 4 hours.
Roll the dough into balls, flattened with your hand and then coat with powdered sugar.
Bake in the oven for 10 minutes.
Just follow the step-by-step method and instructions in the recipe card and watch my video above to make homemade chocolate crinkle cookies.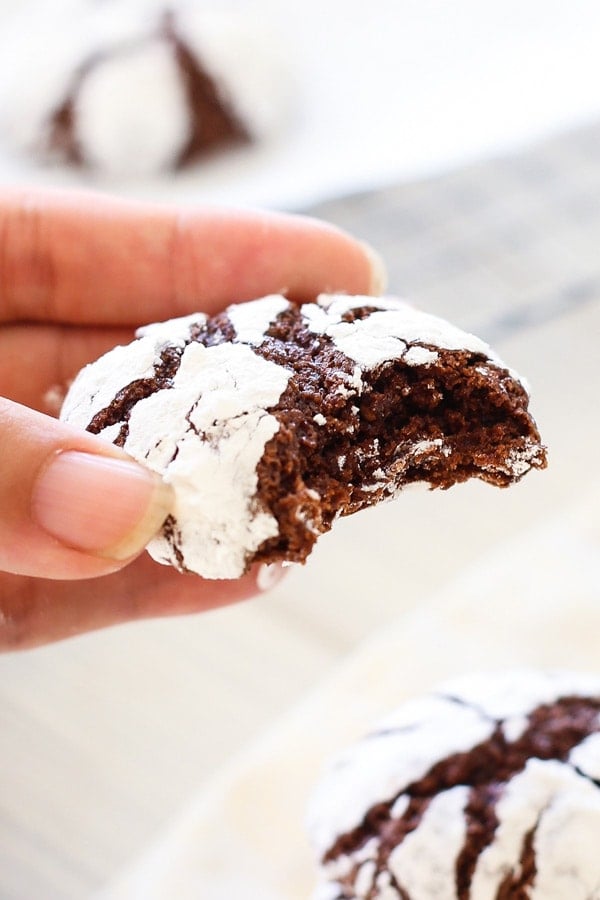 Baker's Tips
To get the cookies extra white with powdered sugar, coat each cookie with a ton of powdered sugar before baking.
This ensures the cookies don't absorb the powdered sugar during bake time.
To make the cookies extra festive, substitute the vanilla extract with peppermint extract to make chocolate peppermint crinkle cookies.
Frequently Asked Questions
Can I Make Chocolate Crinkle Cookies with Cake Mix or Brownie Mix?
You can certainly make the cookies with a store-bought cake mix and brownie mix, but this recipe is so easy that you don't really have to buy packaged cake mix.
Can You Make Chocolate Crinkles without Cocoa Powder?
Yes, you can use unsweetened chocolate to replace cocoa powder in the recipe.
If you use real chocolate, just melt the chocolate in a microwave, for about 1 minute. Stir the melted chocolate after 1 minute.
If the chocolate hasn't melted smoothly, heat in the microwave for another 10 seconds.
Can I Freeze Chocolate Crinkle Cookies?
I don't recommend freezing these cookies, especially after they are dusted with powdered sugar.
If you have to freeze them, do not dust powdered sugar before baking in the oven.
To serve frozen cookies, heat them up in a toaster oven and then dust with powdered sugar.
I recommend storing the cookies in an air-tight container, at room temperature for up to a week.
Chocolate Crinkle Cookies Calories
This recipe is only 48 calories per cookie.
What to Serve with the Cookies?
Serve the cookies with other festive desserts and cookies. I recommend the following recipes.

5 Secrets to 20 Min Dinners
Get tricks for quick & easy meals!
Yield: 72 cookies
Chocolate Crinkle Cookies Recipe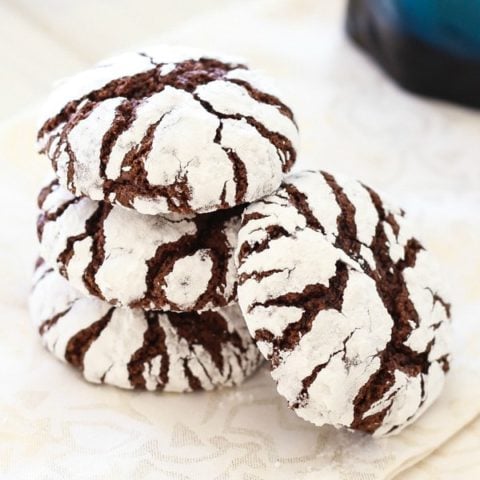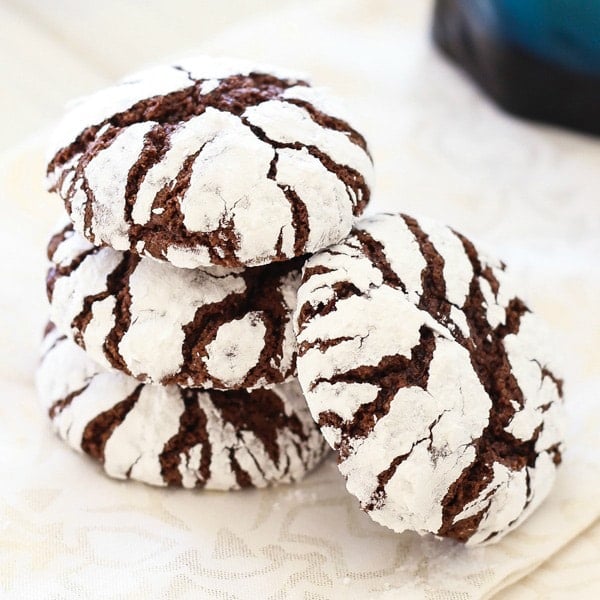 Chocolate Crinkle Cookies - sweet, easy and the BEST chocolate crinkle cookie recipe with butter, cocoa and powdered sugar. Great for Christmas holidays!
Ingredients
1 cup (120 g) unsweetened cocoa powder
2 cups (400 g) granulated sugar
1/2 cup (115 g) unsalted butter (preferred) or oil
4 eggs
2 teaspoons (10 ml) vanilla extract
1/2 teaspoon salt
2 teaspoons baking powder
2 cups (240 g) all-purpose flour
1/2 cup (50 g) powdered sugar
Instructions
In the bowl of a stand mixer, beat the cocoa, granulated sugar and butter (or oil) on medium speed. Reduce the speed to low and add 1 egg at a time until combined. Mix in the remaining ingredients in the order listed, for the exception of the powdered sugar. Cover the bowl with plastic wrap and chill in the refrigerator for 4 hours.
Preheat the oven to 350°F (176°C). Line cookie sheets with parchment paper. Roll the dough into 1-inch balls and coat with powdered sugar. Place on the prepared baking sheet at least 2 inches apart.
Bake for 10 minutes. Allow the cookies to rest on the hot cookie sheet for one minute before transferring to a wire rack to cool completely.
Notes
For more prominent results, use more powdered sugar and coat the cookie dough balls heavily before baking.
Nutrition Information
Serving Size
72 cookies
Amount Per Serving
Calories

48
Total Fat

2g
Saturated Fat

1g
Cholesterol

12mg
Sodium

20mg
Carbohydrates

10g
Fiber

1g
Sugar

6g
Protein

1g