Chocolate Cake - super rich and easy chocolate cake recipe that makes extremely moist cake topped with a decadent ganache frosting. The world's best cake!

Chocolate cake is a very rich cake – nobody can resist a super moist and decadent cake like it.
To get a good chocolate cake, you must use very good quality chocolate.
I used Valrhona Equatoriale 55% and the cake turned out heavenly.
The taste is just so perfect: you get the texture of a moist cake that's not too sweet.  
Give this cake recipe a try over the weekend and you will definitely get lots of gleeful smiles from your loved ones.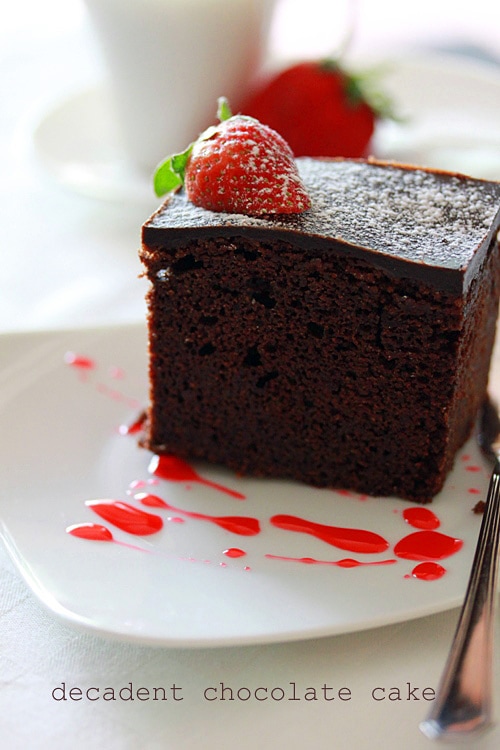 Ingredients for Chocolate Cake Recipe
Butter
Eggs
Dark chocolate
Cake flour
Baking powder
Baking soda
Milk
Whipping cream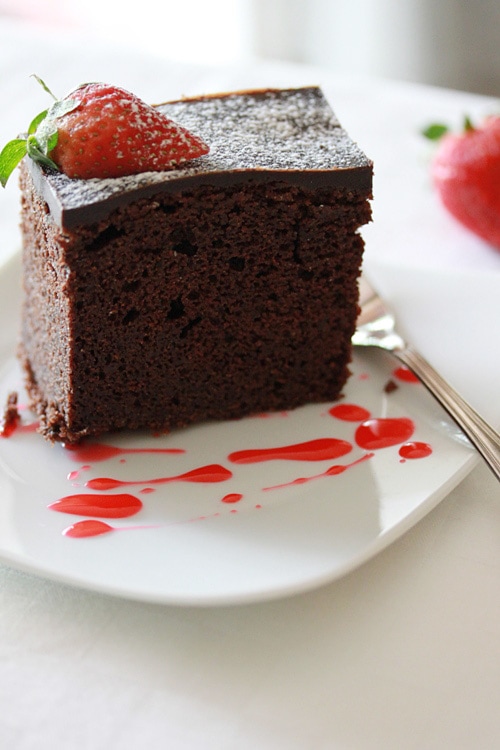 Frequently Asked Questions
Why does red velvet cake taste different than chocolate cake?
Red velvet is actually made with vinegar and buttermilk, which makes it have a different taste than chocolate cake.
What makes a cake moist?
To make a cake extra moist, add vegetable oil to the batter. Also, always be sure to use real butter.
What Dishes to Serve with this Recipe?
For a cute tea party, I recommend the following recipes.
How Many Calories Per Serving?
This recipe is only 472 calories per serving.
5 Secrets to 20 Min Dinners
Get tricks for quick & easy meals!
Yield: 2 people
Chocolate Cake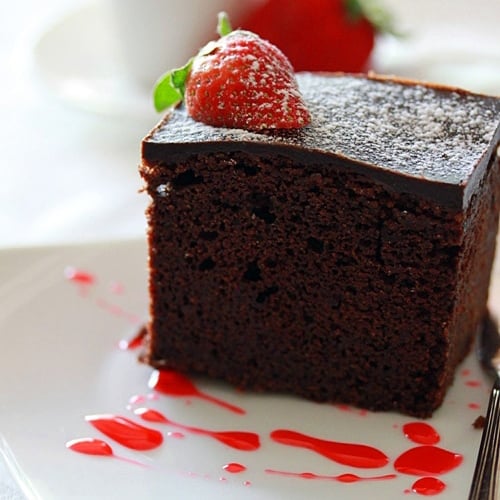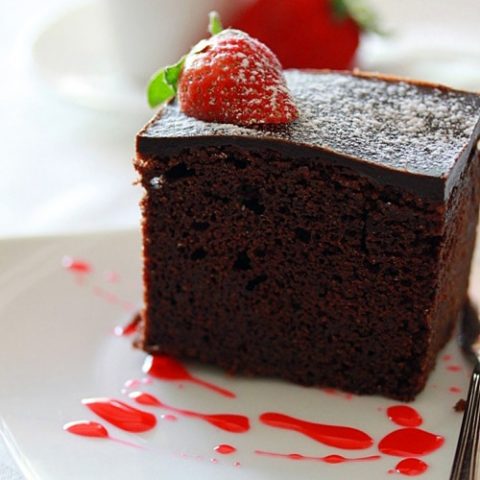 Chocolate cake and chocolate cake recipe. Easy chocolate cake recipe that calls for rich chocolate, butter, flour, and sugar to make chocolate cake.
Ingredients
Ingredients:
250 g Butter
180 g Castor Sugar
4 Large eggs
200 g Dark Chocolate
220 g Cake Flour
1 teaspoon Baking Powder
1/2 teaspoon Baking Soda
2 tablespoons Chocolate Powder
250 ml Fresh Milk
Ganache Topping:
200 g Dark Cooking Chocolate
1/2 cup Whipping cream
50 g Butter
Instructions
Method:
Melt the cooking chocolate in a double boiler. Set aside to cool.
Beat butter and sugar until light and fluffy.
Add in eggs one at a time beating well after each addition.
Pour in melted chocolate.
Fold in flour in 3 batches and alternate with milk.
Bake at a preheated oven at 160 degree Celsius for about 50 minutes. Test with a skewer, the skewer must come out clean.
Remove and let it cool before putting the topping.
Making the ganache:
Put chocolate, whipping cream and butter in a heatproof bowl over simmering water and stir until melted and smooth.
Let it cool slightly and spread on to the cake evenly.
Serve.


Nutrition Information
Serving Size
2 people
Amount Per Serving
Calories

472
Total Fat

244g
Saturated Fat

145g
Cholesterol

766mg
Sodium

1648mg
Carbohydrates

274g
Fiber

27g
Sugar

145g
Protein

54g