This churros recipe is so quick and easy to make, you may want the sweet treat every day! Pipe them, fry them,, then drizzle with chocolate for the perfect dessert.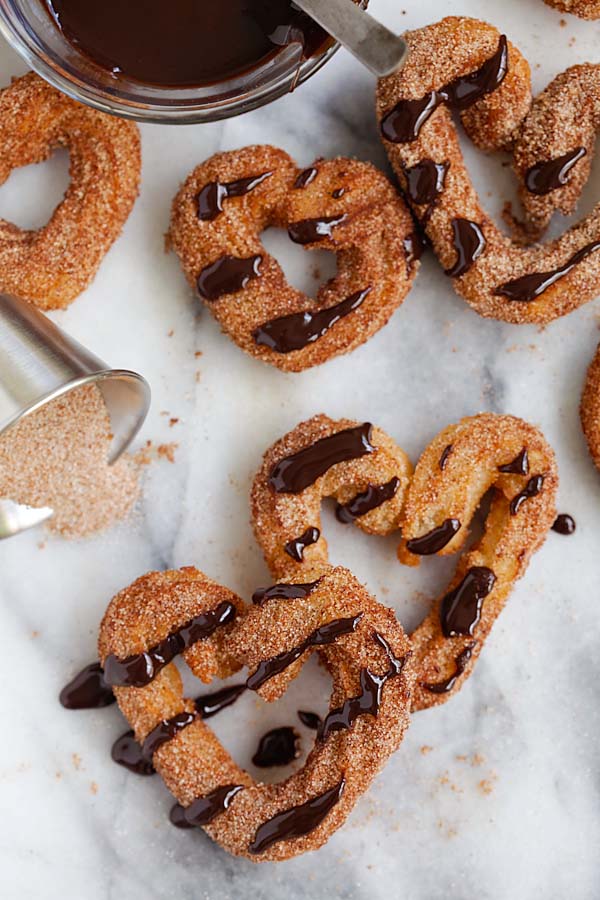 What Is a Churro?
Churros are crunchy, sweet fried pastry. The recipe comes from Spain and Portugal, but is now popular in many countries.
How to Make Churros Recipe
Churros are generally made with flour, water and salt. Most often, they have a sprinkling of sugar or cinnamon sugar.
The churros dough is usually piped into long, straight lines, but is sometimes piped into shapes, like circles or hearts.
After a quick swim in hot oil, the fried dough is rolled in plain sugar or cinnamon sugar. They taste perfect like that, but there are other delicious ways to serve homemade churros, too.
Make a few dipping sauces to serve with them! Some easy ideas include:
Chocolate sauce
Dulce de leche or caramel sauce
Strawberry sauce
Lightly sweetened cream cheese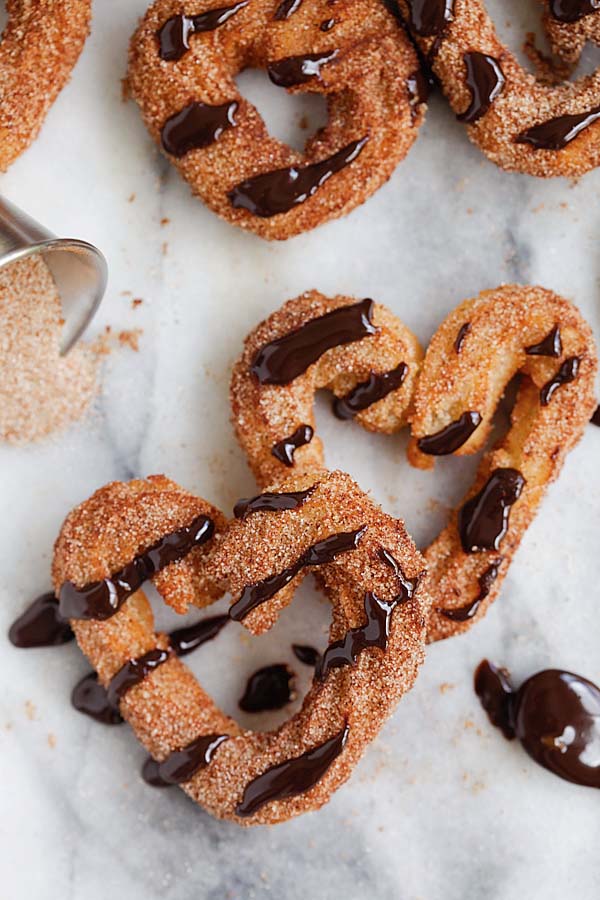 Are They Just for Dessert?
Not only does this easy churro recipe make a delicious dessert, but it's also a fun idea for breakfast and snacks.
If you make them for breakfast, serve them with fruit preserves or peanut butter instead of sweet dipping sauces. They're perfect with a mug of coffee or hot chocolate.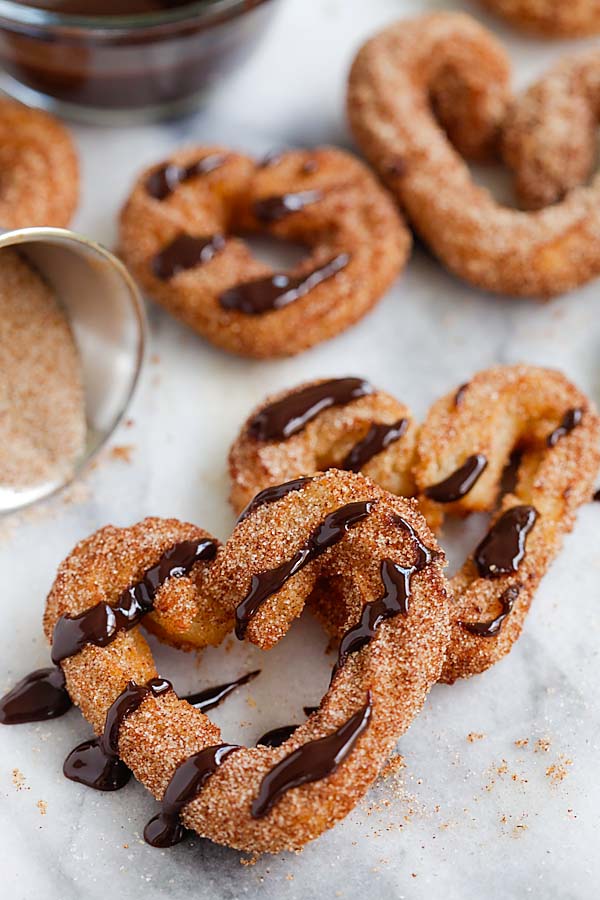 How Do You Store Them?
If you want to make the dough ahead of time, store it in a covered bowl at room temperature. It can also be kept in an airtight container in the refrigerator for up to one day. Allow the dough to return to room temperature before piping and frying the churros.
Homemade churros taste the best right after frying, when they are nice and warm. If you have any leftovers, store them in an airtight bag or container at room temperature for up to two days.
They can also be frozen, but keep in mind that frozen churros will lose their crunch as they thaw out.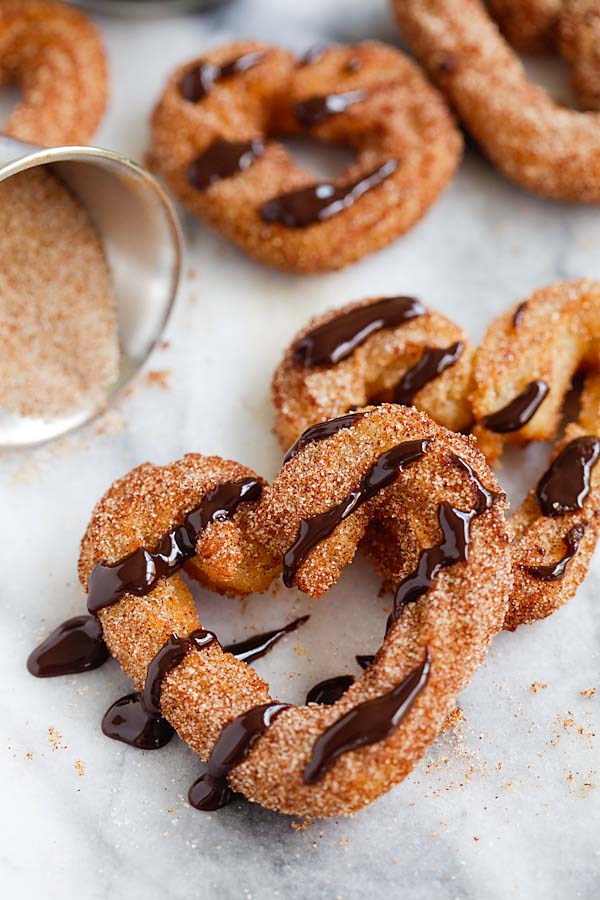 How Many Calories per Serving?
This churros recipe is 494 calories per serving.
5 Secrets to 20 Min Dinners
Get tricks for quick & easy meals!
Yield: 4 people
Churros Recipe with Chocolate Sauce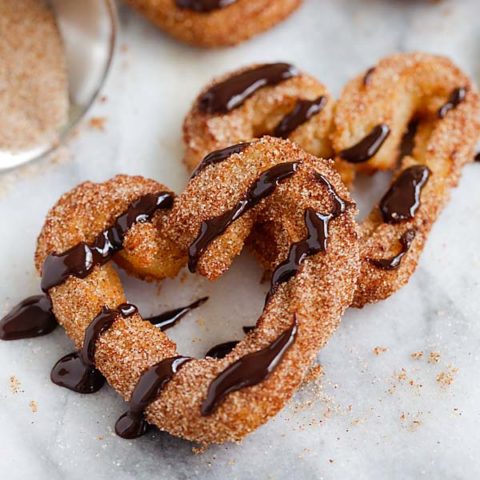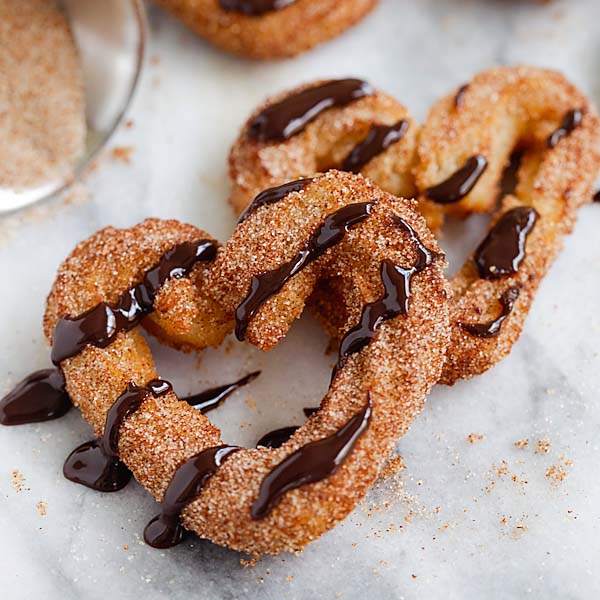 This churros recipe is so quick and easy to make, you may want the sweet treat every day! Pipe them, fry them,, then drizzle with chocolate for the perfect dessert.
Ingredients
Churros:
1 cup water
3 tablespoons sugar
1/2 teaspoon salt
2 tablespoons unsalted butter
1 cup all-purpose flour, sifted
Vegetable cooking oil, for frying
Cinnamon Sugar:
1/3 cup granulated sugar
1 1/2 teaspoons ground cinnamon
Chocolate Sauce:
3 1/2 oz. (100 g) milk chocolate, chopped
1/2 cup heavy whipping cream
Instructions
Mix the sugar and cinnamon together. Set aside. Line a tray with parchment paper.
Heat the water, sugar, salt and butter in a saucepan over medium heat. Bring to a boil then turn heat off and immediately add all the flour. Stir the flour vigorously with a wooden spoon until the dough forms a ball. Set aside for to cool down a little but pipe while the dough is still warm and pliable. Fit a large piping bag with a large closed star tip. Spoon the dough into the bag and carefully pipe the hearts on the tray.
Heat the vegetable oil in a pot to 375°F (190°C). Lower the hearts into the oil using a wooden spoon (to keep the shape well). Use chopstick to flip and fry until golden brown. Drain on kitchen towels and then roll the churros in the cinnamon sugar.
To make the chocolate sauce, heat the cream until just boiling then pour it over the chopped chocolate. Stir until the chocolate is melted. Drizzle it over the churros or dip the churros in the sauce. Serve warm.
Notes
Draw hearts on the parchment paper as a template, then pipe the churro into heart shape by tracing the drawing.
Nutrition Information
Serving Size
1 churro
Amount Per Serving
Calories

494
Total Fat

25g
Saturated Fat

15g
Cholesterol

56mg
Sodium

311mg
Carbohydrates

66g
Fiber

3g
Sugar

39g
Protein

5g