Gado-gado is one of the well-known dishes from Indonesia. Gado-gado literally means "mix mix" since gado-gado is the plural word of gado, so gado-gado means mixes.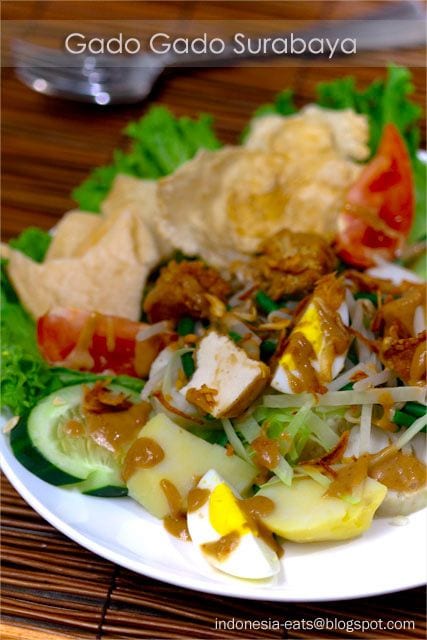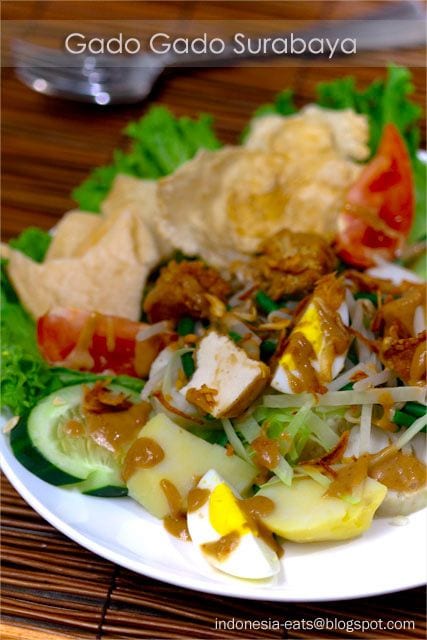 The best way to learn about a new cuisine is from those born and raised in that country, and that's why I have Pepy of Indonesia-Eats as the guest writer for Indonesian food today. Pepy is the first Indonesian food blogger I know and I've since learned so much about Indonesian cuisine from her blog at Indonesia-Eats.In this guest post, Pepy explains the different preparations of Gado-gado and shares with us her recipe. Please welcome her to Rasa Malaysia.
Gado-Gado Surabaya
Guest Writer: Indonesia-Eats (The Art and Science of Food)
To begin with, I was surprised that Rasa Malaysia has chosen me to be the guest writer of Indonesian cuisine on her blog. Rasa Malaysia is one of my inspired blogs among the Asian specialty blogs.
We share the same passion for Asian food as we came from the same region, Malay Peninsula where Bahasa Indonesia and Bahasa Malaysia are from the same language root. Some of the food terms are the same, few are different.
Gado-gado is one of the well-known dishes from Indonesia. Gado-gado literally means "mix mix" since gado-gado is the plural word of gado, so gado-gado means mixes. In Indonesia, gado-gado is not a salad dish group, it is a one dish meal.
Speaking about gado-gado in Indonesia, several different numbers of gado-gado were developed based on the region. I was born and grew up in East Java province and I left the province for my school to West Java province… this experience had brought me to taste different styles of gado-gado.
In East Java (around Surabaya), we call it Gado-gado Siram or Gado-gado Surabaya. Siram means pour as we order the food, the seller will place the ingredients (lontong, blanched vegetables, steamed potatoes, boiled eggs, tempe, tofu, etc.) on a plate and then pre-made gado-gado sauce is poured over, garnish with fried shallots and top with crackers (melinjo nuts and shrimp crackers).
While in West Java (around Bandung and Bogor), the sellers will combine ground peanuts and spices, grind them in a mortar and pestle, add the cooked vegetables, mix them together, and transfer into a plate.
Another style of gado-gado that I relish is gado-gado boplo from Jakarta. Boplo is an area in Jakarta where this style of gado-gado can be found. What is the difference between gado-gado siram and boplo? Gado-gado siram uses peanuts while Gado-gado Boplo uses cashew nuts.
In addition, Gado-gado has carbohydrate supply from lontong and potatoes. Tempeh, tofu and eggs are the protein sources. Last but not least, the vegetables.
Gado-gado can be made for pescetarianisms or pesco vegetarianisms who still consume fish and seafood; it can also be consumed by lacto-ovo vegetarians who include eggs and dairy products in their diet.
Also, you can go for vegan by omitting dried shrimp paste (Indonesian: terasi/trassi, Malay: belachan/belacan) in gado-gado sauce and shrimp cracker, and skipping the egg. By leaving out the shrimp crackers, gado-gado is totally safe for people with celiac disease that can't have any wheat in their diet.
In this post, I contribute an authentic recipe of Gado-gado Surabaya or Gado-gado siram, it might be pretty intimidating with the long list of ingredients, but it will be worth it.
How Many Calories per Serving?
This recipe is only 602 calories per serving.
What Dishes to Serve with This Recipe?
For a wholesome meal and easy weeknight dinner, I recommend the following recipes.
For more great recipes like this, sign up for our newsletter. We'll send daily recipes you'll love!
Join
Sign up for our newsletter!
Gado-Gado Surabaya Recipe (Gado-Gado Siram)
Gado-gado is one of the well-known dishes from Indonesia. Gado-gado literally means "mix mix" since gado-gado is the plural word of gado, so gado-gado means mixes.
Ingredients
Blanched/steamed vegetables

long green beans

(cut into 4-5 cm long (2 inches))

Chinese cabbage

(shredded)

Bean sprouts
Fresh Vegetables:
Lettuce

Tomato

(wedged)

Cucumber

(sliced)
Other Complements:
Boiled/steamed potatoes

(sliced)

Boiled eggs

(wedged)

Fried/baked tempe

Fried/baked tofu

Lontong

(rice cake with log shape, cut into 1 cm thick)

Ready-to-use fried shallot

Melinjo nuts crackers

Shrimp crackers
Gado-gado sauce:
10

cloves

garlic

(stir fried/fried/roasted)

300

g

roasted/fried peanuts

(In this case, I used 1 cup of organic crunchy peanut butter)

1000

ml

coconut milk

10

red chilies

(discard the seed and stir fried/fried)

1

teaspoon

terasi

(dried shrimp paste, toasted)

1

block

coconut sugar

(62 g)

2-3

tablespoons

rice flour

(dissolve in a small amount of water)
Sambal:
20

red bird eyes chilies

(boiled /steamed)

1/2

teaspoon

sugar

Sea salt

(as desired)
Instructions
Gado-Gado Sauce
Process garlic, peanuts/peanut butter, a half part of coconut milk, red chilies, terasi, coconut sugar in a food processor or blender.

In a sauce pot, combine processed mixture with the rest of coconut milk, stir and turn on the stove at low-medium heat. Stir occasionally.

Cook the sauce until boiled, the volume reduced, and the sauce surface looks a bit oily. Add rice flour mixture. Keep stirring until bubbling, about 5 minutes. Remove from the heat.
Sambal
Combine all ingredients and process in a food processor/blender, or you can grind them with mortar and pestle.
Serving
Place lettuce, slices of lontong and boiled potatoes, blanched vegetables, wedges of boiled egg, slices of fried tempe and tofu, and wedges of tomato, slices of cucumber. Pour the warm sauce over, garnish with fried shallot, crushed shrimp crackers and emping nuts crackers. Put sambal on the side as people has different tastebuds to handle the spiciness. You can omit the sambal if you don't like the spicy sauce.
Notes
- If the sauce to thick, add a small amount of water.
- Always try the sauce before remove from the heat, so you can add salt or coconut sugar to match your tastebuds.
- Serve gado-gado sauce while it is still warm. Warm up the sauce if it is cold.
- If you still have leftover sauce, keep it in a jar and refrigerate/freeze. You may use for other dipping purposes.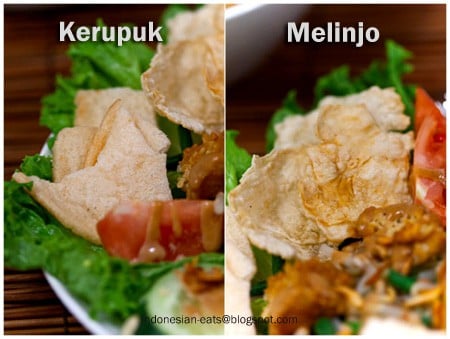 Glossary:
Emping Melinjo: Melinjo or padi oats crackers
Lontong: Rice cake with log shape
Kerupuk/krupuk Udang: shrimp crackers
Tempe/Tempeh: Indonesian fermented soy bean cake
Terasi/Trassi: dried shrimp paste
Nutrition

Nutrition Facts

Gado-Gado Surabaya Recipe (Gado-Gado Siram)

Amount Per Serving (4 people)

Calories 602

Calories from Fat 819

% Daily Value*

Fat 91g140%

Cholesterol 14mg5%

Sodium 105mg5%

Carbohydrates 36g12%

Protein 28g56%

* Percent Daily Values are based on a 2000 calorie diet.

Notice: Nutrition is auto-calculated, using Spoonacular, for your convenience. Where relevant, we recommend using your own nutrition calculations.