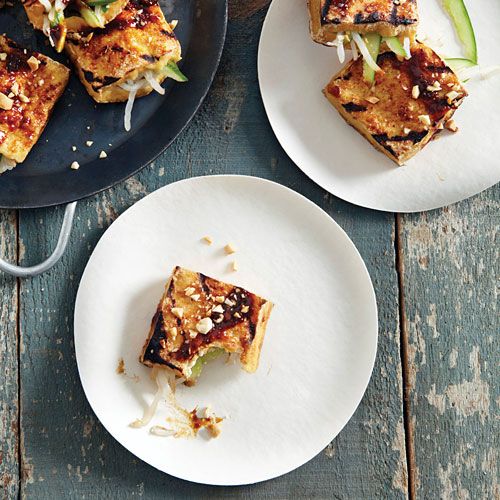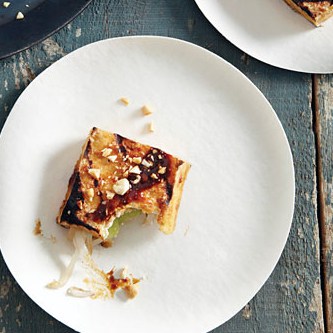 Grilled Crisp Tofu Pockets (Tahu Bakar)
Grilled Crisp Tofu Pockets (Tahu Bakar) recipe – Tahu bakar, or grilled crisp tofu pockets, is an Indonesian/Malaysian snack that is both appetizing and brightly flavorful.
Ingredients:
11/2 pounds firm tofu
4 ounces (11/2 cups) bean sprouts
5 cups water
21/4 teaspoons salt
Canola oil for deep-frying
1 large Kirby or Persian cucumber, quartered lengthwise, seeded, and cut on the diagonal into thin strips, each about 2 inches long
2 to 3 tablespoons unsalted roasted peanuts, chopped
Rojak Sauce Ingredients:
1 tablespoon dried shrimp paste or 2 teaspoons 
preroasted dried shrimp paste
3 tablespoons packed dark palm sugar or dark brown sugar
1 or 2 moderately hot red chiles, such as Fresno, coarsely chopped
2 tablespoons Tamarind Liquid
3 tablespoons Indonesian sweet soy sauce
Method:
1. To make the sauce, if using unroasted dried shrimp paste for the sauce, wrap it up in a 3-inch-square piece of aluminum foil like an envelope. Flatten the packet with the heel of your hand. Roast the packet on the stovetop directly over a medium-high flame for 2 to 3 minutes, turning occasionally with tongs, until it is briny smelling; expect steam to shoot from the foil. Remove from the heat and let cool. Blast your exhaust to get rid of odor. (If using preroasted shrimp paste, skip this step.)
2. Use a small food processor to grind the shrimp paste, palm sugar, and chiles to a fine texture. Add the tamarind and sweet soy sauce and process until smooth (you'll have about 1/2 cup). Transfer to a bowl if using soon. Or, refrigerate in a tightly capped jar for up to a week; return to room temperature before using.
3. Halve the tofu crosswise, then cut each half into squarish pieces about 21/4 inches wide and 3/4 inch thick. You should have 12 pieces total. Put in a bowl. Put the bean sprouts in another bowl. Set aside.
4. Bring the water to a boil. Turn off the heat. After the boiling subsides, measure 3 cups and add the salt, stirring to dissolve. Pour this salted water over the tofu, covering it. Set aside for 15 minutes.
Pour the remaining (unsalted) hot water over the bean sprouts to cover. When the sprouts have softened, about 2 minutes, drain, flush with cold water, and set aside to drain well. The bean sprouts can be prepped several days in advance and refrigerated.
5. When the tofu is ready, pour off the water, then transfer the pieces to a non-terry dishtowel or double layer of paper towels placed atop a plate. Let drain for about 
15 minutes.
6. Heat 11/2 inches of oil in a wok, deep skillet, or saucepan over high heat to between 360° and 370°F. Blot excess water from the tofu one last time, then fry in batches of 4 to 6 pieces, sliding them into the oil, then gently stirring them with chopsticks or a skimmer to fry evenly and prevent them from sticking. If they stick, let them fry until they are light golden before nudging them apart, or remove the pieces from the oil, separate, then quickly replace them in the oil to finish frying. The tofu should be crisp and deep golden after 2 to 3 minutes. Drain the fried tofu on paper towels. Return the oil to temperature before frying another batch. Set aside to cool. The tofu may be fried and refrigerated up to 5 days ahead; return it to room temperature before grilling.
7. To grill the tofu, prepare a very hot charcoal fire (it's ready when you can hold your hand over the rack for only 2 to 3 seconds) or heat a gas grill to high. Grill the tofu for about 3 minutes on each side, until hot and crisp with some dark charring. Dab some sauce on the tofu before it comes off the grill, for caramelization, if you like. Transfer to a plate and let cool for a few minutes. (Alternatively, broil the tofu in a toaster oven directly on the rack for about 6 minutes, turning midway, until hot and slightly crisp at the edges.)
8. Lay each piece of tofu on your work surface and use a paring knife to cut a pocket into one side. To assemble, drizzle about 1/2 teaspoon of sauce into each pocket before stuffing in the bean sprouts and cucumber, letting a few hang out of the opening for flair.
9. Serve the pockets on individual plates or a platter. Drizzle on some of the sauce and sprinkle on the peanuts. Offer extra sauce on the side. These pockets are best eaten as a finger food.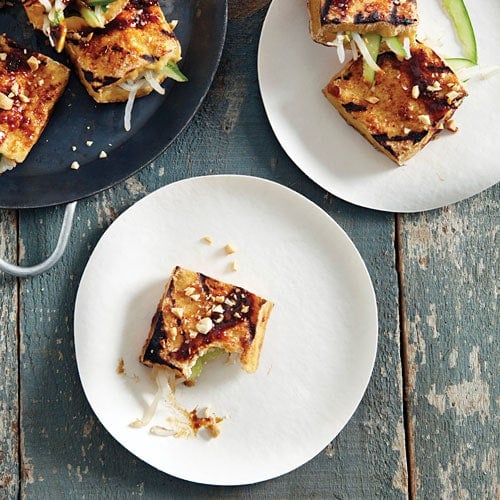 (Note: Tofu is spelled as "Tahu" – the Indonesian spelling instead of "Tauhu" in the cookbook.)
My friend Andrea Nguyen at Viet World Kitchen has recently released a new cookbook "Asian Tofu: Discover the Best, Make Your Own, and Cook It At Home." It's one of the cookbooks that I really look forward to because I love tofu and tofu-related products.
The book was sent to me when I was in Malaysia.
The first thing upon returning to my Irvine home, I dug through my piles of magazines and books and looked for Asian Tofu.
The first night when I woke up middle of the night due to jetlag, I read through the beautiful cookbook.
I only have one sentence to say about Andrea's newest project: she is a real food writer and a pro…her passion, dedication, and knowledge in the subject matter shine through in Asian Tofu (and her previous books). 
I have a huge respect for her and her work; she is someone whom I constantly look up to.
Here is the tahu bakar recipe, or grilled crisp tofu pockets, an Indonesian/Malaysian snack that is both appetizing and brightly flavorful.
I recently had an unforgettable tahu bakar when visiting my friend Indochine Kitchen in Medan, Indonesia.
It's a dish that I hope to re-create at home, and now I have the perfect recipe to refer to.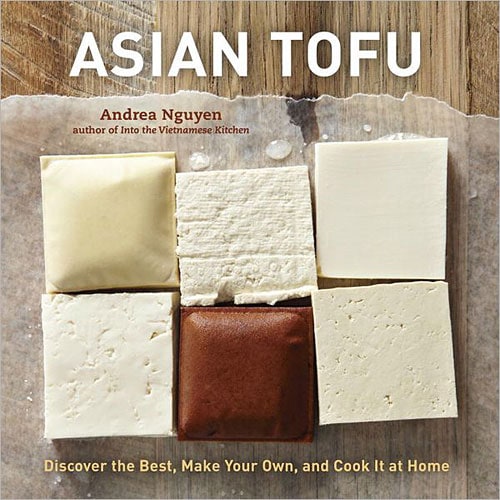 Asian Tofu: Discover the Best, Make Your Own, and Cook It at Home by Andrea Nguyen is available for purchase at all major bookstores and online stores such as Amazon.com or Barnes & Noble.
Reprinted with permission from Asian Tofu: Discover the Best, Make Your Own, and Cook It at Home by Andrea Nguyen, copyright © 2012. Published by Ten Speed Press, a division of Random House, Inc.
Photo credit: Maren Caruso © 2012
Click Here to Pin This Recipe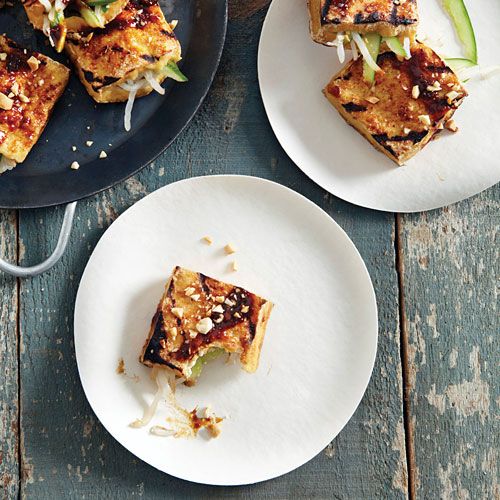 SUBSCRIBE AND NEVER MISS A RECIPE
SUBSCRIBE TO RASA MALAYSIA NEWSLETTER AND GET EASY AND DELICIOUS RECIPES DELIVERED TO YOUR INBOX. If you try my recipe, please use hashtag #rasamalaysia on social media so I can see your creations! Follow me on Facebook | Instagram | Pinterest | Twitter for new recipes, giveaways and more.