Kaya (Malaysian Coconut Egg Jam) - Kaya is a delicious Malaysian jam made with coconut, eggs and caramel. Rich and aromatic jam which is perfect for toast and a cup of coffee.

Kaya is a delicious Malaysian jam made with coconut, eggs and caramel. Rich and aromatic jam which is perfect for toast and a cup of coffee!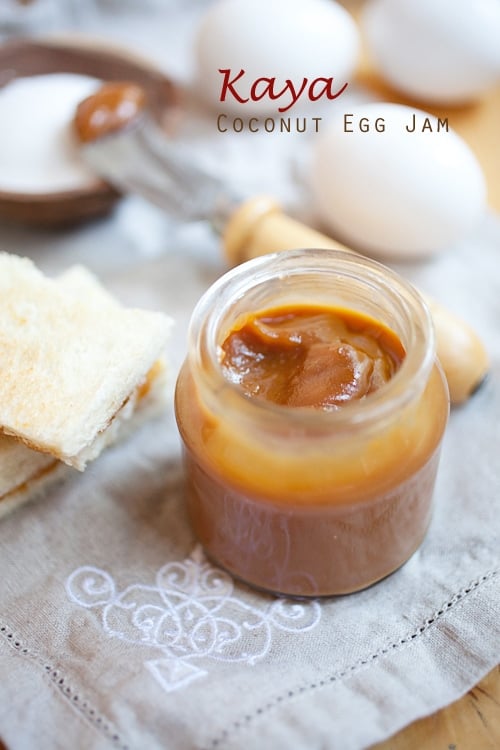 Kaya is one of my favorite Malay words.
The reason is simple: it carries two of my favorite meanings in Malaysian language.
First being rich; secondly, it means an utterly delicious coconut egg jam which is wildly popular in Malaysia and neighboring country Singapore.
In this post, I am going to teach you how to make kaya, a jam that gets me all excited waking up in the morning…the silky smooth jam that goes on warm, crispy buttery toasts, and served with a cup of aromatic Malaysian dark coffee.
Ahh…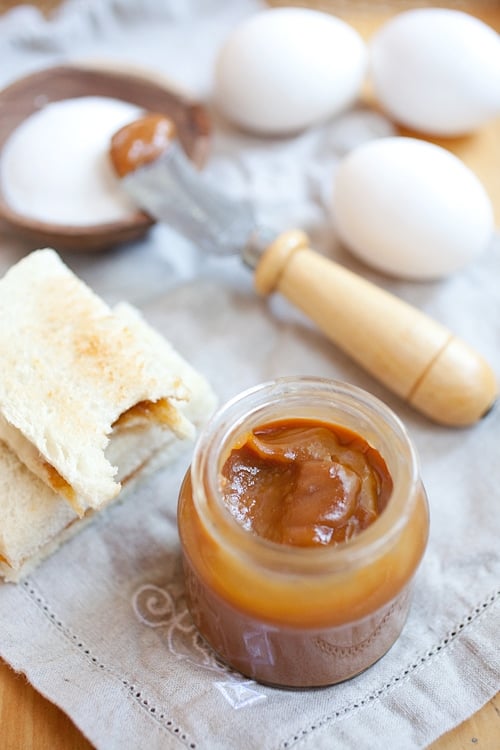 Other Recipes You Might Like
Kaya, also known as srikaya, seri kaya, is a confiture made of eggs, coconut milk, sugar and infused with the fragrant aroma of pandan leaf.
The mere mention of kaya conjures up a lot of my childhood memories.
I grew up mostly with my late grandmother—a much celebrated Nyonya cook and kuih (local sweet cake) maker.
The majority of my childhood days were spent in the kitchen, watching my late grandmother and my aunt preparing her many orders.
One of the things that we would always make is kaya, the coconut egg jam that would go on the beautiful blue-color Nyonya kuih called pulut tai tai.
My aunt would always be the designated helper making the kaya.
She would beat the eggs, coconut milk, and sugar mixture with a traditional springy egg beater, and then the mixture would go into an antique yellow color enamel double-boiler sitting over a charcoal burner.
Whenever she made kaya, she would religiously sit in front of the charcoal fire, stirring the kaya diligently for hours, yes, laborious hours!
The kaya that came out from our home kitchen was always silky, smooth, with the richest and freshest taste, complete with a golden brown hue and color unrivaled by any kaya I have ever encountered.
It was pure perfection.
A perfect ten confiture.
Once in a while, my aunt would ask me to help, and I would eagerly take her seat and help with the chore.
Mundane was an understatement, but I often derived a sense of satisfaction watching the egg mixture slowly transformed into a silky and thicker consistency, and then the pale yellowish color transformed to a golden amber color with the addition of caramel.
It was magical…and the taste of the end product was absolutely delicious.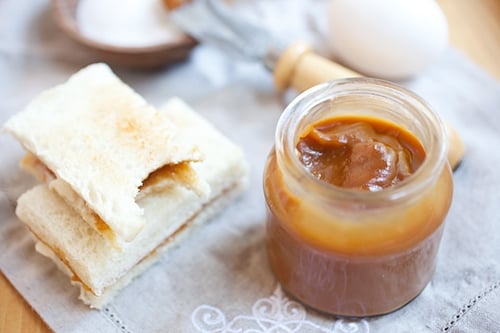 There are many variations of kaya, some are yellowish in color, while others are greenish, or brownish.
The texture varies, too; some are runny, while others are thicker.
My favorite is always the ones which is thick and rich in texture (I don't like runny and thin kaya), golden brown in color, a color derived from the addition of caramel towards the end of the making process.
While the traditional way of double-boiling is probably the best way to make kaya, nowadays, you can actually make this prized jam in less than an hour.
When I called my aunt for the recipe, she even told me to "cook" the kaya, and skip the hours of stirring.
My kaya recipe below is quick and easy and takes about 30 minutes.
With the help of modern kitchen appliances, the texture is smooth as silk, and the taste is as close as the ones that my aunt used to make.
If my late grandmother were to taste this kaya jam, I am sure she would be so proud of me. It's sweet, creamy, aromatic, and without any lumps, it's simply decadent.
Try my kaya recipe and in the next post, I will teach you how to turn your plain old toast into kaya toast that you will soon be hooked on.
How Many Calories per Serving?
This recipe is only 199 calories per serving.
For more great recipes like this, sign up for our newsletter. We'll send daily recipes you'll love!
Join
Sign up for our newsletter!
Kaya (Malaysian Coconut Egg Jam)
Kaya is a delicious Malaysian jam made with coconut, eggs and caramel. Rich and aromatic jam which is perfect for toast and a cup of coffee.
Ingredients
4-5

eggs

200

g

sugar

1/2

cup

coconut cream

3/4

cup

coconut milk

3

pandan leaves

(tie into a knot)

1 1/2

tablespoons

corn starch

1 1/2

tbsp

water
Instructions
Crack the eggs into a big bowl or container, follow by the coconut cream, coconut milk, and sugar. Whisk well, or using an electronic hand mixer, whisk the mixture well. Filter the mixture with a strainer.

Transfer the egg mixture into a sauce pan (non-stick preferred). Add the pandan leaves into the egg mixture and turn on the heat to medium low. Using a wood spatula or a pair of wooden chopsticks, keep stirring the mixture until they are cooked, about 20 minutes. To thicken the kaya, add the corn starch mixture, stir to combine well with the kaya. Please take note that lumps will form in the jam.

In the meantime, heat up the sugar for the Caramel in a sauce pan until the sugar melts into caramel. When the color becomes golden brown, add the caramel into the kaya, stir to combine well. The color of the kaya should be golden brown. Turn off the heat.

Let the kaya jam cool down, discard the pandan leaves and transfer the kaya to a blender. Blend until it reaches a silky smooth consistency and without lumps. Transfer the kaya to a jam bottle. You can keep it in the fridge for about a week.
Notes
Use fresh coconut cream and coconut milk if possible. I used Kara brand coconut cream and coconut milk. If you like your kaya lighter color, use 50 g of sugar for the caramel. I used 75 g. My aunt told me that I can use 3, 4, or 5 eggs, so it's totally up to you. I like my kaya rich, so I used 5 eggs. I also like my kaya to have a thicker consistency instead of runny, as I don't like the "watery" part of the kaya making my toast "soggy."
Nutrition

Nutrition Facts

Kaya (Malaysian Coconut Egg Jam)

Amount Per Serving (10 people)

Calories 199

Calories from Fat 81

% Daily Value*

Fat 9g14%

Cholesterol 65mg22%

Sodium 28mg1%

Carbohydrates 27g9%

Protein 3g6%

* Percent Daily Values are based on a 2000 calorie diet.

Notice: Nutrition is auto-calculated, using Spoonacular, for your convenience. Where relevant, we recommend using your own nutrition calculations.