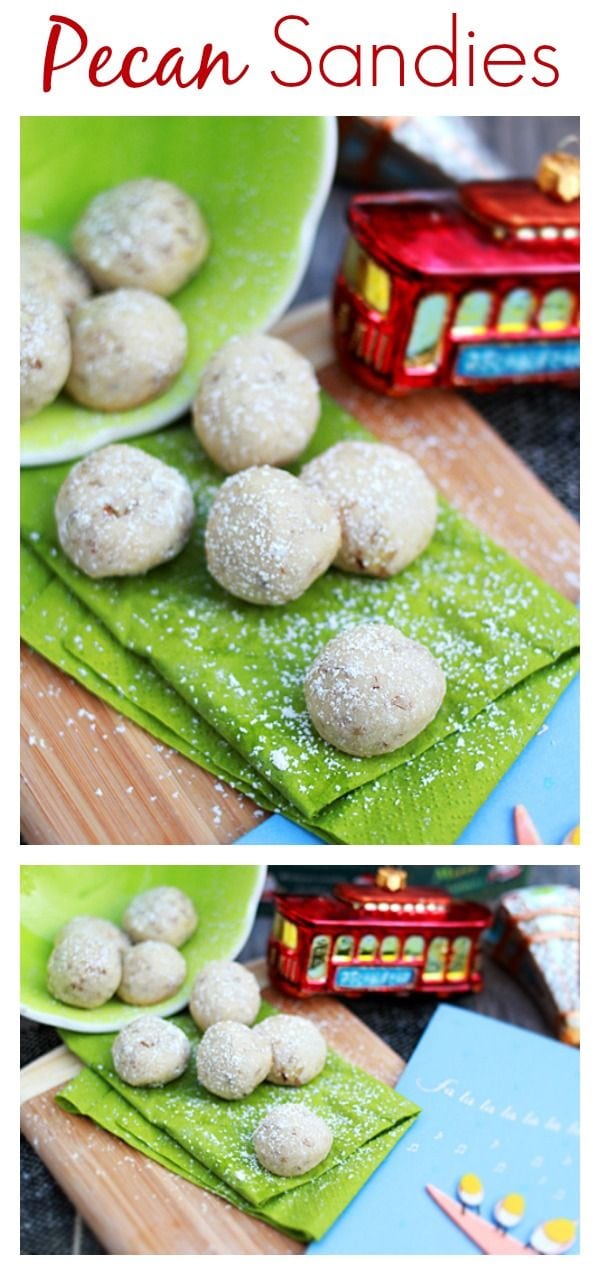 Pecan Sandies
Pecan Sandies – classic holiday cookies recipe with chopped pecan. Buttery and crumbly cookies, so yummy
Prep time:
Cook time:
Total Time:
Ingredients:
3/4 cup (~98g) finely chopped pecans, toasted
1/2 cup (~113g) butter, softened
1/4 cup (~32g) powdered sugar
1/2 tablespoon water
1/2 tablespoon vanilla extract
1 cup (~125g) all purpose flour
1/4 cup (~32g) powdered sugar for dusting
Method:
To toast the pecans, use a shallow pan and bake at 300°F in a single layer for 10-15 minutes.
Stir once or twice.
Cool completely before chopping.
Beat the butter for 30 seconds on medium speed.
Add 1/4 cup powdered sugar and beat until combined, scraping the side as needed.
Add the water and vanilla extract, beat well.
Slowly add in the flour and beat as much as you can.
If it gets hard to mix, stop the mixer and use a wooden spatula.
Stir in the remaining flour and chopped pecans.
If needed, use your hand to mix until all ingredients are well combined.
Transfer the dough to a plastic wrap, roll it up tightly and chill for 30-60 minutes or until the dough is firm.
Preheat the oven to 325°F (160°C). Line a baking sheet with parchment paper.
Shape the dough into 1″ balls and place them on the baking sheet 1″ apart.
Bake for 15 minutes or until the bottom is slightly browned.
Transfer to wire rack to cool completely before dusting with powdered sugar.
Pecan Sandies – classic holiday cookies recipe with chopped pecan. Buttery and crumbly cookies, so YUMMY!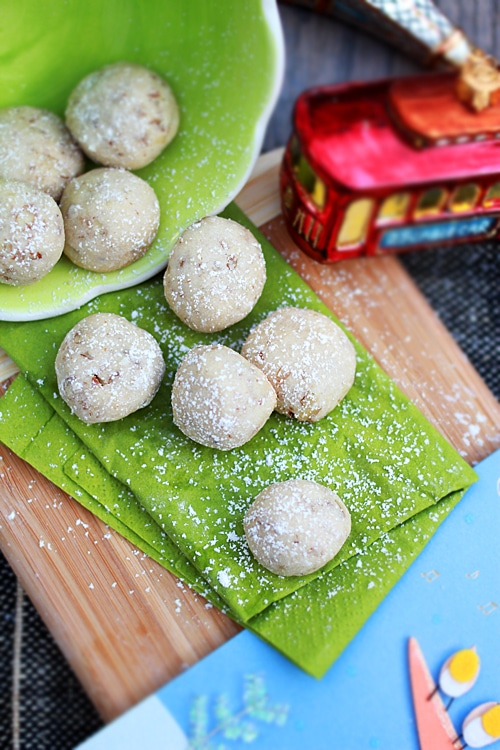 My holiday baking continues today with pecan sandies, one of the classic cookies for the holidays.
Everyone loves buttery and crumbly cookies and these pecan sandies are made with finely chopped pecans, butter, and all-purpose flour and dusted with powdered sugar for extra sweetness.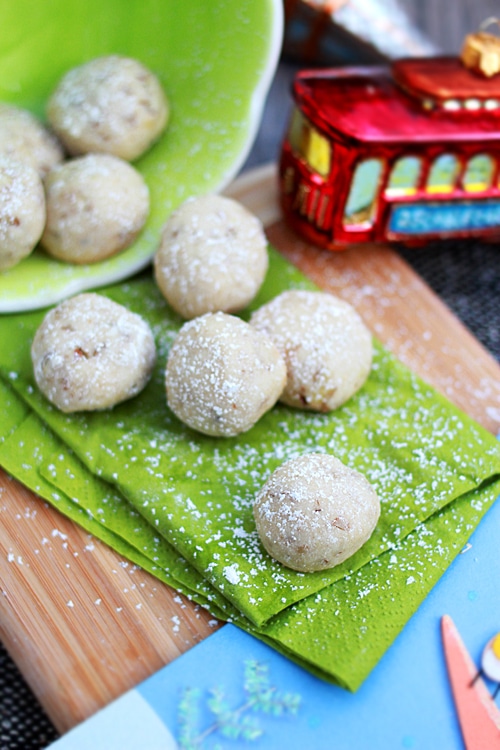 I have never made pecan sandies before so I referred to a cookie magazine I got while shopping—100 Best Cookies 2012 magazine.
The magazine is graced with all festive cookies and I basically wanted to try making everyone of them.
I am a big fan of butter cookies and my son has acquired a liking for them.
In fact, he only loves the cookies I bake.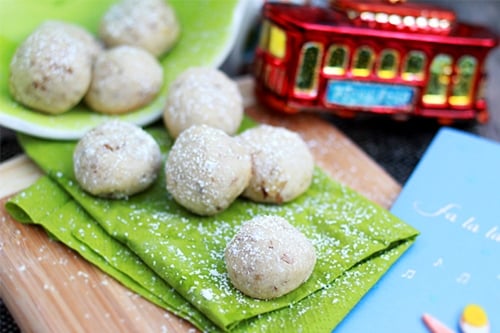 Anyway, here is the pecan sandies recipe. This recipe is definitely a keeper.
For the dusting of powdered sugar, you can do without it as the cookies are already sweet enough.
However, if you want your pecan sandies to look even more tantalizing, lightly dust them with some powdered sugar, just like how I did on the photos above.
Have fun and enjoy holiday baking!
Click Here to Pin This Recipe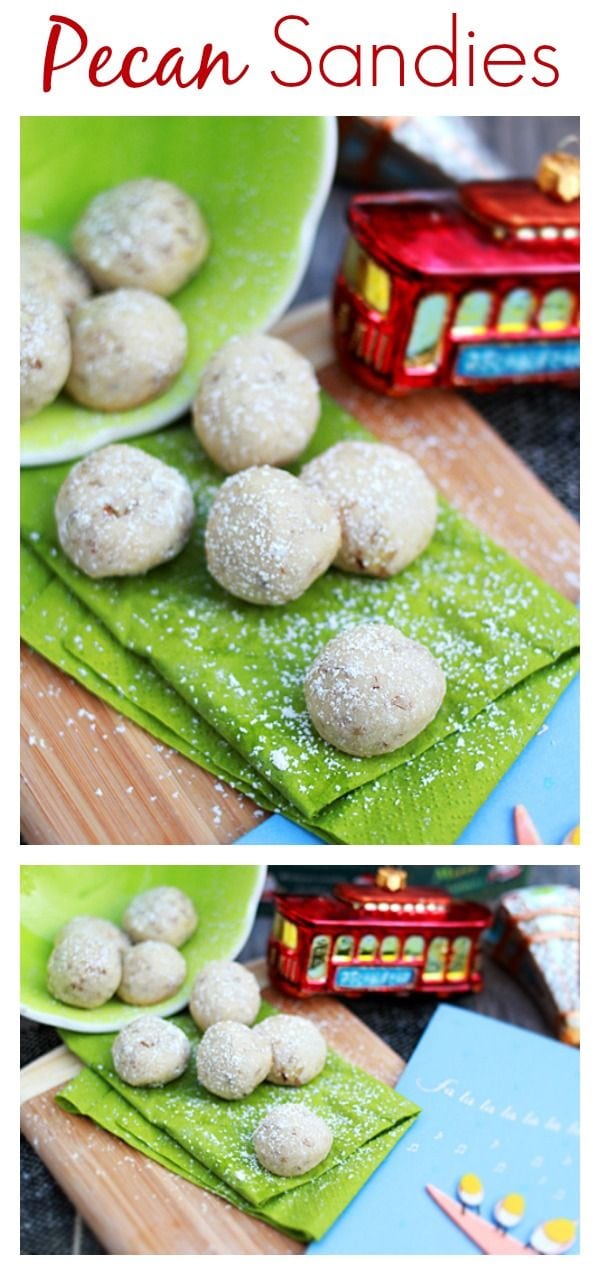 SUBSCRIBE AND NEVER MISS A RECIPE
If you try my recipe, please use hashtag #rasamalaysia on social media so I can see your creations! Follow me on Facebook | Instagram | Pinterest | Twitter for new recipes, giveaways and more.