Penang Curry Mee - This recipe replicates Penang hawker food (street food) and tastes authentic and is delicious as well.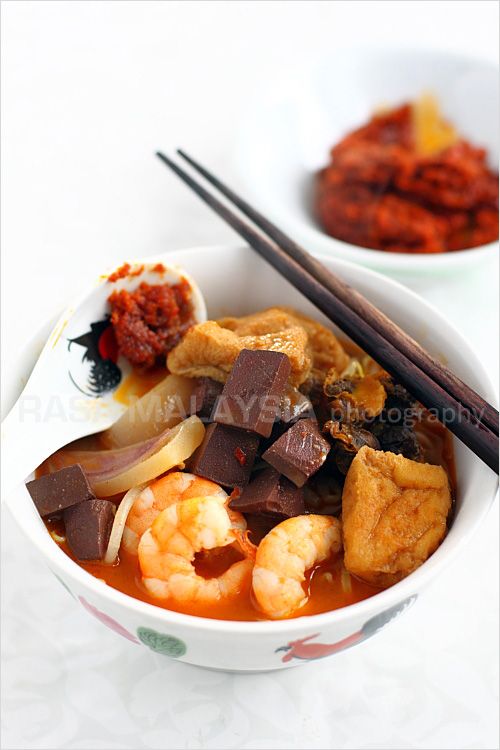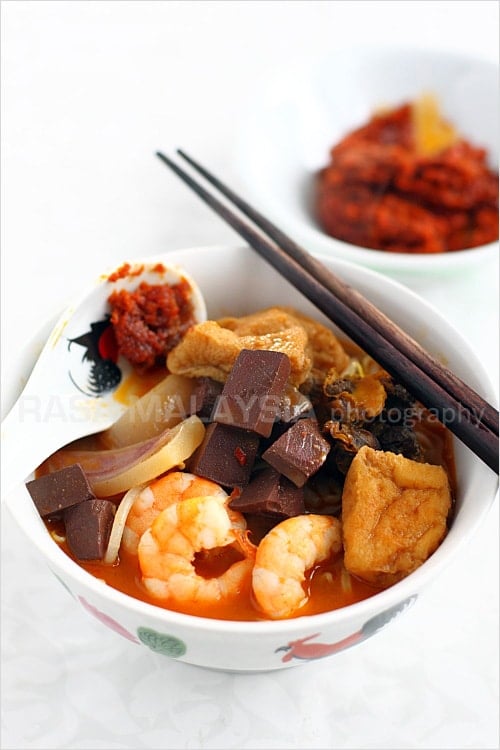 Recently, I have been craving for Penang hawker food (street food).
I haven't been home to Penang for well over eight months so it's hard not to miss all the great foods of my hometown.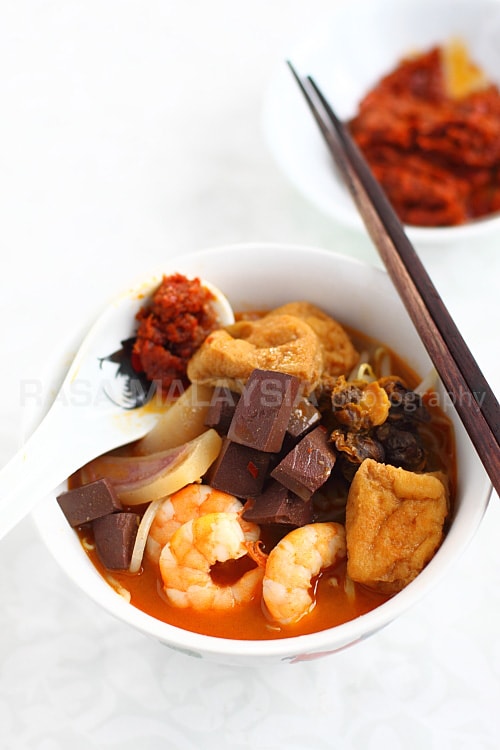 Curry Mee—otherwise known as curry laksa, or laksa—is a noodle dish with a coconut milk curry gravy. (This is not to be confused with Penang laksa or Assam Laksa, which is rice noodles with spicy and sour fish broth.)
There are many variations in Malaysia, but Penang curry mee is what tickles my taste bud, with toppings many would consider bizarre: pig's blood cubes (they taste like tofu except that they are maroon in color), bloody cockles, soaked cuttlefish slices, shrimp, and tofu puffs.
Although many people shun away from pig's blood cubes and cockles in their curry mee these days, I am a firm believer that these two key ingredients are the souls of Penang curry mee, without them, it's not quite the same. I always ask for extra blood cubes and cockles whenever I eat curry mee in Penang. I can't help it, I love these two "bloody" ingredients.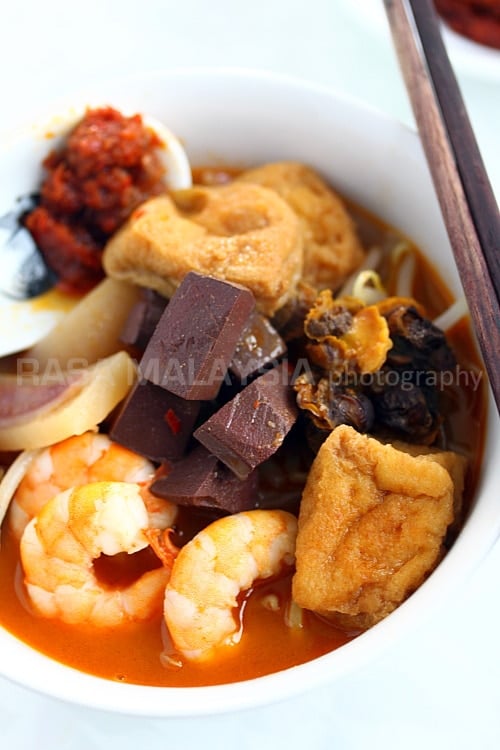 This Penang curry mee recipe is adapted from my favorite Penang cookbook: Famous Street Food of Penang (A Guide and Cook Book).
Unlike the rich and creamy curry noodles found elsewhere in Malaysia, Penang curry has a much lighter and less milky broth, which in my opinion, makes it a lot more appetizing as I tend to get tired (jelak) of the creamy and rich versions very fast.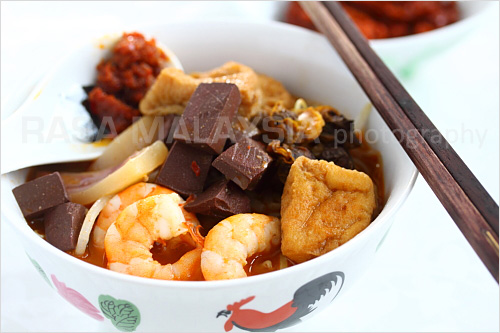 Like most Penang street food, the preparation takes hours, but nothing beats a bowl of pipping hot and extremely delightful curry mee that closely mimics the taste of my favorite curry mee stall in Penang, which is Lorong Seratus Tahun Curry Mee.
Being 10,000 miles away from home, my Penang curry mee is really as good as it gets. Click here and here for pictures of Penang curry mee sold at famous hawker stalls in Penang, and mine doesn't look too pale compared to them. :)
How Many Calories per Serving?
This recipe is only 405 calories per serving.
What Dishes to Serve with This Recipe?
For a wholesome meal and easy weeknight dinner, I recommend the following recipes.
5 Secrets to 20 Min Dinners
Get tricks for quick & easy meals!
Yield: 6 people
Penang Curry Mee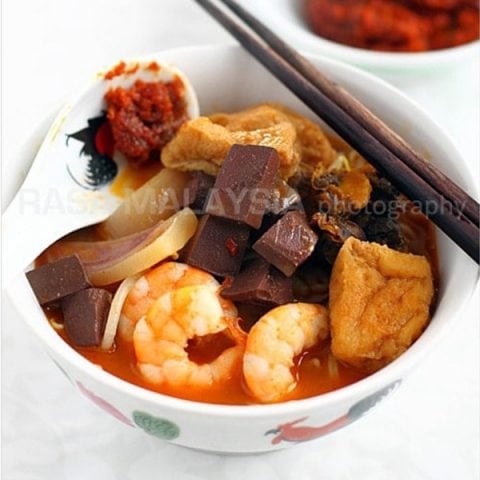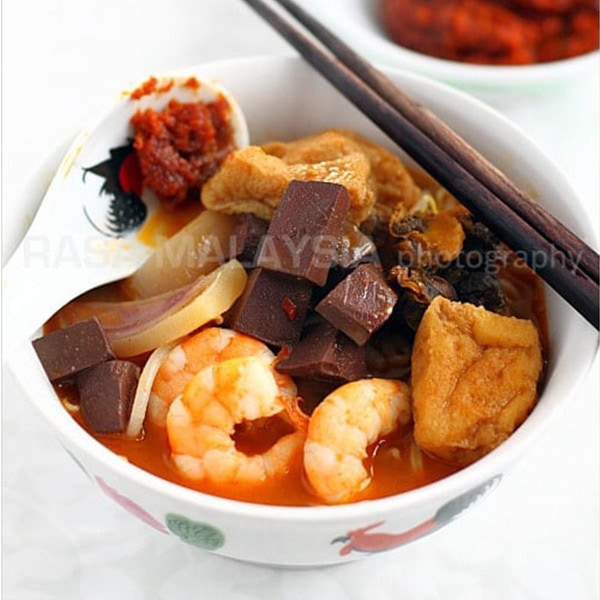 Penang Curry Mee recipe - With toppings many would consider bizarre: pig's blood cubes (they taste like tofu except that they are maroon in color), bloody cockles, soaked cuttlefish slices, shrimp, and tofu puffs.
Ingredients
Chili Paste:
10 g (0.5 oz.) dried and seeded red chilies
25 g (1 oz.) shallots
3 cloves garlic
50 g (2oz.) fresh seeded red chilies
20 g (1 oz.) dried shrimp
4 tablespoons oil
(A) Spice Paste:
10 g (0.5 oz.) belacan, Malaysian shrimp paste
100 g (3.5 oz.) shallots
50 g (2 oz.) garlic
3 stalks lemongrass
10 g (0.5 oz.) dried and seeded red chilies
20 white pepper corns
4 tablespoons coriander powder
5 tablespoons oil
(B) Stock:
7 cups water or shrimp shell stock, preferred
75 g (3 oz.) rock sugar
200 ml coconut milk
2 tablespoons chicken bouillon powder
salt to taste
12 whole tofu puffs
cooked pig's blood cubes, cut into small cubes
Other Ingredients:
yellow noodles, scalded
dried rice vermicelli, scalded
fresh beansprouts, scalded
Toppings:
shrimp, cooked and shelled
soaked cuttlefish, sliced and scalded
cockles, shelled and scalded
Instructions
Preparing Penang Curry Mee Stock
Roughly cut up the fresh red chilies, lemongrass, shallots and garlic. Blend all spice paste ingredients (except oil) until fine. Add some water to aid the blending process. Heat the oil and fry the paste until aromatic, on medium heat, for at least 5 minutes. Add water (or shrimp shell stock) and bring the broth to boil before adding coconut milk, chicken bouillon powder, rock sugar and salt to taste. Add the tofu puffs and cook for a few more minutes, stirring continuously to prevent the coconut milk from curdling.
Preparing Chili Paste
Blend all the ingredients to a fine paste. Heat up the oil and fry the chili paste until aromatic over medium heat, for about 5 - 8 minutes. Dish out and set aside.
Serving Penang Curry Mee
Place some noodles, rice vermicelli and bean sprouts in a bowl. Ladle the curry mee stock over, along with a couple of tofu puffs and pig's blood cubes. Add the toppings and serve immediately with 1 teaspoon (or more) chili paste. Mix the chili paste well with the noodles and broth and eat immediately.
Notes
Penang Curry Mee comes with various toppings, but the usual suspects are the above I featured. Some are served with fish balls and fish cakes, even char siu slices, and some are topped with refreshing mint leaves.
I used shrimp shell stock for my curry mee stock because I have heard that some of the most famous stalls use shrimp shell stock as the base, which makes perfect sense because it's just more flavorful.
Contrary to most beliefs, Penang curry mee doesn't use curry powder for the broth. The only spice is coriander powder, which lends that unmistakenly subtle but not over-powering curry flavor in the broth.
Trust me, there are really noodles and vermicelli at the bottom of those toppings. The bowl is too small and I love lots of toppings on my Penang curry mee.
Nutrition Information
Yield
6
Serving Size
6 people
Amount Per Serving
Calories

405
Total Fat

30g
Saturated Fat

23g
Unsaturated Fat

0g
Cholesterol

57mg
Sodium

1489mg
Carbohydrates

25g
Fiber

1g
Sugar

15g
Protein

12g