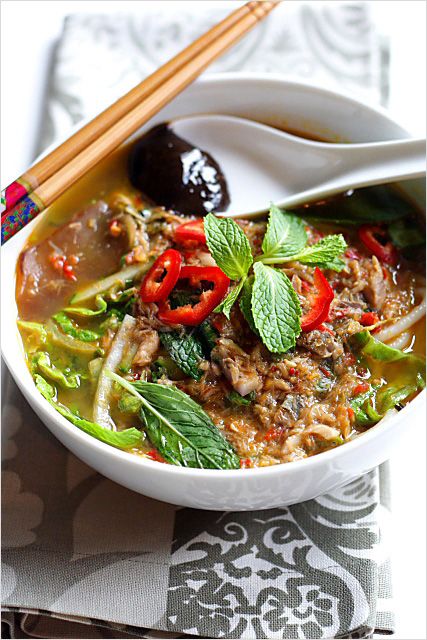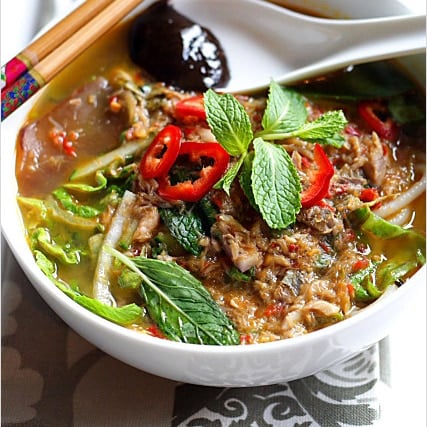 Penang Assam Laksa Recipe (Nyonya Hot and Sour Noodles in Fish Soup)
Penang Assam Laksa – spicy and sour fish noodles, one of the most famous noodle dish from Malaysia
Ingredients:
1 lb Mackerel fish
8 cups water
5 pieces assam keping (peeled tamarind)
1 pack dried laksa noodles
Spice Paste:
12 dried red chilies (seeded)
5 fresh red chilies (seeded)
8 small shallots
2 teaspoons belacan
1 stalk lemon grass (use only the white part, about 6 inches)
Tamarind Juice:
Tamarind (about golf ball size)
1/2 cup water (repeat 3-4 times)
Seasonings:
1 teaspoon salt
2 tablespoons sugar
1 teaspoon fish sauce
Garnishing:
1 cucumber (julienned)
1 bunch mint leaves (use only the leaves)
1 bunch polygonum leaves/Vietnamese mint leaves (daun kesom/daun laksa)
1 bungan kantan (cut into small pieces)
1 red onion (sliced thinly)
1 lettuce (thinly cut)
1 red chili/3-4 bird's eye chilies (cut into small slices)
1 small pineapple (cut into short strips)
Condiment:
Heh Ko/Prawn Paste
Method:
Clean the fish, remove scales and guts. In a pot, bring 8 cups of water to boil. Add in the fish and boil for about 10 minutes. Transfer the cooked fish out into a bowl and let cool. Strain the fish stock, then add in the peeled tamarind, and the polygonum leaves and continue to boil in low heat.
Wet your hands constantly with a bowl of water, pick the flesh out of all the fish and discard the bones. Break the fish meat into tiny pieces and put the fish back into the stock, cover the lid, and lower the heat.
Using a mini food processor, grind the spice paste until fine. Heat up a wok and saute the spice paste with cooking oil for about 6-8 minutes or until it smells aromatic and spicy. Transfer the spice paste into the boiling stock.
Extract the tamarind juice and add it into the stock. Strain the tamarind juice and keep the seed. Repeat it 3-4 times with 1/2 cup of water each time to make sure you extract all the essence from the tamarind.
Continue to taste your Assam Laksa stock to make sure it's sour and to your liking. For seasoning, add sugar, salt, and fish sauce.
Prepare the laksa noodles by following the packaging instructions. In a serving bowl, add in the laksa noodles and garnish all vegetables on top.
Pour the Assam Laksa soup into the bowl and serve immediately with a spoonful of Heh Ko/prawn paste.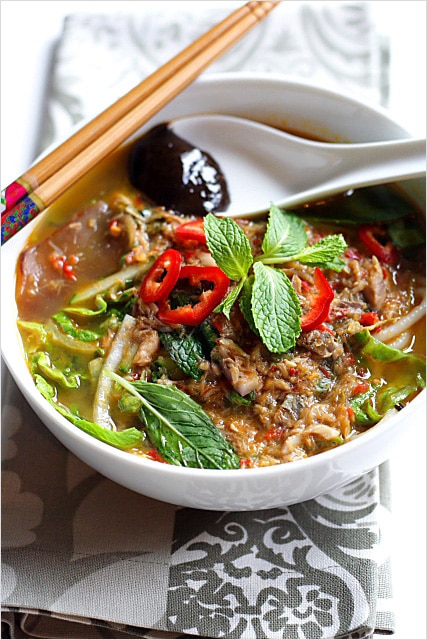 Before I start writing this post, I have a confession to make. I have an Asian (Chinese/Malaysian) mouth.
In my gastronomic dictionary, it simply means that I can't live without rice and noodles, soy sauce, sambal belacan, spicy and pungent food–the foods of my Chinese-Malaysian root.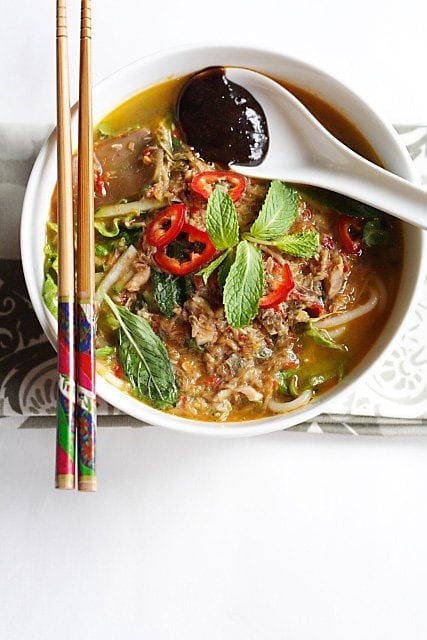 Just this past week, I had a massive Asian mouth attack. Granted, I savored some of the best French foods–foie gras, cheese, mussels, seafood, duck, terrine, and the list goes on.
However, three days into eating meals after meals of immaculate French food, I got bored of it…it's too heavy and luxurious for my cheap taste.
No offense to French cuisine connoisseur, I wanted something without cream or butter or sauces or excessive details; I wanted something simple and straightforward such as my Asian rice and noodle dishes–Hokkien mee, fried rice noodles, steamed rice rolls, char kway teow, chicken rice, and especially Penang Assam Laksa.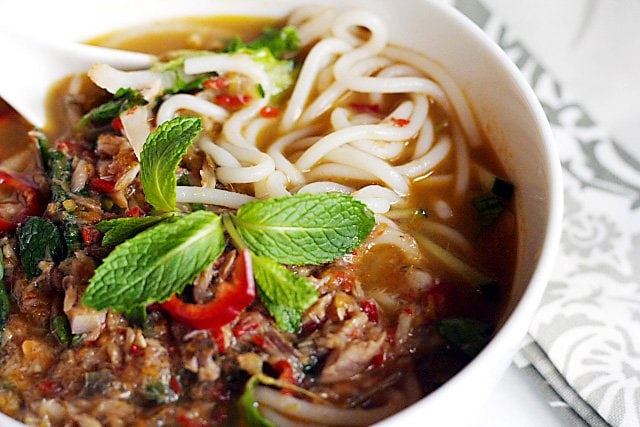 On the flight back home, I knew that I had to make Penang Assam Laksa to cure my Asian mouth disease and fix my craving. So, I went to the market and assembled the long list of ingredients and made myself a small pot of Penang Assam Laksa, or Nyonya noodles in spicy and tangy fish broth/soup.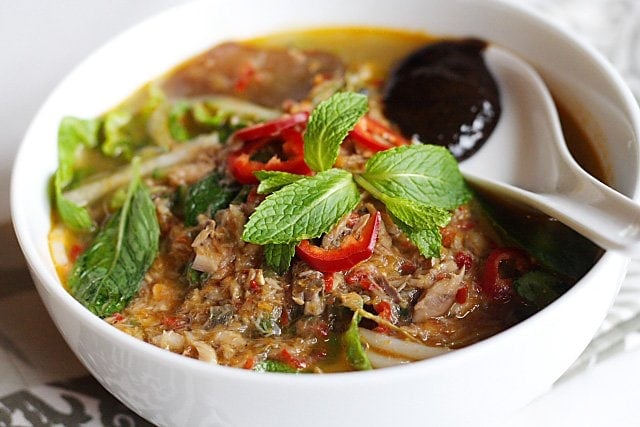 A staple–and arguably the most famous–hawker food in Penang, Penang Assam Laksa is very addictive due to the spicy and sour taste of the fish broth.
Tamarind is used generously in the soup base and hence the word Assam (means tamarind in Malay). In addition to tamarind, assam keping or peeled tamarind is also commonly added to give it extra tartness. Another secret ingredient is Polygonum leaf (marketed as Vietnamese mint leaf in the United States) or daun kesom/daun laksa.
While the best Assam Laksa broth is infused with the aromatic ginger flower (bunga kantan), I made without it because I couldn't find this special ingredient in the market.
Of course, no Assam Laksa is complete without belacan and dollops of heh ko/prawn paste (the dark paste on the spoon).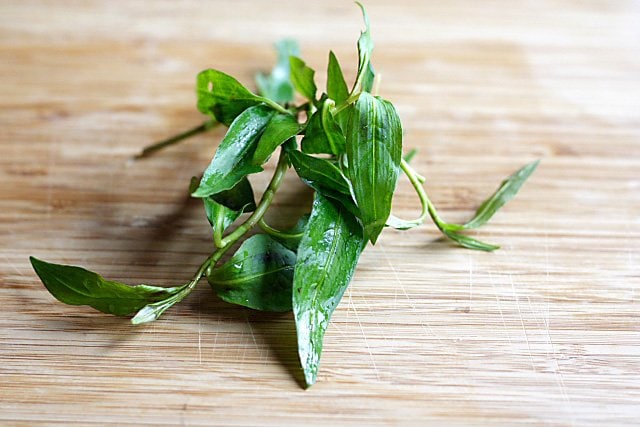 Anyway, my Penang Assam Laksa was spot on–hot, spicy, sour, pungent, and full of flavors. It was very delicious and as good as the ones served by hawkers in Penang. At the first taste of this Penang Assam Laksa, I felt like being home. For now, I declare my my Asian mouth syndrome sorted.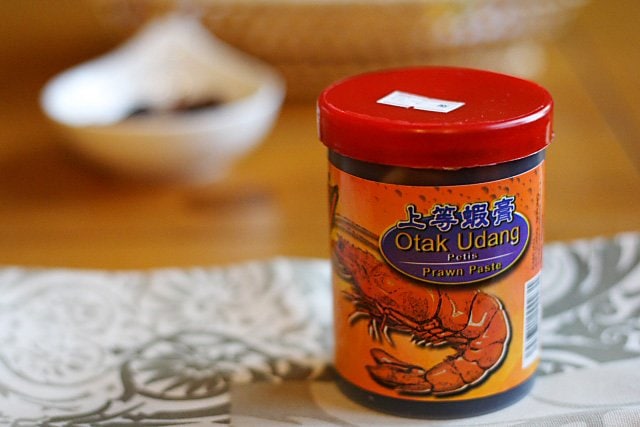 Other "rice & noodles" recipes on Rasa Malaysia:
Click Here to Pin This Recipe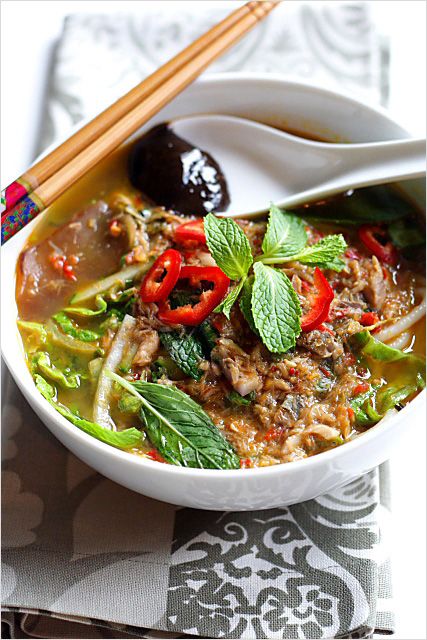 SUBSCRIBE AND NEVER MISS A RECIPE
SUBSCRIBE TO RASA MALAYSIA NEWSLETTER AND GET EASY AND DELICIOUS RECIPES DELIVERED TO YOUR INBOX. If you try my recipe, please use hashtag #rasamalaysia on social media so I can see your creations! Follow me on Facebook | Instagram | Pinterest | Twitter for new recipes, giveaways and more.