Penang hawker food or Penang street food is legendary. View 40 mouthwatering food pictures plus learn all about Penang culinary tour.
Penang Private Tour and Culinary Tour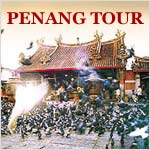 My family runs a private culinary tour where we take you to sample the best of Penang food plus local culture: hawker food/street food, local wet markets, fruit orchards and spice plantations, belacan (prawn paste) and soy sauce manufacturing plants, Nyonya food, home-stay meals, and more! Click here to learn more or contact me to inquire further.
.
Penang hawker food—also known as street food—is world famous and legendary one has to try it out to justify it. In my honest opinion, Penang offers the best street food, thanks to its people and state authorities who fiercely embrace, cultivate, and take great pride in Penang's unique street food culture and living traditions.
Born and raised in Penang, I might be bias, but great press such as Time Asia's Best of Asia for "Best Street Food," The New York Times's "44 Places to Go in 2009," plus throngs of tourists and foodies alike who come to Penang in search of great street food don't lie. The recent UNESCO world heritage listing is just an icing on the cake for Penang tourism…
Excerpts from Time Asia:
Imagine a free-ranging buffet, several hundred square kilometers in area, through which to graze at will. This limitless cornucopia brings together some of the liveliest culinary traditions of Asia, and participation costs only a few dollars. That's the Malaysian state of Penang. Mere mention of its name will set mouths watering—not only among Malaysians, but anyone lucky enough to have encountered its exceptional street food.

Got a thing for blistering sambals and sizzling noodles? Then make yourself at home. Generations of Chinese and Indian migrants certainly have—and it's their cuisines, when added to the indigenous style (which itself incorporates elements of Malay and Thai), that have helped make Penang the food-hawker capital of Asia. Try Gurney Drive for char kway teow (stir-fried rice noodles), Balik Pulau for "Penang-style" laksa (more sour than the norm), and King Street for roti panggang—flat bread with coconut jam, toasted on a charcoal grill. Only in Penang could food this good be this cheap.
With this post and my Penang hawker food photo gallery (which do no justice to what Penang has to offer), I urge you to pay a visit to Penang if you can. With our very own low-cost carrier Air Asia flying to Malaysia and Penang from Singapore, Thailand, Indonesia, Australia, United Kingdom, China (including Hong Kong and Macau), Taiwan, etc., you can get to Penang a lot easier than you say "Assam Laksa."
For me, my dream is to take Anthony Bourdain, the "No Reservations" crew, my friends at Saveur to Penang one day. I wish to give them an insider's guide to savoring the best of Penang hawker food.
To read more about Penang street food, please check out my good friend Eating Asia's Penang chronicles here, here, here, here, and here.
If you've been to Penang, leave me a comment and let me know if Penang hawker food reigns supreme?