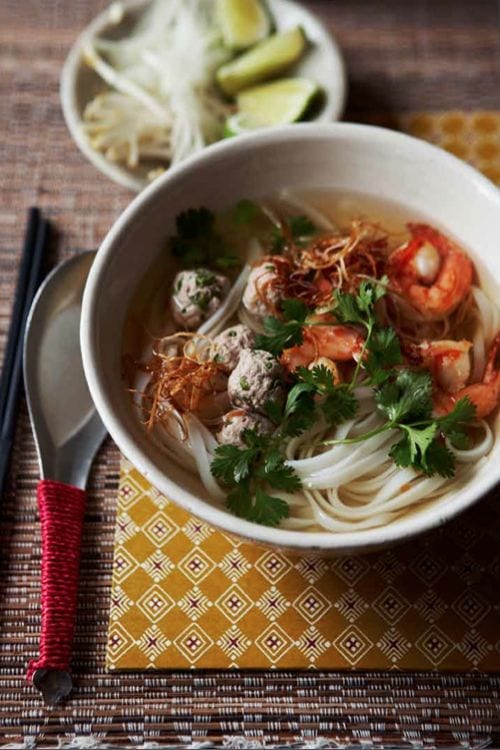 Phnom Penh Noodle Soup
Phnom Penh Noodle Soup recipe – Serve this delightful soup immediately with lime wedges and extra bean sprouts on the side.
Prep time:
Cook time:
Total Time:
Ingredients:
1 recipe quantity Pork Stock
1 onion
½ tsp coriander seeds
2 cloves
1⁄4 tsp Sichuan peppercorns
250g/9oz pork mince
1 spring onion, finely chopped
1 tbsp sunflower oil
200g/7oz raw, peeled king prawns, deveined
150g/5½ oz/1 1⁄4 cups bean sprouts
250g/9oz cooked thick rice noodles
2 tbsp fish sauce
2 tsp sugar
sea salt and freshly ground black pepper
1 small handful of coriander leaves (to serve)
2 tbsp Fried Shallots (to serve)
1 lime, cut into wedges (to serve)
bean sprouts (to serve)
Pork Stock Ingredients:
300g/10½ oz chicken wings and drumsticks, skin and excess fat removed
500g/1lb 2oz pork ribs or pork bones
5cm/2in piece of root ginger, peeled and finely chopped
3 spring onions, cut in half lengthways
5 garlic cloves, finely chopped
1⁄4 tsp white peppercorns
Method:
Pork Stock:
1. Put the chicken pieces, pork ribs, ginger, spring onions, garlic, white peppercorns and 2 litres/70fl oz/8 cups water in a large saucepan and bring to the boil. Reduce the heat to low and simmer for 2–3 hours, skimming off any scum from the surface as required.
2. Remove the pan from the heat and discard all the solid ingredients. Cool the stock, then strain over a bowl lined with muslin. Pork stock can be frozen for up to 1 month.
Phnom Penh Noodle Soup:
1. Pour the pork stock into a saucepan and bring to the boil over a high heat. Reduce the heat to low and simmer. Meanwhile, dry-fry the whole onion in a frying pan over a medium-high heat until the outer layer is slightly charred all round. Add the charred onion to the simmering stock. Put the coriander seeds, cloves and Sichuan peppercorns in a spice bag or secure in a piece of muslin and add into the stock. Continue to simmer, covered, for 45 minutes.
2. Put the pork mince in a bowl and season with salt and pepper. Tip into a food processor and blend to a smooth paste. Put the pork back into the bowl, add the spring onion and mix until well combined. Using a teaspoon or melon baller, scoop up the paste and shape into chestnut-sized balls and arrange on a plate – they don't need to be perfectly round. Repeat until all the pork paste is used. Cover with cling film and leave to one side.
3. Heat the oil in a large frying pan over a medium-high heat. Add the prawns and stir-fry for 3–4 minutes until they turn pink and are cooked through. Transfer to a plate and leave to one side.
4. Bring a saucepan of water to the boil and blanch the bean sprouts for about 20 seconds. Divide the warm, cooked noodles into deep soup bowls, then top with the blanched bean sprouts.
5. Bring the stock back to the boil, then add the pork balls and cook for 4–5 minutes until they are cooked through and float to the surface. Divide the pork balls into the bowls of noodles and add
the cooked prawns.
6. Add the fish sauce, a generous pinch of salt and the sugar to the pork stock and bring to a vigorous boil. Ladle the stock into the bowls, then sprinkle over the coriander and fried shallots. Serve immediately with the lime wedges and extra bean sprouts on the side.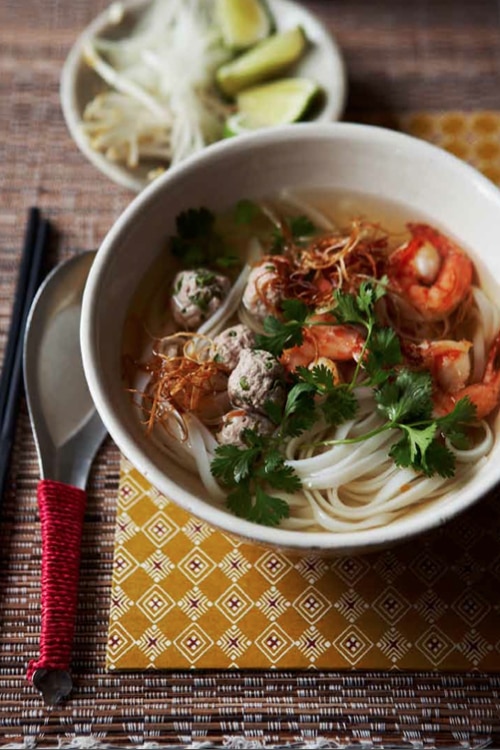 Many years ago, I visited Cambodia and fell in love with the country, its people, architecture (think Angkor Wat!), the exotic and absolutely delicious cuisine.
I am so glad that my Malaysian friend Leemei Tan at My Cooking Hut has recently released a cookbook "Lemongrass and Ginger" and there is a Phnom Penh Noodle Soup recipe in the book. (Phnom Penh is the capital of Cambodia.)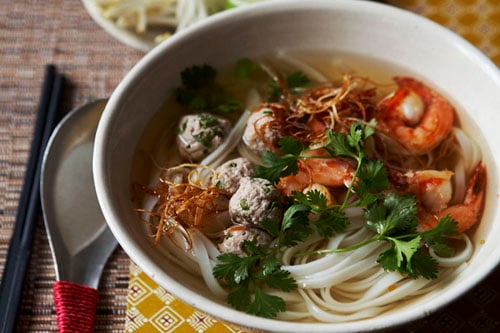 Asian cooking is one of the fastest-growing cookery trends in the world—and from Chinese to Thai, Indian to Malaysian, the diverse tastes, textures and aromas of Asia can be sampled in this beautiful new cookbook.
There are 7 chapters in the book that cover recipes from all over Asia—Japan & Korea, China, Philippines & Indonesia, Malaysia & Singapore, Thailand, Cambodia & Vietnam and India & Sri Lanka.
Besides, there are 3 sections in the book that will come in handy.
They are "Basic Recipes," "Basic Techniques" and "Glossary."
The cookbook is available now in the US, UK, and Australia.
To pick up a copy of the cookbook, click here.
Click Here to Pin This Recipe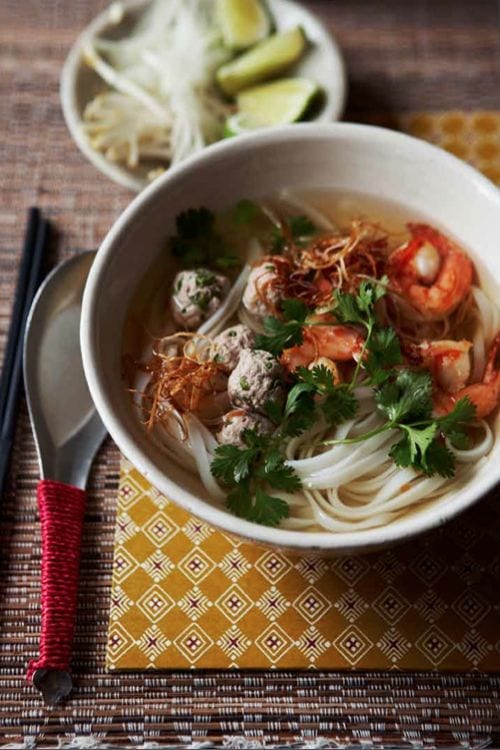 SUBSCRIBE AND NEVER MISS A RECIPE
SUBSCRIBE TO RASA MALAYSIA NEWSLETTER AND GET EASY AND DELICIOUS RECIPES DELIVERED TO YOUR INBOX. If you try my recipe, please use hashtag #rasamalaysia on social media so I can see your creations! Follow me on Facebook | Instagram | Pinterest | Twitter for new recipes, giveaways and more.