Popovers with Strawberry Butter - Nieman Marcus popovers recipe with strawberry butter. The best homemade rolls ever for any occasions.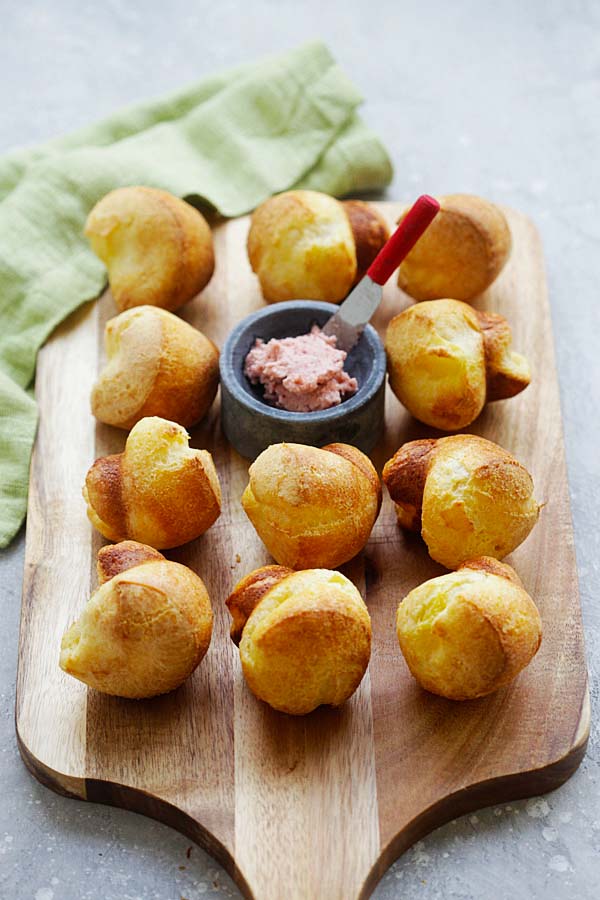 It's holidays season and I have the best homemade rolls recipe that is sure to knock your socks off: popovers with strawberry butter.
This is not just another popovers recipe, but the most amazing, perfect popovers ever, served at the restaurants inside Nieman Marcus.
Trust me on this, once you try these, you will never ever go back to regular rolls.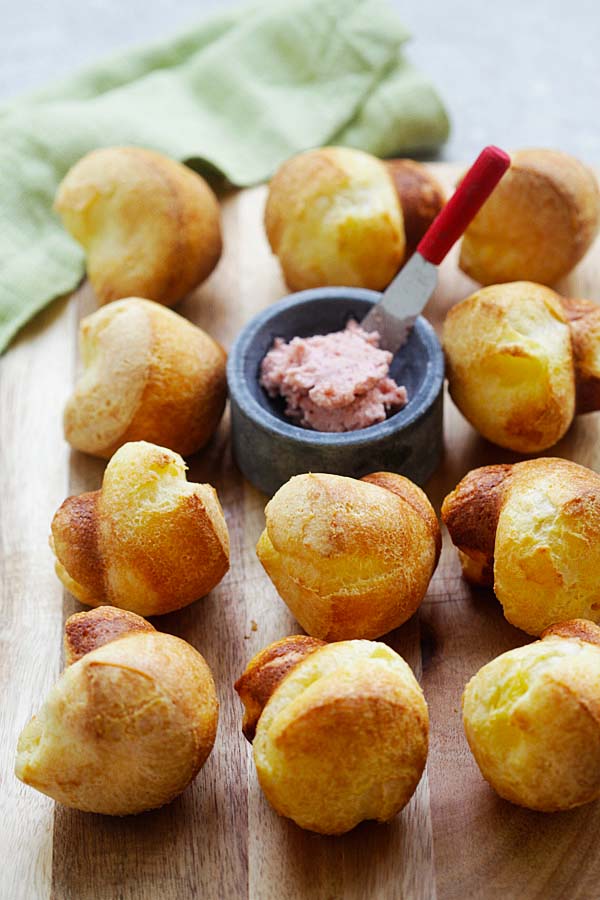 Popovers are light, hollow rolls made from an egg batter similar to that of Yorkshire pudding.
The inside is eggy, light, airy, and absolutely addictive.
Spread some strawberry butter on the popovers and I will guarantee you that you might not even want to eat the main course.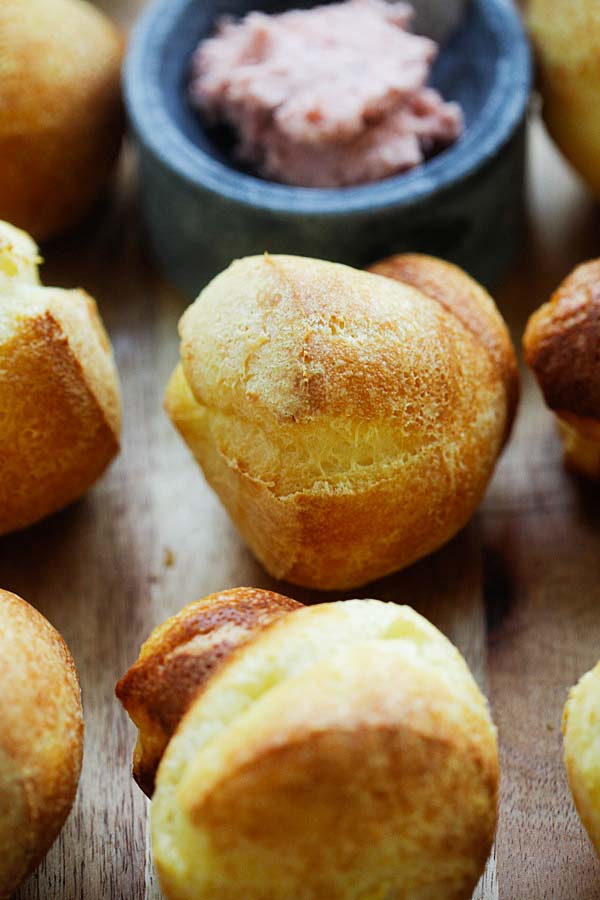 This popovers with strawberry butter recipe is adapted from the Nieman Marcus cookbook but my amazing baker Kendoll actually enhanced the recipe.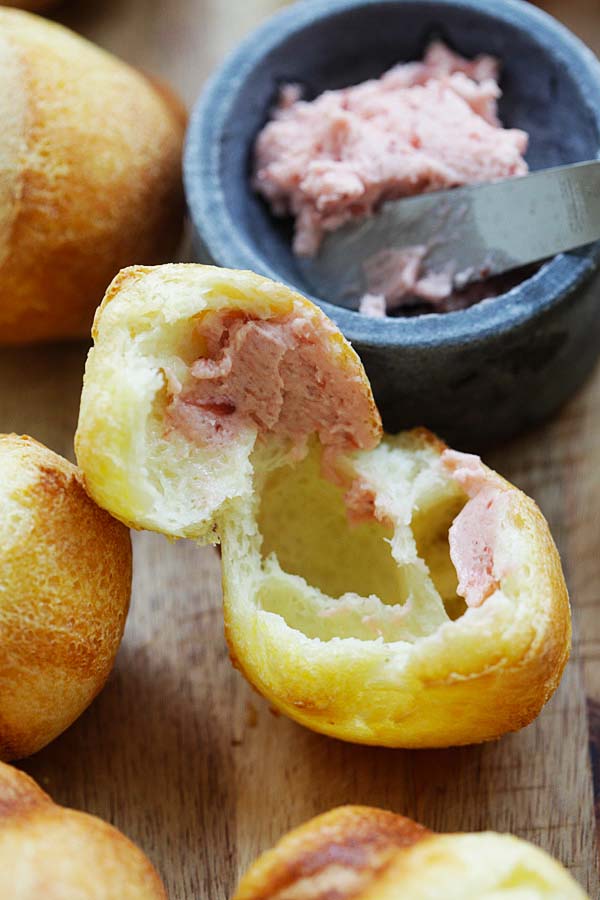 The end result is epic, moist on the inside, crispy on the outside, with perfect 10 texture.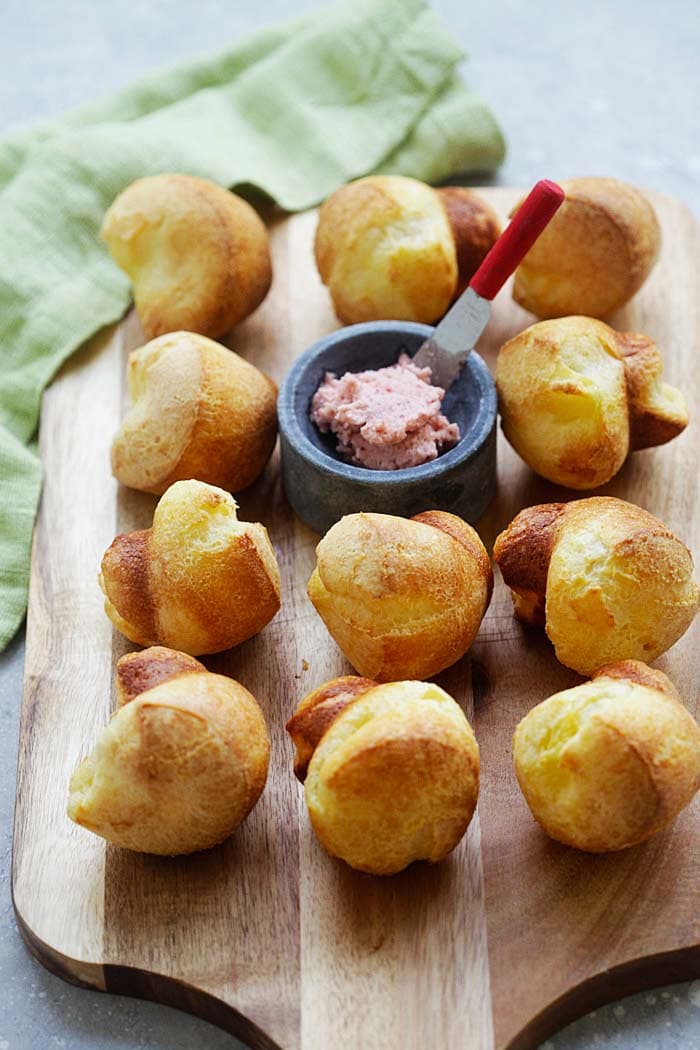 The strawberry butter calls for only two ingredients.
They are both very easy to make.
You can use a regular popovers pan to make them but I chose petite popovers pan, which yields 36 petite popovers.
Trust me on this, you and your family will eat all of these plus more. Happy baking!
How Many Calories per Serving?
This recipe is only 413 calories per serving.
5 Secrets to 20 Min Dinners
Get tricks for quick & easy meals!
Yield: 10 people
Popovers with Strawberry Butter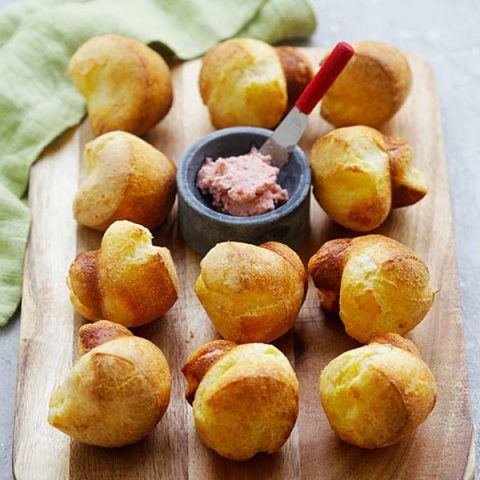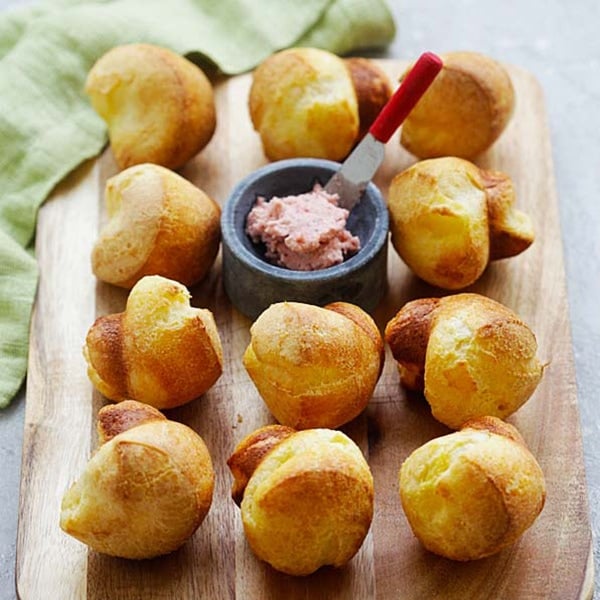 Popovers with Strawberry Butter - Nieman Marcus popovers recipe with strawberry butter. The best homemade rolls ever for any occasions.
Ingredients
3 1/2 cups whole milk
4 tablespoons melted unsalted butter
4 cups all-purpose flour
4 tablespoons sugar
2 teaspoons salt
1 teaspoon baking powder
6 large eggs, room temperature
non-stick cooking spray
Strawberry Butter:
1/2 cup unsalted butter, room temperature
1/4 cup Bonne Maman Strawberry Preserves
Utensil:
Nordic Ware Cast Aluminum Petite Popover Pan
Instructions
Place milk and melted butter in bowl and microwave on high for two minutes, or warm to touch. Sift flour, sugar, salt and baking powder in a large mixing bowl. Crack eggs in another large bowl with an electric mixer and whisk on medium for about 3 minutes, until foamy. Turn down mixer speed to low and add warm milk. Gradually add flour mixture and beat for about 2 minutes. Let batter rest at room temperature for about 1 hour. For best results, refrigerate the batter overnight, removing it at least 30 minutes before baking.
If you are using a regular popovers pan, preheat oven to 450°F (232°C). Spray popover pan generously with nonstick spray. Fill popover cups almost to the top with batter and place popover pan on cookie sheet. Transfer to oven and bake for 15 minutes. Turn oven down to 375°F (190°C) and bake for 30 to 35 minutes longer, until popovers are golden brown. If you are using the petite popover pan (strongly recommended), preheat the oven to 350°F (176°C) and bake for about 40 minutes, or until popovers are golden brown.
While baking, make the Strawberry Butter by placing the ingredients in a bowl and beat until smooth, add the strawberry preserves and beat until fluffy. Serve the popovers with the butter.
Nutrition Information
Yield
10
Serving Size
10 people
Amount Per Serving
Calories

413
Total Fat

19g
Saturated Fat

11g
Unsaturated Fat

0g
Cholesterol

143mg
Sodium

542mg
Carbohydrates

47g
Fiber

1g
Sugar

9g
Protein

11g