Pumpkin Cream Cheese Bundt Cake - Sweet pumpkin cream cheese bundt cake recipe with pumpkin and cream cheese in one decadent cake. Cheesecake lovers would love this amazing cake.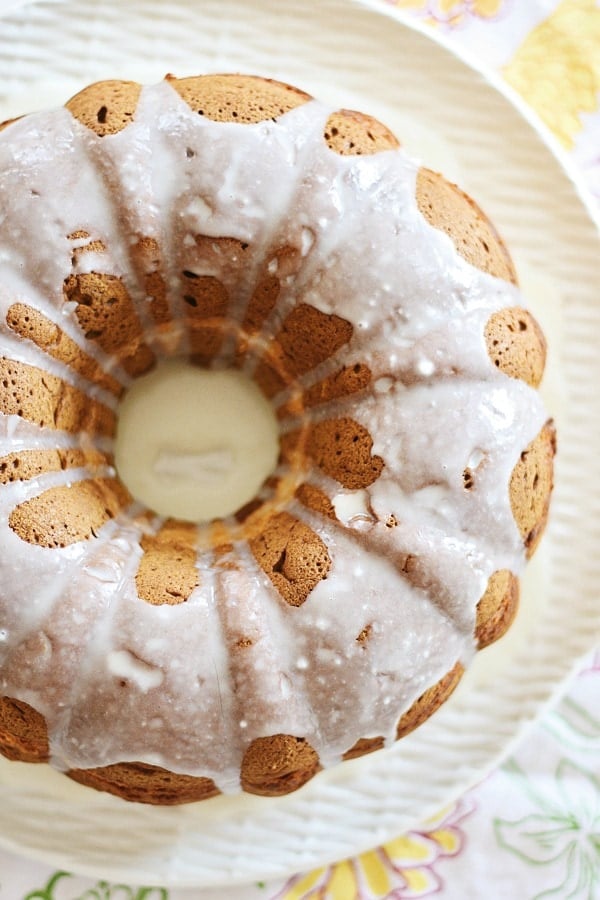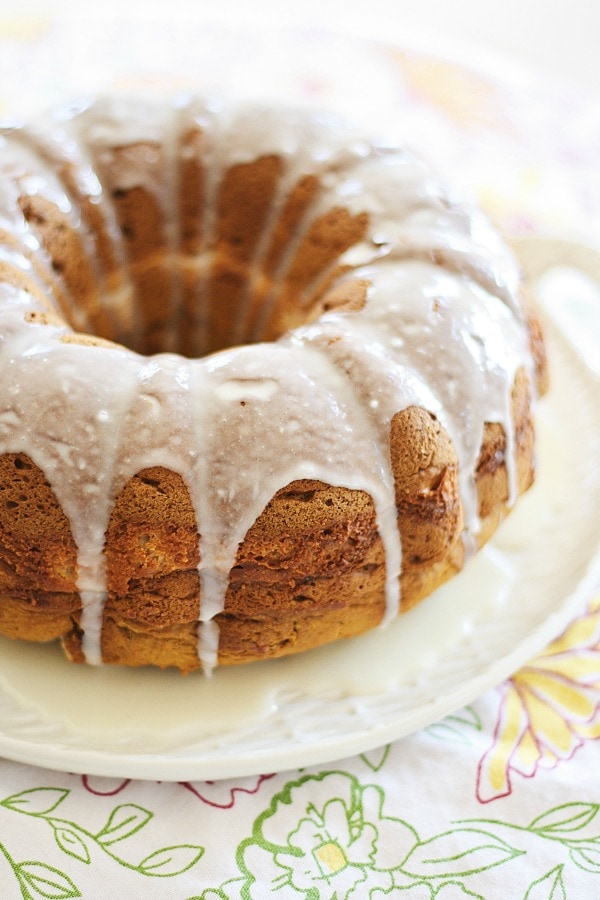 Summer is slowly creeping away from us.
I am a summer kind of person but I do love Fall, with its balmy weather and crispy cooler air.
Fall produce such as pumpkins are cropping up everywhere now in the supermarkets.
On social media, you can't help but seeing a ton of fall recipes using pumpkin, and I have just the best pumpkin cream cheese bundt cake recipe for you.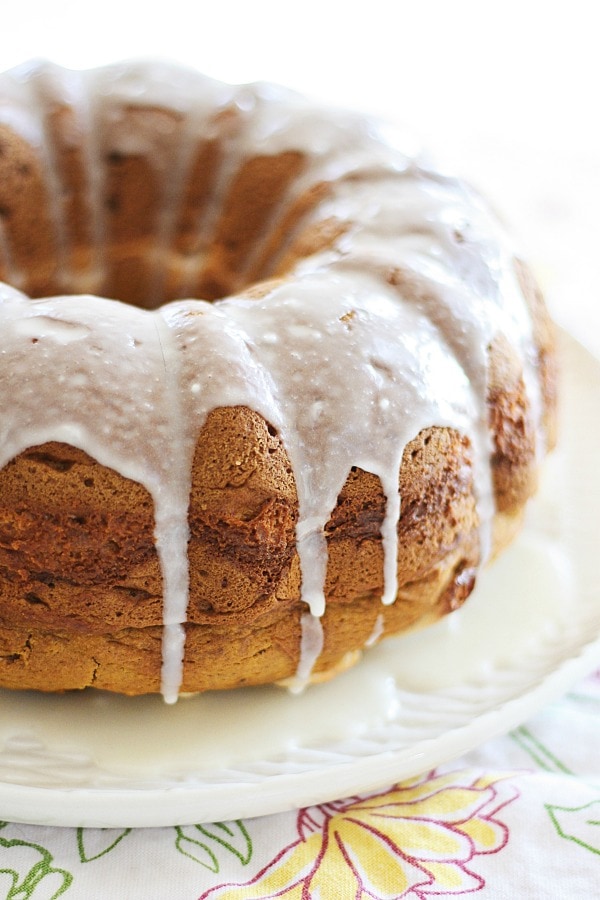 Contributor: Baked by Joanna
Cooler weather is just around the corner, so we knew it was the perfect time to bake a fall cake.
We stumbled a across this recipe from Bright-Eyed Baker and was instantly intrigued.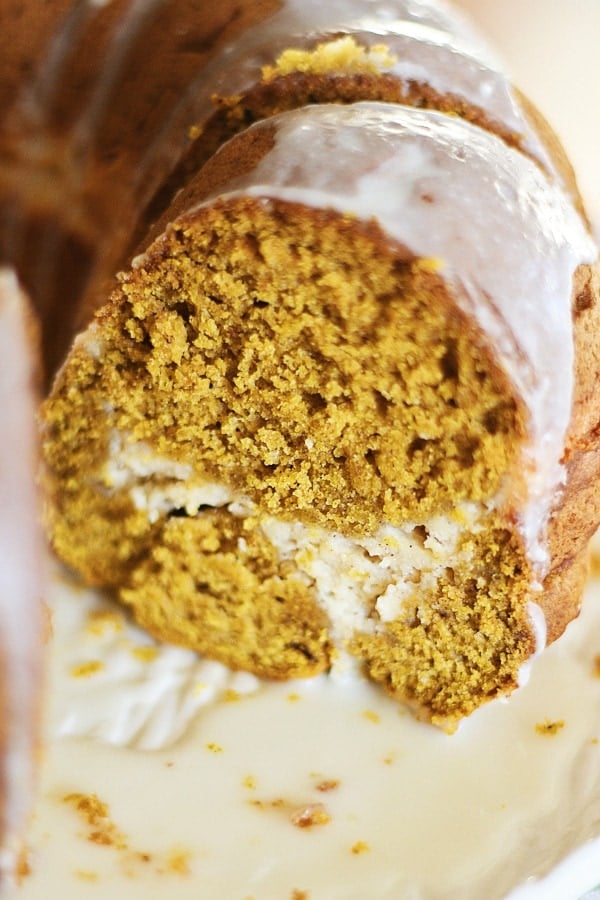 While the original recipe comes topped with a cinnamon brown sugar glaze, we decided to go with a simple white sugar icing because the bundt cake itself had so much flavor already.
The white icing also makes the cake a perfect transition from summer foods to autumn treats.
If you want, you can always add a 1/4 teaspoon to the white icing for a bit of warm flavor.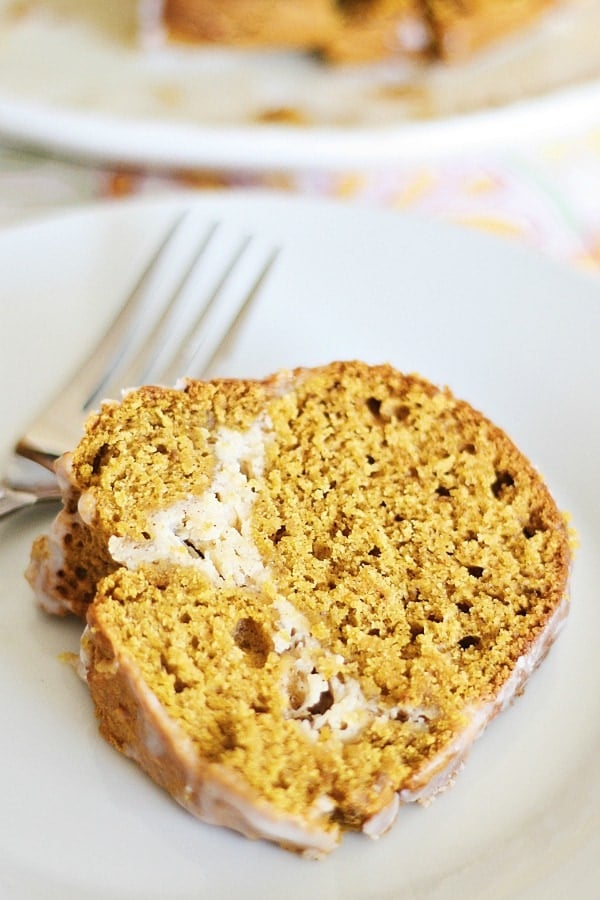 How Many Calories Per Serving?
This recipe is only 395 calories per serving.
5 Secrets to 20 Min Dinners
Get tricks for quick & easy meals!
Yield: 12 people
Pumpkin Cream Cheese Bundt Cake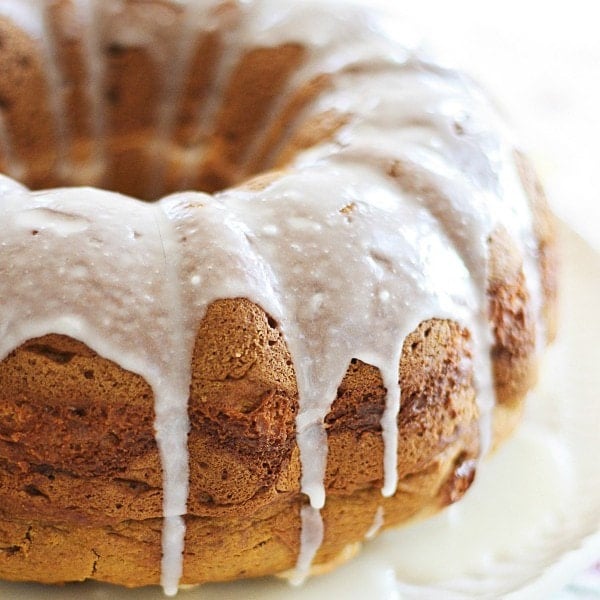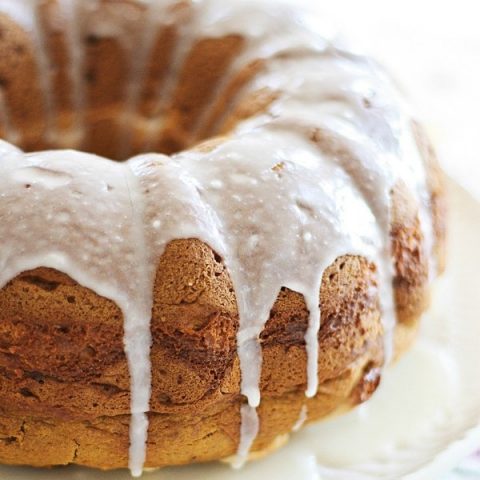 Sweet pumpkin cream cheese bundt cake recipe with pumpkin and cream cheese in one decadent cake. Cheesecake lovers would love this amazing cake.
Source: Adapted from Bright-Eyed Baker
Contributor: Joanna Meyer
Total Time
1 hour
10 minutes
Ingredients
Cream Cheese Filling Ingredients:
1 8-ounce package cream cheese, room temperature, (230 g)
1/2 cup sugar, granulated, (100 g)
1 egg
1/4 teaspoon cinnamon, (1.5 mL)
1/4 teaspoon vanilla extract, (1.5 mL)
Pumpkin Bundt Cake Ingredients:
3 cups all-purpose flour, (360 g)
1 1/2 teaspoons baking powder, (7.5 mL)
1 1/2 teaspoons baking soda, (7.5 mL)
1 teaspoon salt, (5 mL)
1 1/2 teaspoons cinnamon, (7.5 mL)
1/4 teaspoon ground all spice, (1.5 mL)
1/4 teaspoon ground cloves, (1.5 mL)
1/4 teaspoon ground ginger, (1.5 mL)
1/8 teaspoon ground nutmeg, (0.75 mL)
1/4 cup unsalted butter, softened, (80 g)
1/2 cups light brown sugar, packed, (90 g)
1/4 cup granulated sugar, (50 g)
2 eggs
1/2 cup vegetable oil, (120 mL)
1 1/2 cups canned pumpkin, (350 mL)
1/2 cup lowfat vanilla yogurt, (120 mL)
1 1/2 teaspoons vanilla extract, (7.5 mL)
Icing Ingredients:
1 tablespoon unsalted butter, (15 g)
4 teaspoons milk, plus another 1/4 teaspoon (1.5 mL) if needed, (20 mL)
1 cup powdered sugar, plus extra if needed, (100 g)
Instructions
Preheat the oven to 350 degrees F. Spray a 12-cup bundt pan with non-stick cooking spray; set aside.
To make the Cream Cheese Filling: In a stand mixer, beat the cream cheese with the granulated sugar until smooth and light in texture. Add the egg, cinnamon and vanilla; beat in until smooth. Transfer the filling to a separate bowl and place in the fridge while preparing the cake batter.
To make the Pumpkin Bundt Cake: In a large bowl, whisk together the flour, baking powder, baking soda, salt and spices. In the bowl of a stand mixer, cream together the butter and sugars. Beat in the eggs one at a time. Add the vegetable oil, pumpkin, yogurt and vanilla; beat until the mixture is smooth. Mix in the dry ingredients on the lowest speed just until evenly incorporated.
Assemble by pouring half the pumpkin batter into the prepared bundt pan, making sure the batter covers the bottom of the pan and fills every crevice. Smooth the top with the back of a spatula. Add the cream cheese filling to cover the first layer of batter, again reaching every crevice and smoothing on top. Repeat with the remaining pumpkin batter, covering the cream cheese completely. Rap the pan firmly against the counter to ensure that the batter settles into the pan without any empty pockets.
Bake the cake in the preheated oven for 55-60 minutes or until a toothpick inserted into the middle area of the cake comes out clean. Let the bundt cool in the pan for 15 minutes, and then transfer it to a wire rack to cool fully.
Make the icing by microwaving the butter and milk in a heat-safe bowl for 40 seconds, or until the butter has melted. Add the powdered sugar and stir in until it has melted and the mixture is smooth. If thicker icing is desired, add more powdered sugar to achieve the preferred consistency. Milk can also be added to achieve a thinner icing. The icing should be somewhat thick but still runny enough to flow easily over the bundt cake.
Pour the icing carefully over the top of the cooled cake, focusing on the peak and letting it glaze down the sides. Work quickly because the glaze will set fast.
Notes
For the best presentation, serve the cake the day it is made. Store any leftovers in the fridge in a covered container or with plastic wrap.
Nutrition Information
Yield
12
Serving Size
12 people
Amount Per Serving
Calories

395
Total Fat

15g
Saturated Fat

11g
Unsaturated Fat

0g
Cholesterol

54mg
Sodium

360mg
Carbohydrates

60g
Fiber

1g
Sugar

33g
Protein

5g