Garlic Cheddar Cheese Bombs - amazing cheese bomb biscuits loaded with Cheddar cheese and topped with Parmesan cheese. Easy recipe that takes 20 mins.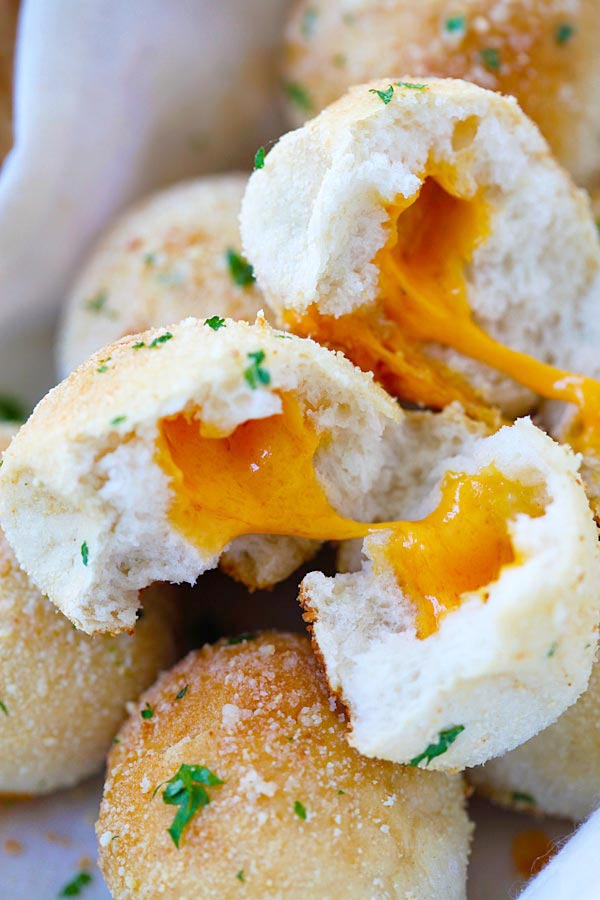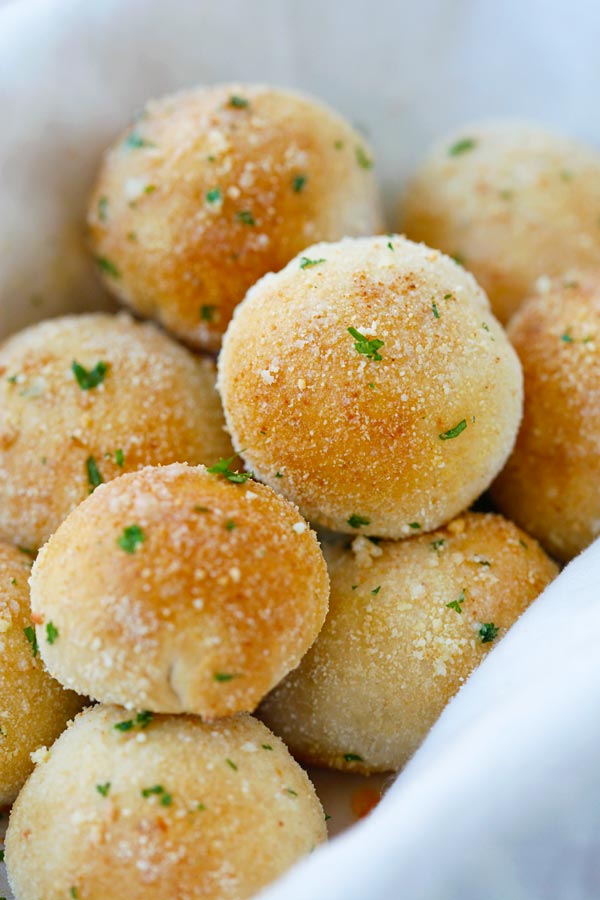 I discovered these amazing cheese bombs recipe loaded with melting, gooey cheese that flows out like a warm lava a few months ago and it has since become my son's favorite snack.
He would be begging me to make cheese bombs for him whenever he behaves or in good behavior.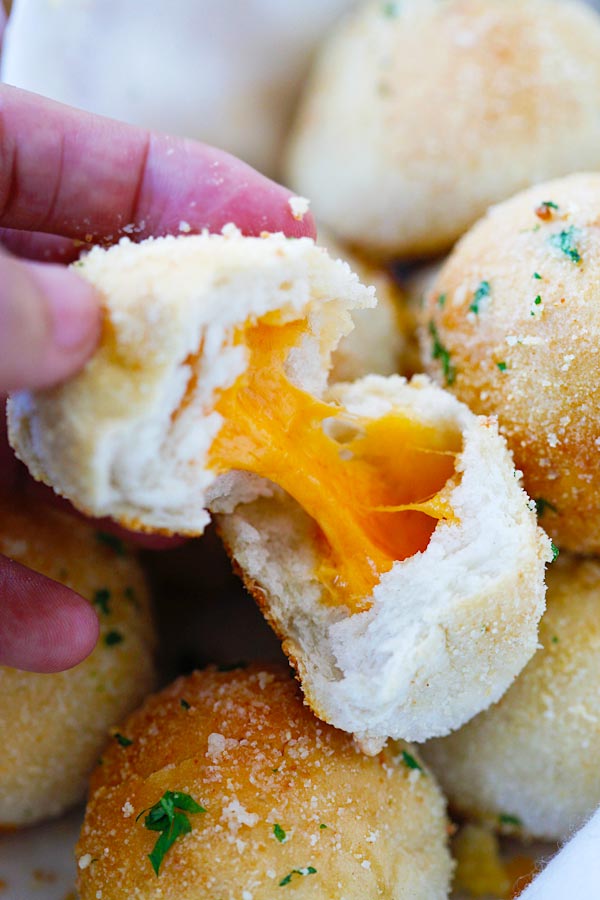 However it's not just the kids who love these addictive cheese bombs.
I have made some for my friends to try and all of them love them.
One of my good friends V actually bought dozens of the instant frozen biscuits from Costco and sent me a picture.
She has two kids and they all love them.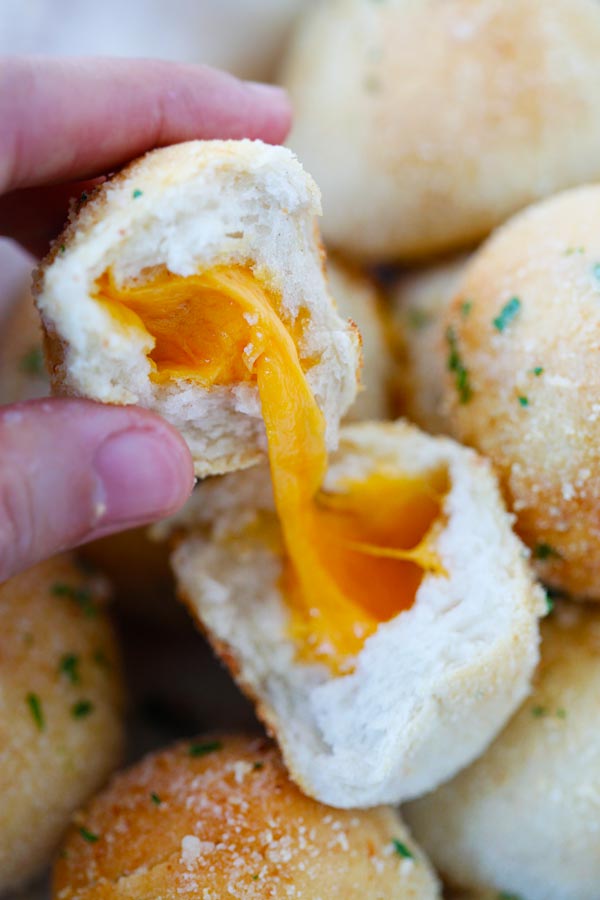 My garlic herb cheese bombs are filled with mozzarella cheese but little G favorite cheese is what he calls "orange" cheese, or cheddar cheese.
So I changed things up and stuffed these cheese bombs with cheddar cheese.
To kick it up a notch, I followed the recipe on Spend with Pennies and coated the cheese bombs with Parmesan cheese.
Oh my, so good!
When you wrap the cheese bombs, please be sure to pinch and close the opening really tight to make sure that the cheese doesn't leak out during the baking process.
Other than that, these garlic cheddar cheese bombs are SO easy to make and takes only 20 minutes from prep to out of the oven!
How Many Calories per Serving?
This recipe is only 59 calories per serving.
What to Serve with This Recipe?
For a wholesome meal and easy weeknight dinner, I recommend the following recipes.

5 Secrets to 20 Min Dinners
Get tricks for quick & easy meals!
Yield: 20 people
Garlic Cheddar Cheese Bombs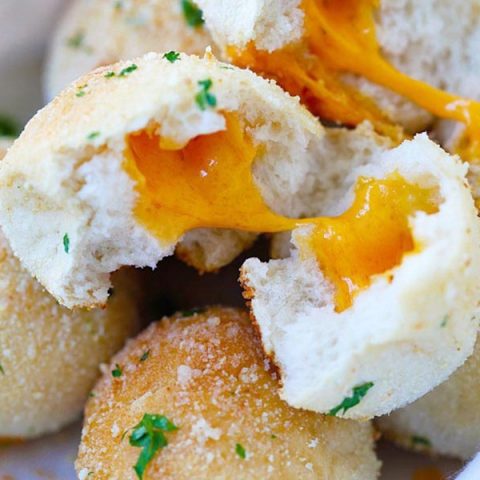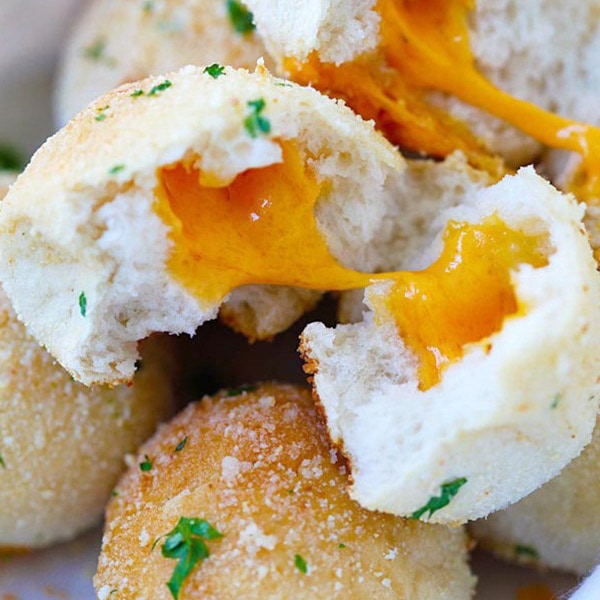 Garlic Cheddar Cheese Bombs – amazing cheese bomb biscuits loaded with Cheddar cheese & topped with Parmesan cheese.
Ingredients
2 cans (7.5 oz.) each refrigerated biscuits, I used Pillsbury
4 oz. (115 g) cheddar cheese, cut into 20 cubes
4 tablespoons butter, melted
1/2 teaspoon garlic powder
1 pinch salt
fresh parsley leaves, finely chopped
1/3 cup bottled Parmesan cheese
Instructions
Preheat oven to 400°F (204°C). Mix the butter, garlic powder, salt, and parsley leaves together. Set aside.
Open the biscuit cans and separate the biscuits. Line a cookie sheet with parchment paper. Wrap the cheese bombs by placing one cube of the cheese in the center of each biscuit. Carefully wrap the biscuit dough around the cheese, pinch the biscuit to close and seal tight.
Dip each biscuit into the butter mixture, and then roll it into the Parmesan cheese. Coat evenly. Place the biscuit with the seam part down and arrange them to be at least one inch apart. Bake for 10 minutes or until the surface turns golden brown.
Remove the biscuits from the oven. Serve warm.
Nutrition Information
Yield
20
Serving Size
20 people
Amount Per Serving
Calories

59
Total Fat

5g
Saturated Fat

2g
Unsaturated Fat

0g
Cholesterol

13mg
Sodium

107mg
Carbohydrates

1g
Protein

2g