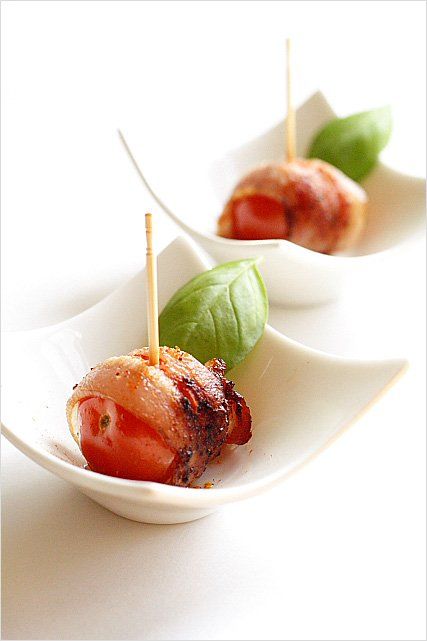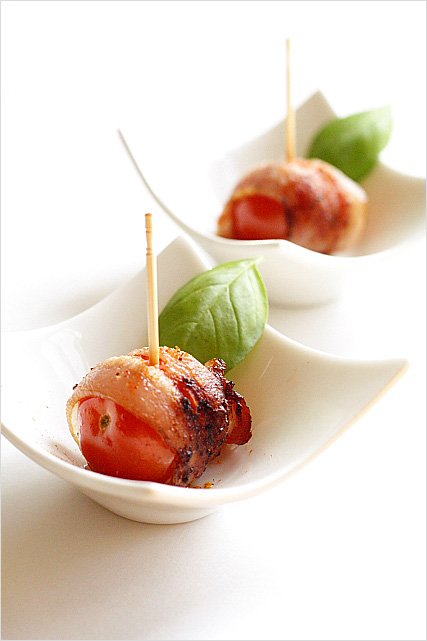 I am writing this from Beijing (yes, Beijing again!).
The local time is 10:30 AM and the sky is grey and very overcast (or is it pollution?).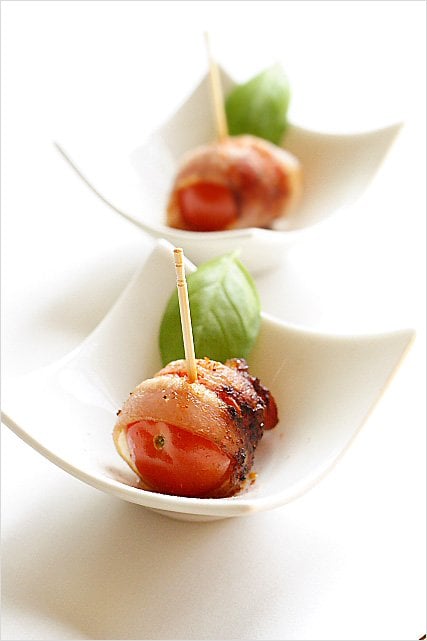 Back in the United States, summer is in full bloom now. The sun is scorching hot, all flowers blossom, young senoritas are strutting their stuff in short shorts, but most evidently, everywhere you turn to, there is a party going on–be in on the beach, at the parks, inside or outside the house, or at the club house. Summer is always fun in the United States.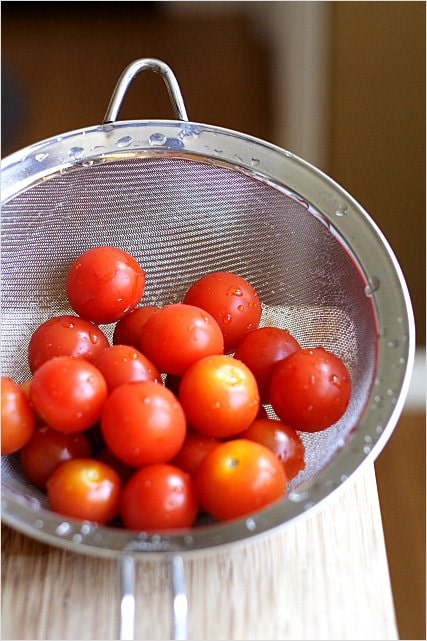 Since this is the first summer Rasa Malaysia celebrates, I thought I would share some of my favorite summer recipes with you…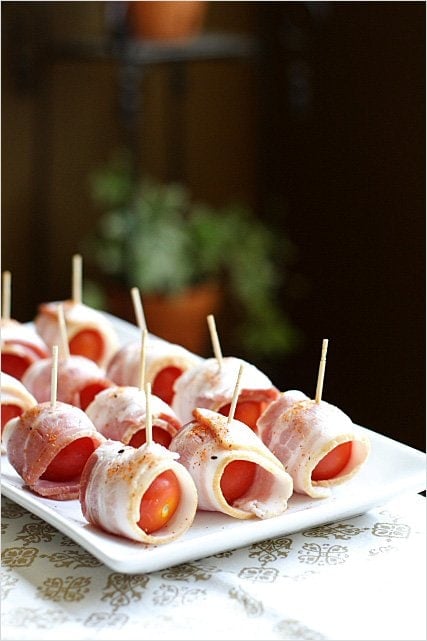 Have you ever served grilled cherry tomatoes with bacon at your parties? If not, do try this out. It's real simple to make but the end results are delicious, pretty, and a total crowd-pleaser for your parties all summer long.
I first had them in Tokyo a few years ago and now am hopelessly hooked. This is also a must-have item for me whenever I have Japanese yakitori…
I am not going to write a lengthy post so I will let the pictures speak the words for me. Click the above to view the complete gallery.
How Many Calories Per Serving?
This recipe is only 94 calories per serving.
What Dishes To Serve with this Recipe?
For a wholesome meal and easy weeknight dinner, I recommend the following recipes.
5 Secrets to 20 Min Dinners
Get tricks for quick & easy meals!
Yield: 1 people
Bacon-wrapped Cherry Tomatoes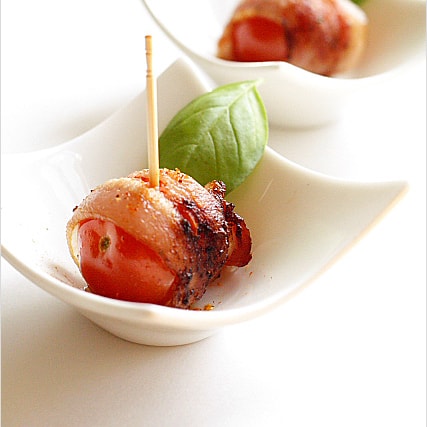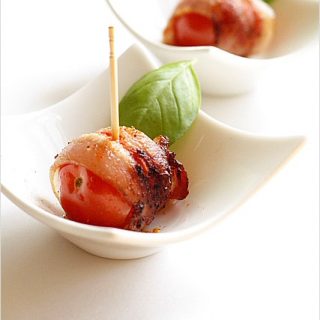 Bacon-wrapped Cherry Tomatoes recipe - It's really simple to make and the end results are delicious, pretty, and a total crowd-pleaser!

Prep Time 10 minutes

Cook Time 15 minutes

Total Time 25 minutes
Ingredients
1 pack (12 oz. /340 g) cherry tomatoes
1 pack (12 oz. /340 g) bacon
toothpicks, soak the toothpicks in water for a few hours
Nanami Togarashi, Japanese assorted chili pepper
Instructions
Cut the bacon strip into half-length. Put the cherry tomato towards the end of the bacon strip and wrap tight. Hold the cherry tomato with a toothpick, set aside. Sprinkle some Nanami Togarashi onto the bacon.
Heat up an indoor grill and grill until the bacon turns brown and crisp. For an outdoor grill, use low heat. Serve immediately.
Notes
You can get Nanami Togarashi at the Asian section of any food stores.
Nutrition Information
Yield
1
Serving Size
1 people
Amount Per Serving Calories 94Total Fat 8gSaturated Fat 2gUnsaturated Fat 0gCholesterol 14mgSodium 147mgProtein 2g