This post has been updated with new photos. Indian mee goreng is the Malaysian version of fried yellow noodles.
This "Indian" version is sold by Indian-Malaysian hawkers—a great street food noodle dish that is sure to stir up your appetite.
It's been a busy week and I haven't had much time to cook. However, food is food; you have to satiate your hunger regardless of how busy you are.
I wanted to prepare something not overly complicated yet different tonight so I cooked up this nice serving of Indian Mee Goreng, which is fried yellow noodles commonly found in Malaysia, and the word "Indian" basically means that they are prepared by Indian-Malaysian hawkers.
I have two other mee goreng recipes on Rasa Malaysia, which taste different as the recipe can be quite versatile.
In any case, mee goreng is always made with yellow noodles, which are available at Asian or Chinese food stores.
Sour, spicy, sweet, and tangy come through in this Indian mee goreng recipe. I love the fried bean curd, potato, and squid (a substitute for baby octopus or cuttlefish). It is really delicious. Enjoy!
How Many Calories Per Serving?
This recipe is only 522 calories per serving.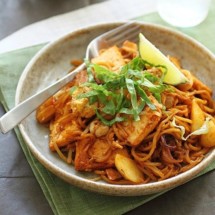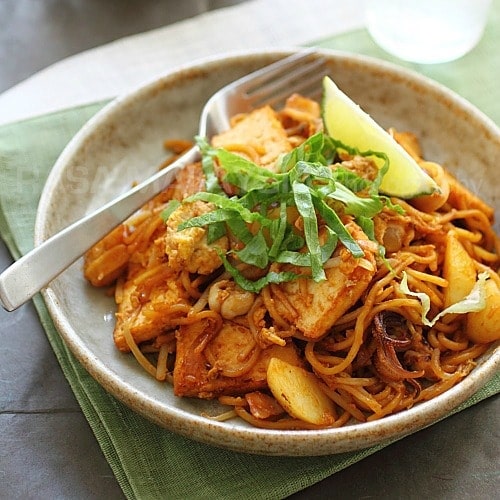 Indian Mee Goreng Recipe
Sour, spicy, sweet, and tangy come through in this Indian mee goreng recipe. I love the fried bean curd, potato, and squid. It is really delicious.
Ingredients
Ingredients:
cooking oil

2

cloves

garlic, chopped

3

tablespoons

chili paste or to taste, recipe below

1

lb

yellow noodles, rinsed

3

pieces

dried bean curds, cut into pieces

1

potato, boiled, peeled, and sliced

2

eggs

4

squids, cleaned and cut into rings

1

handful bean sprouts

lettuce leaves, for garnishing

1

lime, cut into wedges
Sauces:
2

tablespoon

soy sauce

2

tablespoon

dark soy sauce or kecap manis

3

tablespoon

tomato ketchup

sugar and salt to taste
Chili Paste:
Blend 10 dried red chilies in a food processor. Add some water and some oil to blend well. Heat the wok and "tumis", stir fry the paste until the oil separates from paste. Set aside.
Click Here for Conversion Tool
Directions
Heat the wok and pour in the cooking oil. Add garlic, 3 tablespoons of chili paste, sliced potatoes, bean curb pieces, and squids. Stir fry until fragrant. Add yellow noodles and sauces and continue stirring. Set the noodles to the side of the wok.

Add some cooking oil and then crack the eggs. Scramble the eggs and mix in with the noodles. Add in the beansprouts and quick stir for another 1 minute. Serve hot and garnish with chopped spring onions and sliced red chilies. Squeeze some lime juice over the noodles before eating.
Recipe Notes
Indian Mee Goreng is Malaysian dish. Created by Mamak (Indian-Muslim in Malaysia), this version cannot be found in India.
Nutrition Facts
Indian Mee Goreng Recipe
Amount Per Serving (4 people)
Calories 522
Calories from Fat 36
% Daily Value*
Fat 4g6%
Cholesterol 84mg28%
Sodium 652mg28%
Potassium 619mg18%
Carbohydrates 101g34%
Protein 21g42%
Vitamin A 200IU4%
Vitamin C 13.8mg17%
Calcium 60mg6%
Iron 4.1mg23%
* Percent Daily Values are based on a 2000 calorie diet.