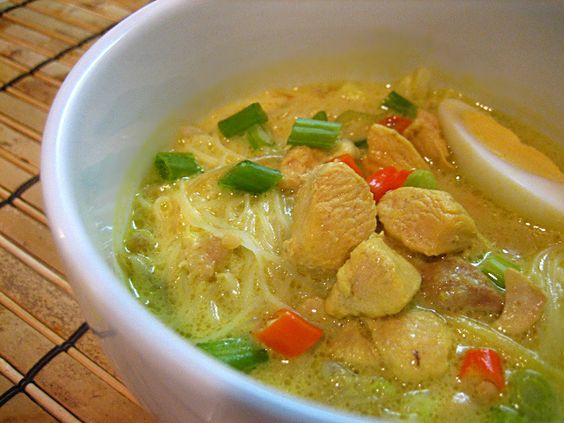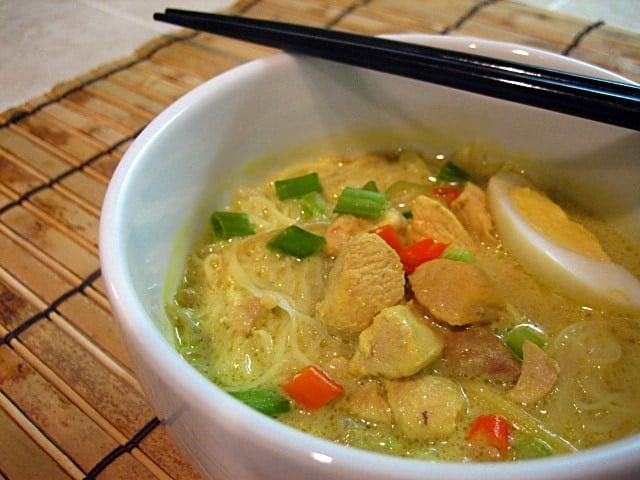 OK, it's official, I am in looooooooove with Indonesian food.
Since discovering the taste of real Indonesian food at Java Spice in Rowland Heights, I have had no less than 5 Indonesian meals (eat-in, take-out, and home cooking included) in the last two weeks: dishes such as Ayam Kalasan, Soto Ayam, Gado-Gado, Nasi Goreng, and Sate.
This is not my first mad cuisine crush. I will spend an obsessive amount of time researching a new (to me) cuisine when I fall in love with it.
I have been similarly smitten with Thai, Vietnamese, Japanese, and Sichuan cuisines. So yes, I became a food stalker and searched everywhere for Indonesian recipes, food pictures, blogs, restaurants, and cookbooks.
It was like being back at school and Indonesian food was my graduate course. I burned the midnight oil for an Indonesian Food exam.
I went to local libraries, Borders, Barnes & Noble's religiously and holed up in the ethnic cookbooks section reading and ogling beautiful Indonesian cookbooks (unfortunately, there are only a handful of them!).
I just have to cook Indonesian food in my kitchen, with my own hands, to satisfy and get over my current obsessive-compulsive behavior…
And before the restraining order goes into effect.
Finally I got myself the long list of ingredients and spent hours cooking up the following Soto Ayam.
I am never a huge fan of Soto Ayam in Malaysia but the Indonesian version of Soto Ayam won me over. To kick up the flavor of the traditional Soto Ayam, this variation is infused with coconut milk and more spices.
In Indonesia , this dish is called Soto Resah. It tasted very good and my native Malaysian palate favors this more complex and richer rendition.
How Many Calories Per Serving?
This recipe is only 249 calories per serving.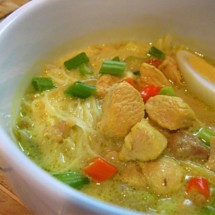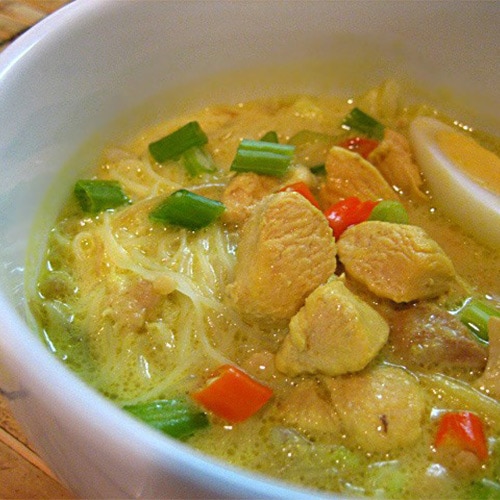 Indonesian Soto Ayam Recipe
To kick up the flavor of the traditional Soto Ayam, this variation is infused with coconut milk and more spices. Serve hot with lime wedges.
Ingredients
1/2

chicken breast meat, skinless and deboned (cut into small cubes)

1

stalk

lemongrass, cut into 3 strips

1

can

coconut milk

1

can

chicken broth

1

glass

water
Spice Paste:
1

teaspoon

coriander seeds

1

teaspoon

cumin seeds

4

shallots, chopped

3

cloves

garlic, chopped

2

pieces

turmeric, peeled and chopped or 1 tablespoon of turmeric powder

1

piece

galangal, peeled and sliced

(2-inch)

1

piece

ginger, peeled and sliced

(2-inch)

1

tablespoon

fresh lime juice
Other ingredients:
2

cups

sliced cabbages

2

cups

bean sprouts

1/2

pack

vermicelli or 1 small package of glass noodles

2

limes, cut into wedges

2

hard-boiled eggs, cut into wedges

1

stalk

spring onion, chopped
Click Here for Conversion Tool
Directions
Blend the spice paste in a food processor. Add some water if needed. Pour some oil in a pot and add in the spice paste. Stir the spice paste and wait for it to turn light brown. Add in chicken broth, coconut milk, lemon grass strips, and water. Once the broth starts boiling, add in chicken breast cubes. Cover the pot and lower the heat and simmer for 30 - 40 minutes. Add salt to taste.

Blanch beansprouts, pre-soaked vermicelli / glass noddles, cabbages in another pot of boiling water and transfer them into a bowl once they are cooked. Add in toppings of hard-boiled eggs, chopped spring onions and pour the hot chicken broth into the bowl. Serve hot with lime wedges.
Nutrition Facts
Indonesian Soto Ayam Recipe
Amount Per Serving (4 people)
Calories 249
Calories from Fat 216
% Daily Value*
Fat 24g37%
Cholesterol 111mg37%
Sodium 420mg18%
Potassium 718mg21%
Carbohydrates 46g15%
Protein 15g30%
Vitamin A 210IU4%
Vitamin C 40.3mg49%
Calcium 93mg9%
Iron 6mg33%
* Percent Daily Values are based on a 2000 calorie diet.