Sate lilit Bali - Easy sate lilit recipe for those who had try sate lilit in Bali, Indonesia.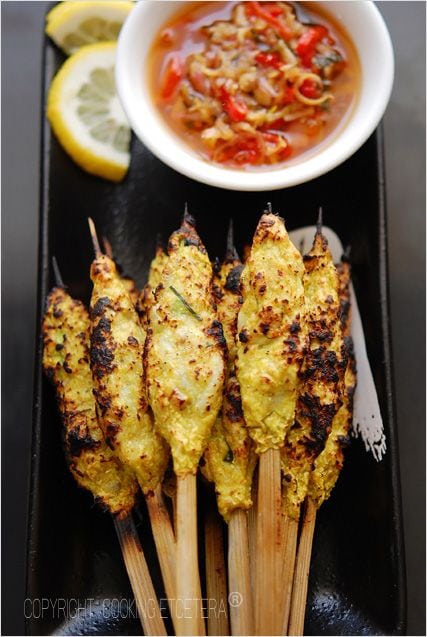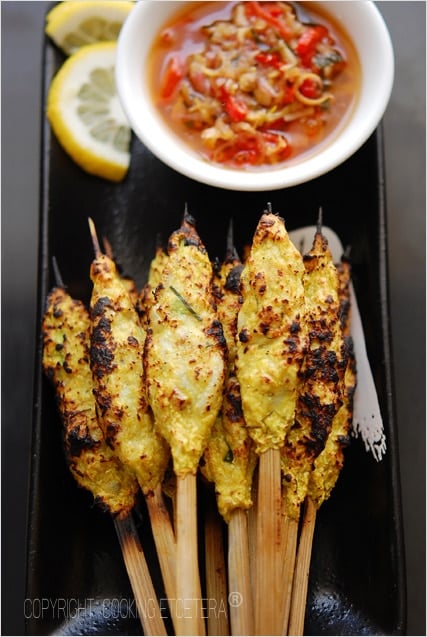 Sate (Indonesian spelling) or Satay (Malaysian spelling) is one of the most loved foods in Southeast Asia. Today, I have the talented Dhi at Cooking Etcetera as a guest writer on Rasa Malaysia.
In collaboration with Pepy of Indonesia-Eats, both of them will be writing about "Highlights of Indonesian Cuisine" and start the series with Indonesian sate.
I am personally very excited to learn more about Indonesian cuisine and I hope you will enjoy (and follow) their guest posts here on Rasa Malaysia. Please welcome Cooking Etcetera.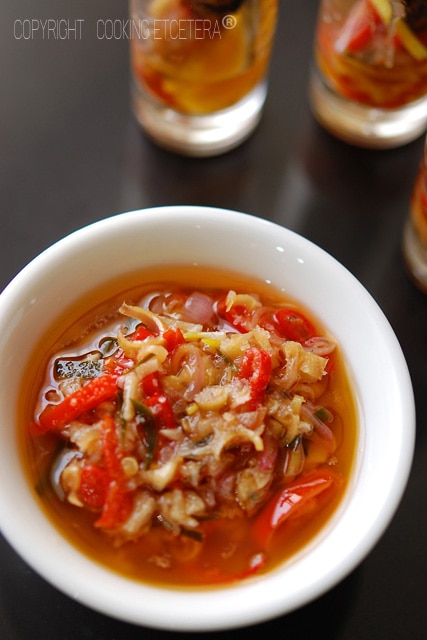 In light of the growing interest in Asian cuisine, particularly Malaysian, Indonesian and Singaporean cuisine, Indonesia-Eats and I have started a guest post series "Highlights of Indonesian Cuisine" on Rasa Malaysia.
We aim to introduce Indonesian food to the food blog community and explain what Indonesian food is really all about. To kick start the series, we are sharing some of the most popular Indonesian Sate recipes with you.
Indonesia is a nation comprised of more than 17,500 islands that span across a wide geographical area. As a result, Indonesian cuisine is diverse as it's paired with the influences from the many culture in the archipelago.
Sate (or Satay) is a dish consisting of diced or sliced chicken, goat, mutton, beef, pork, or fish. Sate is commonly threaded onto bamboo skewers, grilled over charcoal fire or coconut-shell charcoal, and then served with various spicy dipping sauces.
Sate is believed to have originated from Java, Indonesia, but it is also popular in many Southeast Asian countries such as Malaysia, Singapore, Thailand, and Vietnam. Sate is a very popular street food in Indonesia; it can be served as a side dish, or a main dish at lunch or dinner. (Source: Wikipedia)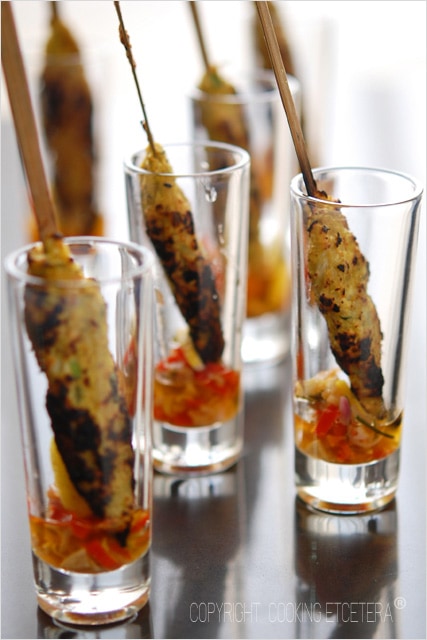 Indonesia is THE home of Sate. Indeed, sate is claimed as Indonesia's national dish, and its reputation can only be matched by "Soto" or the aromatic and higly fragrant Indonesian soup.
There are no less than 29 types of Sate available in Indonesia and they are usually named after the town of its origin or its method of cooking. (You can scroll further down on Wikipedia if you are interested to learn more about Sate.)
Highlights of Indonesian Cuisine is a collaboration between Rasa Malaysia, Cooking Ecetera, and Indonesia-Eats.
SATE LILIT BALI (Balinese Minced Seafood Sate)
Balinese food is known to have stronger flavours and aroma due to the generous use of lemongrass, chilies, lime leaves, galangal, and other spices.
The seafood sate sold in Bali has beautiful distinct flavours. Instead of being doused in rich sweet peanut sauce, it is served plain, fresh off the grill without any sauce–letting the sweet flavours of char-grilled seafood and exotic spices burst in the mouth. In my Sate Lilit Bali recipe, I added a special Balinese dipping sauce.
How do the Indonesians eat sate? We normally eat sate with cubed rice cake or with a bowl of steamed rice as a main/side dish for lunch, dinner, midnight snack, snack or appetizer in parties or social occasions. Certain sate is actually served for breakfast to go with Indonesian chicken congee.
Here is my recipe for Sate Lilit Bali.
How Many Calories per Serving?
This recipe is only 310 calories per serving.
What Dishes to Serve with This Recipe?
For a wholesome meal and easy weeknight dinner, I recommend the following recipes.
For more great recipes like this, sign up for our newsletter. We'll send daily recipes you'll love!
Join
Sign up for our newsletter!
Sate Lilit Bali
Satay Lilit Bali - shrimp and mackerel loaded onto bamboo skewers, grilled and then served with Balinese dipping sauce.
Equipment
Bamboo skewers

or fresh lemongrass may be used
Ingredients
250

g

shrimp, cleaned and deveined

250

g

mackerel

(or any firm white flesh fillet)

50

g

desiccated coconut

6

pieces

kaffir lime leaves

((thinly sliced))

2

tablespoons

palm sugar

(gula jawa)

Red capsicum

(tiny cubes for sprinkles)
Processed Ingredients:
8

shallots

2

cloves

garlic

2

cm

galangal or blue ginger

2

cm

(1 inch kencur or lesser galangal)

1

teaspoon

coriander seeds

1

cm

fresh turmeric

(Mince all ingredients until they turn into a smooth paste. DO NOT FRY)
Instructions
Mix both fish & shrimp in food processor until smooth. Mix in desicated coconut. Add 3 tablespoons of thick coconut milk.

Add processed ingredients, mix well. Add salt & sugar to taste.

If the mixture is still too dry, you may add 1 egg white and a bit of olive oil.

Shape the mixture on sate sticks/lemongrass stalk, flatten slightly.

Charcoal grill sate until light brown and cooked through.
Nutrition

Nutrition Facts

Sate Lilit Bali

Amount Per Serving (4 people)

Calories 310

Calories from Fat 126

% Daily Value*

Fat 14g22%

Cholesterol 186mg62%

Sodium 562mg24%

Carbohydrates 18g6%

Protein 27g54%

* Percent Daily Values are based on a 2000 calorie diet.

Notice: Nutrition is auto-calculated, using Spoonacular, for your convenience. Where relevant, we recommend using your own nutrition calculations.