Heavenly Eggless Tiramisu - Tiramisu is a popular dessert. This heavenly eggless tiramisu recipe is delicious and easy and makes the best tiramisu.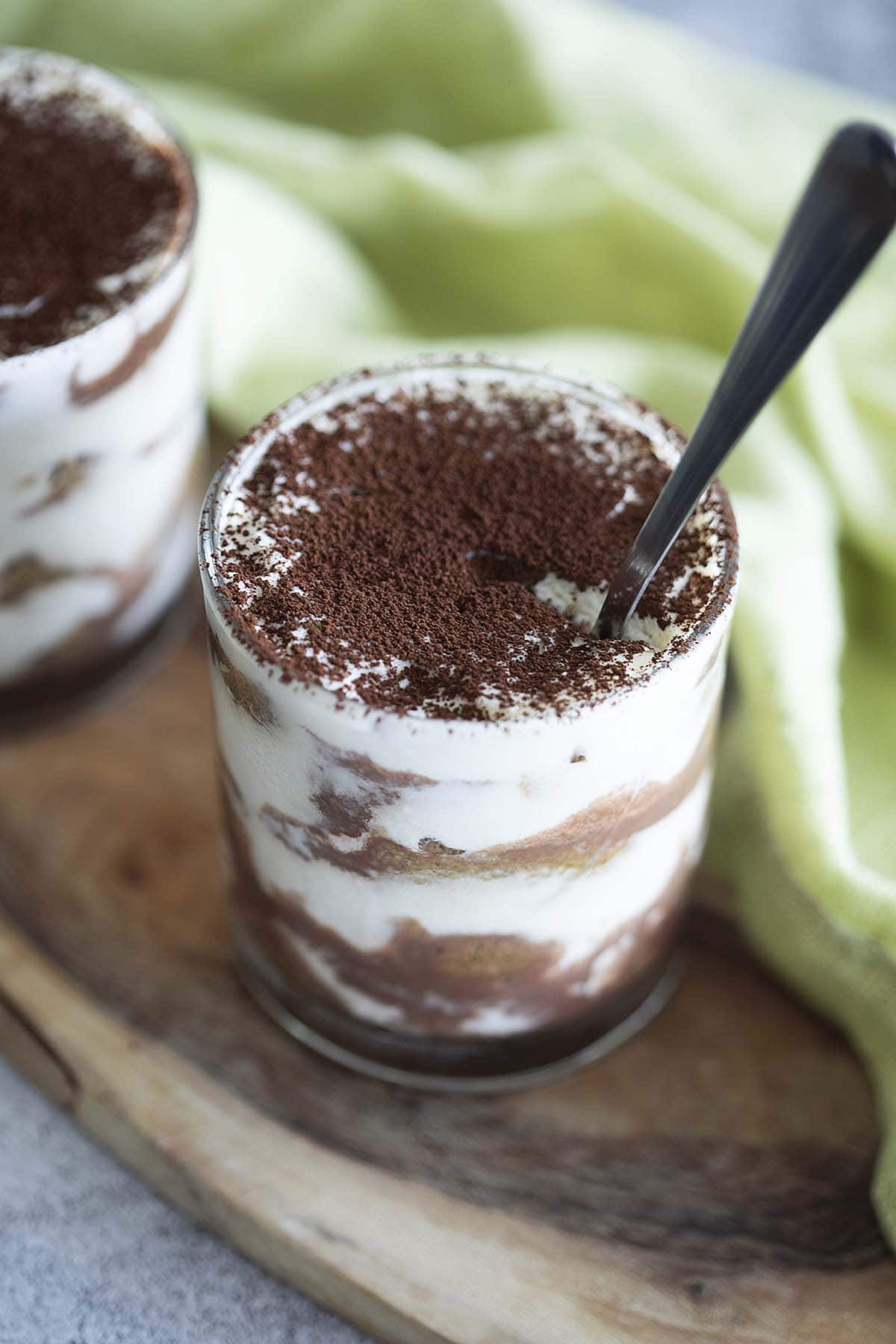 I've known Terri from Hunger Hunger for many years.
We connected when both of us were featured in a local Malaysian newspaper.
Once in a blue moon, Terri and I would exchange emails and I even made plans to visit her in her hometown, Kota Kinabalu in Malaysian-Borneo, but the plan never panned out.
One thing is for sure, Hunger Hunger continues to whet my virtual appetite with Terri's fabulous home-cooked meals, baking recipes, her local dining experiences and travel eats.
Please visit Hunger Hunger and you will be hungry for sure as Terri tempts us with her mouthwatering content and food photography.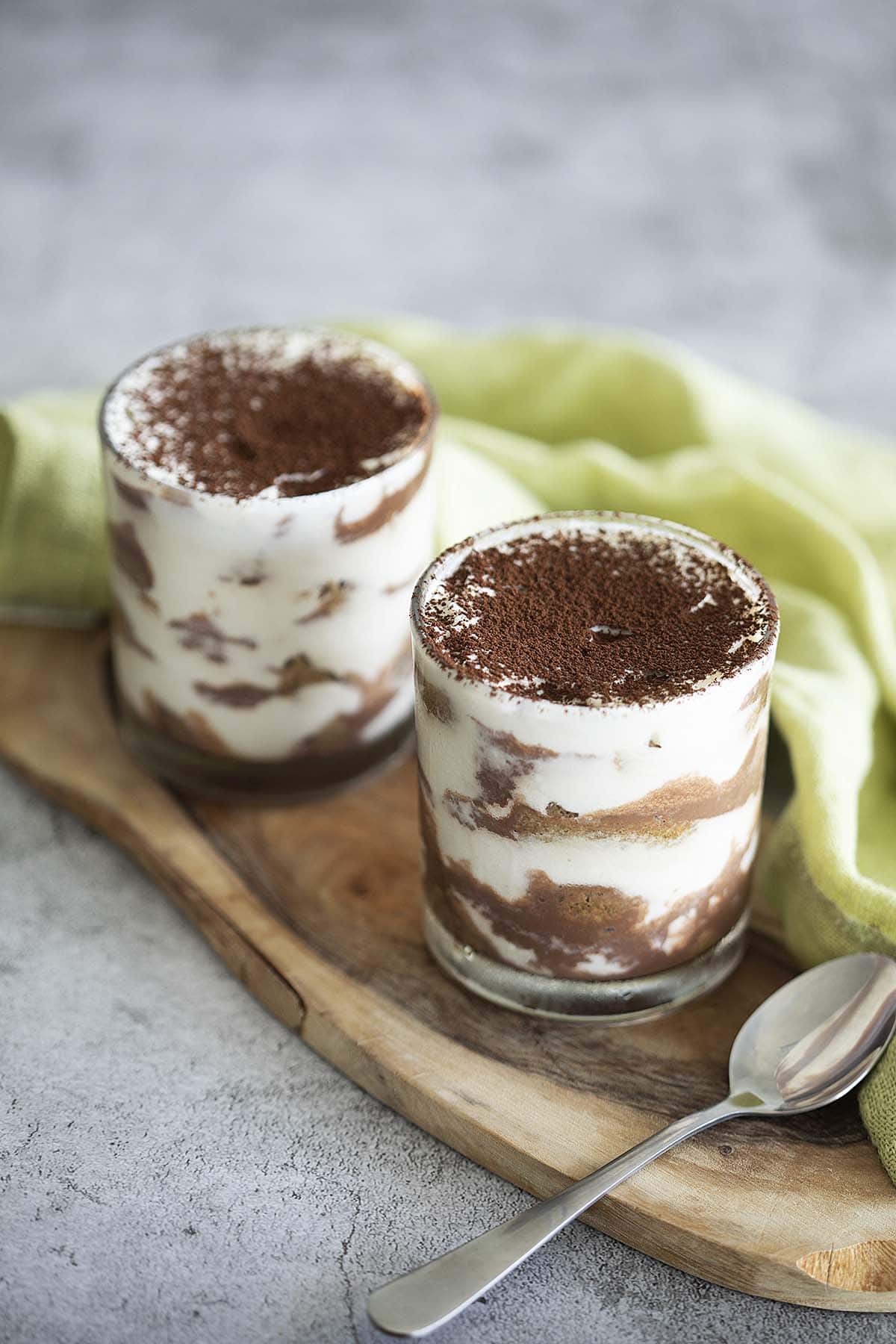 Please don't miss out her heavenly eggless tiramisu recipe below.
I am honored and delighted to guest post on Rasa Malaysia, one of the top food blogs that inspired me to start my own blog 4 years ago.
I don't know if Bee remembers it, but I wrote to her asking for photography tips and was thrilled to my toes when she replied me.
One of her tips, which I stick to, is to use white tableware and if you dine at my house and find that all my tableware are white, blame it on Bee!
Bee and I agreed on a tiramisu post and I took quite a while to make different versions of tiramisu (green tea, green tea with choc and classic) because Italian mascarpone cheese (pronounced "mas-car-pon-nay," not "mas-car-pon") is flown in only once a week by a wholesaler and the hotels get the first pick.
I've found that only Italian mascarpone—creamy-white, less dense but silkier than clotted cream with a milky flavor that reminds me of good buffalo mozzarella—makes the best tiramisu.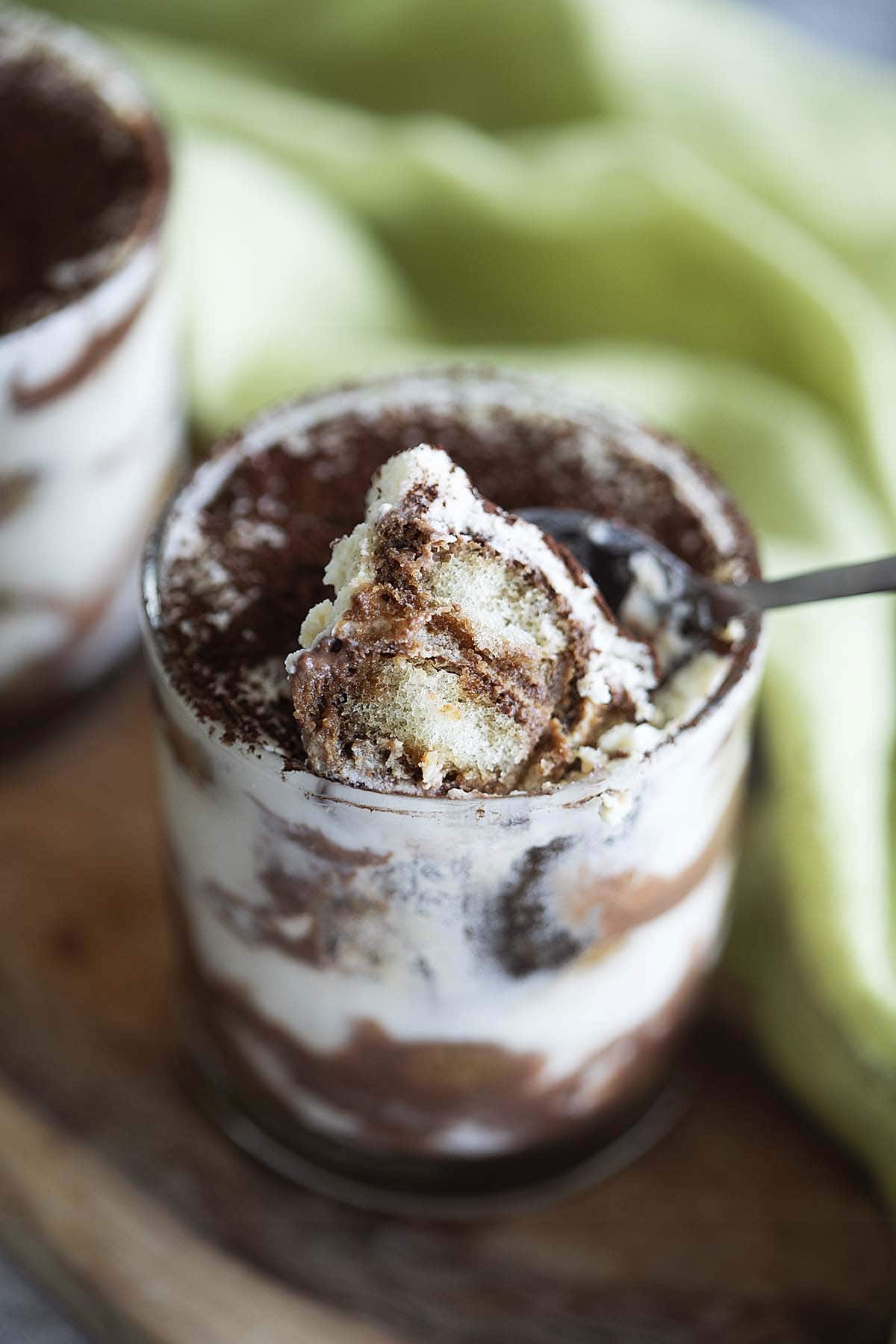 Tiramisu is one of the easiest desserts to make.
There's no baking (unless like me, you make your own sponge fingers or sponge cake) and all you do is just assemble the dessert like how you make an English trifle.
This is a recipe I've adapted from a wonderful recipe called Majestic Tiramisu (from the kitchen of the Majestic Hotel in San Francisco) found in one of my favorite cookbooks, San Francisco's Cooking Secrets.
What makes the Majestic tiramisu so heavenly is the use of chocolate ganache to sandwich the sponge fingers before they are dipped into a coffee-Marsala mixture. Most recipes do not include a chocolate layer.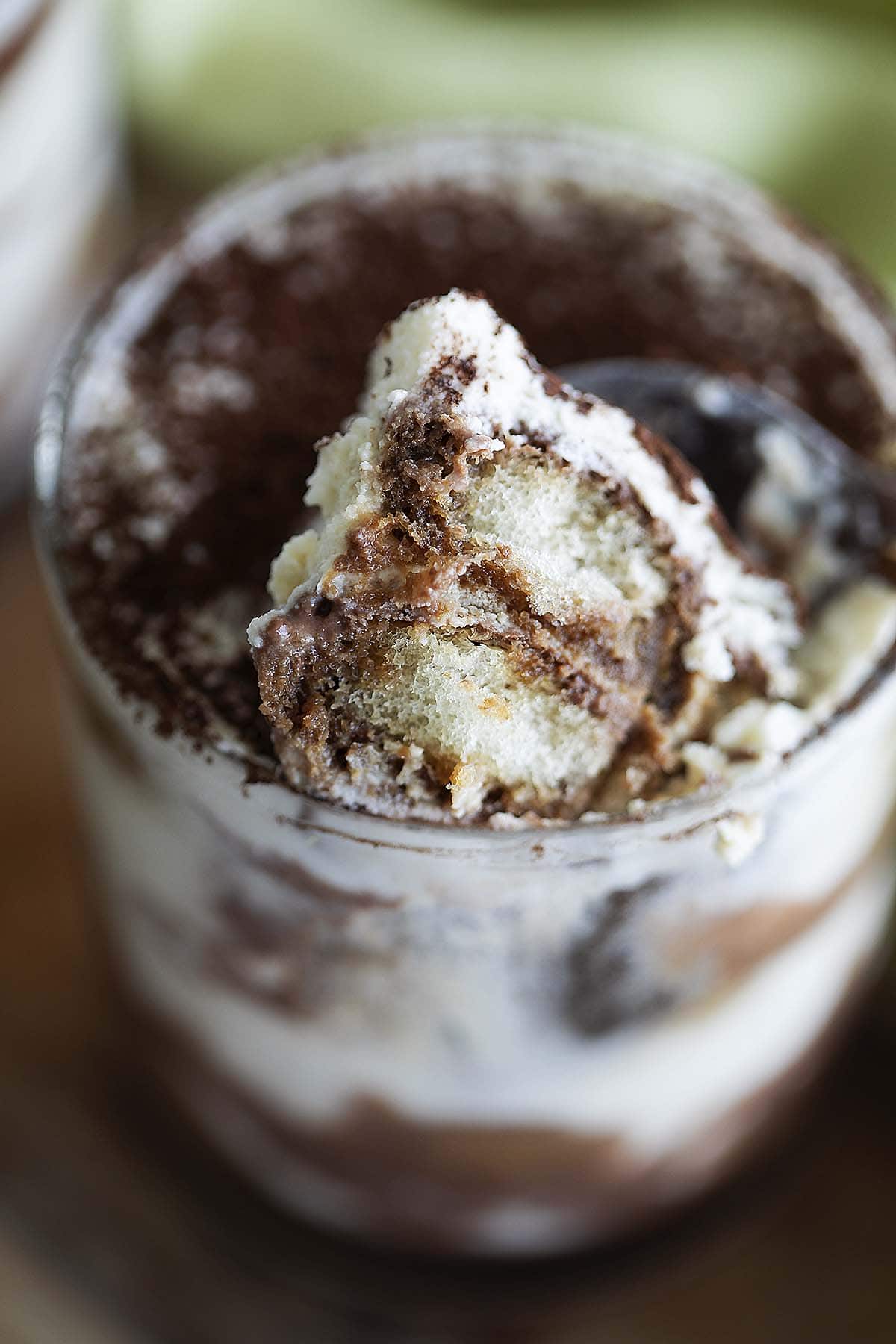 I've stuck to this recipe for 15 years because I've not found a better tiramisu recipe than this.
I've amended the recipe to my liking by reducing the sugar, adding coffee liqueur to the espresso, whisking the heavy cream to give more volume instead of just mixing it with the cheese.
I prefer to use home-made sponge cake instead of sponge fingers especially if I'm making a tiramisu gateau.
The difference is totally worth the extra effort.
Sponge fingers can sometimes turn out too wet or too dry.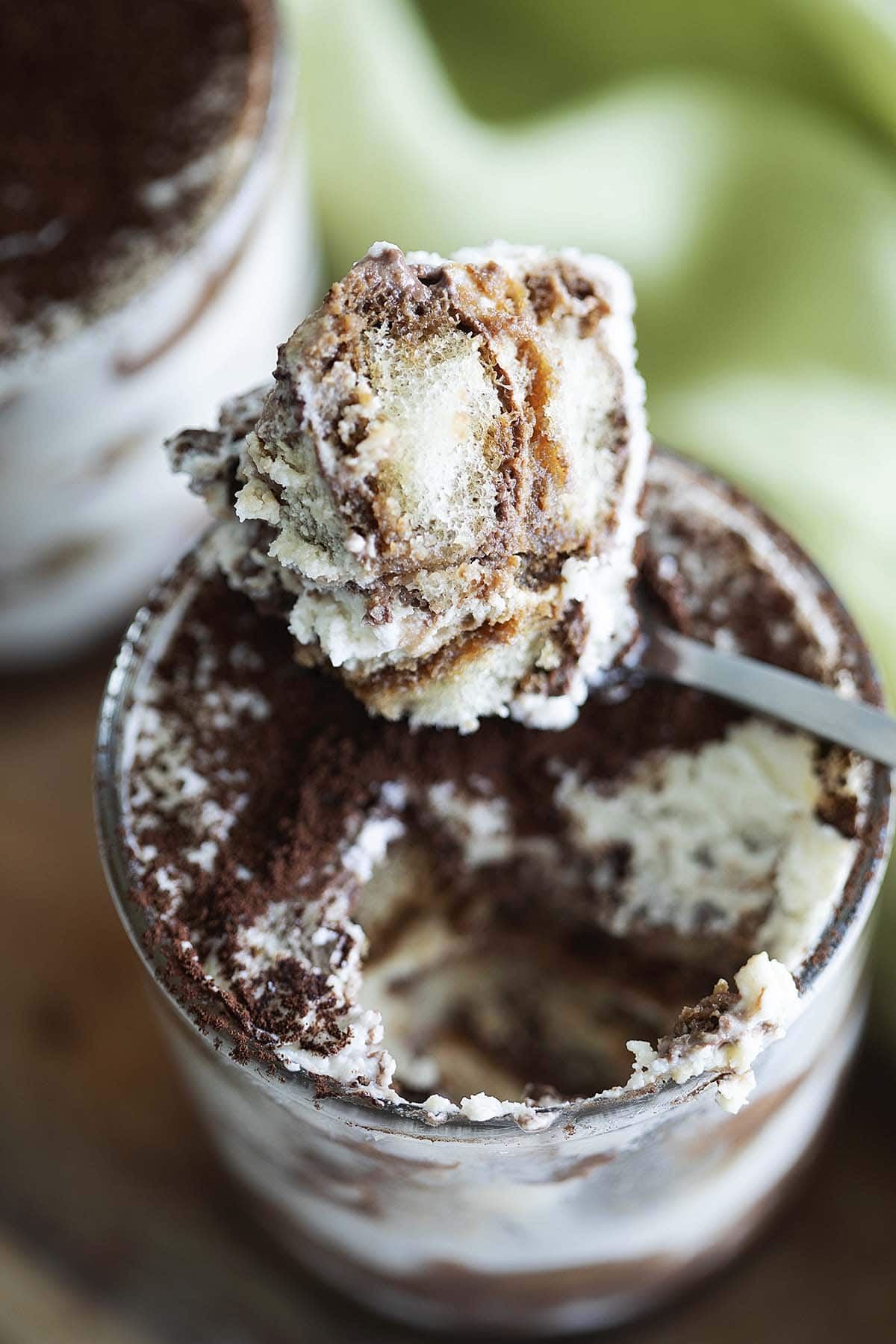 After my photo shoot, I ate a slice of classic tiramisu and one bite was enough to remind me why the dessert is named tiramisu, meaning "pick me up."
The blend of coffee, chocolate, mascarpone and most of all, liqueur, will pick you up even on your gloomiest day.
The great thing about this recipe is that no raw eggs are used.
That means that I can serve this cake a day or two after it's made when the cake is at its best as the flavors would've blended and mellowed and the cake would've firmed up.
I've never liked zabaglione and raw egg yolks make me uneasy.
If you do like raw eggs, you can still incorporate them into the tiramisu.
Experiment with the level of sweetness and liqueur too.
That's what cooking is about, tinkling with ingredients—kitchen chemistry—to create food that please your taste buds.
The key to making a good tiramisu, or any dish really, is to use the best and freshest ingredients.
Get the best coffee, the best liqueur, the best chocolate, the best mascarpone and leave the tiramisu overnight for the flavors to blend.
Serve it the next day and be amazed by the most awesome tiramisu you've ever tasted.
Buon appetito!
For more great recipes like this, sign up for our newsletter. We'll send daily recipes you'll love!
Join
Sign up for our newsletter!
Heavenly Eggless Tiramisu
Heavenly Eggless Tiramisu – Eggless Tiramisu Recipe by Hunger Hunger Blog.
Ingredients
2

cups

mascarpone cheese

1

cup

heavy cream

(or 1 1/4 cups to stretch the mascarpone mixture)

1/2

cup

semi-sweet dark chocolate

1

cup

strong espresso

3 to 4

tablespoons

coffee liqueur

( such as Tia Maria or Kahlua)

30

sponge fingers

( or a 10" sponge cake)

1/4

cup

caster sugar

1/4

cup

dark rum or Marsala
Garnish:
chocolate shavings or powder
Instructions
Mix the espresso with the coffee liqueur; chill.

Melt the chocolate with 1/2 cup cream over a double boiler; cool.

Whip the remaining 1/2 cup cream (or 3/4 cup, but remember more cream will give volume but dilute the flavor of the mascarpone) until stiff.

Using a hand-held whisk (a stand mixer will be too strong), whip the mascarpone with the sugar and rum until just mixed. Do not over whisk or the cheese will curdle. Fold the whipped cream into the cheese mixture. Chill until firm.

If using a sponge cake, cut into 3 layers about 1 cm thick. I used to cut the cake into 1/2 cm layers and sandwiched them with chocolate ganache. The result was the best tiramisu ever, but was too much work because the thin sponge layers broke easily.

Lay a layer of 10 sponge fingers into a glass dish or bowl (or a slice of sponge cake on a serving plate), spoon about 1/3 of the espresso over the fingers to soak. Spread 1/3 of the chocolate ganache over the cake and then spread 1/3 of the mascarpone mixture over. Repeat and end with a layer of mascarpone.

Sieve a thick layer of choc powder over the tiramisu and/or garnish with choc shavings. Chill overnight or at least 12 hours.

Nutrition

Nutrition Facts

Heavenly Eggless Tiramisu

Amount Per Serving (4 people)

Calories 417

Calories from Fat 1278

% Daily Value*

Fat 142g218%

Cholesterol 2489mg830%

Sodium 12151mg528%

Carbohydrates 1403g468%

Protein 132g264%

* Percent Daily Values are based on a 2000 calorie diet.

Notice: Nutrition is auto-calculated, using Spoonacular, for your convenience. Where relevant, we recommend using your own nutrition calculations.