Madeleines - fail-proof and easy madeleine recipe. These madeleine cookies are buttery, sweet with crispy edges. Dust with powdered sugar and serve with coffee or tea for afternoon tea.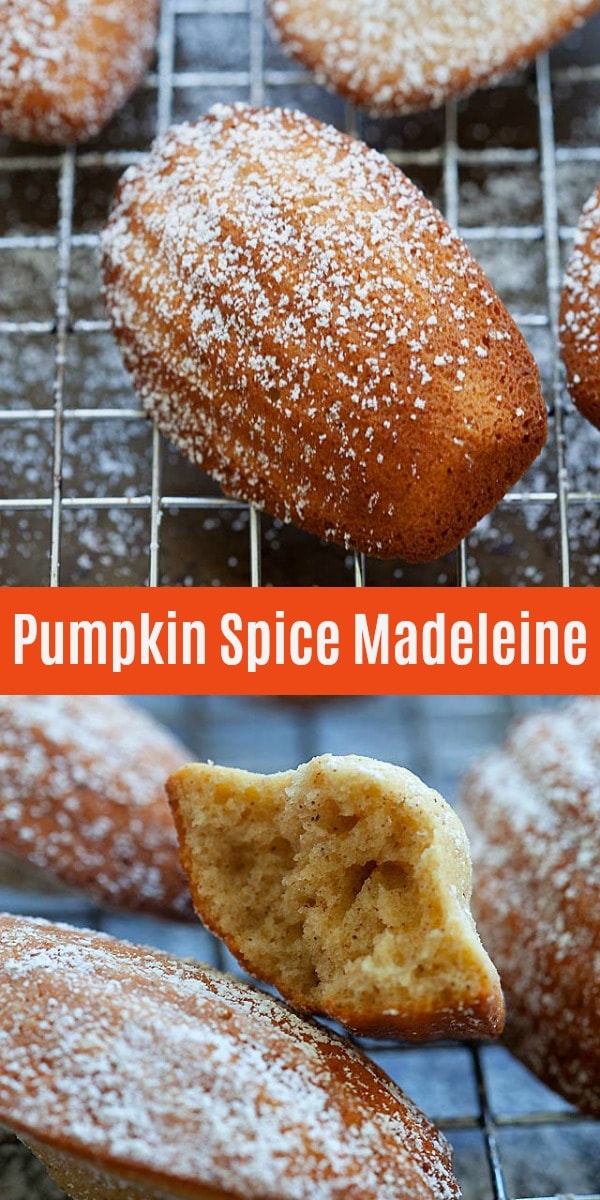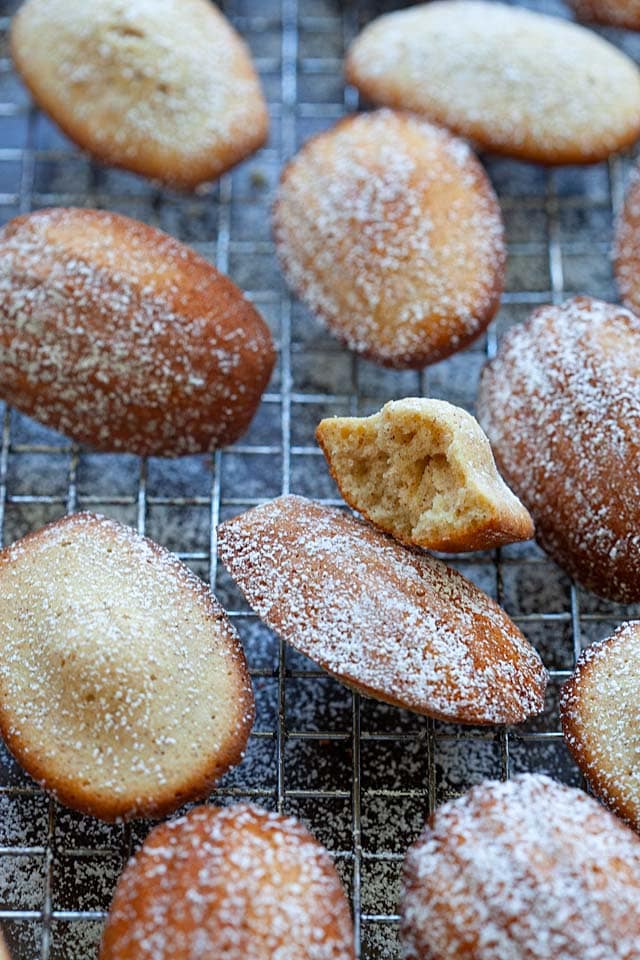 Madeleine Cookies
I am a huge fan of French madeleine cookies; those little shell-shaped cookies found in Costco, Target or Starbucks.
In French, they are called Petite Madeleine due to the small, petite size. These sweet cakes are absolutely addictive and delightful, especially when they are hot off the oven.
Just serve them as is or dust with some powdered sugar. They go well with a cup of coffee or tea.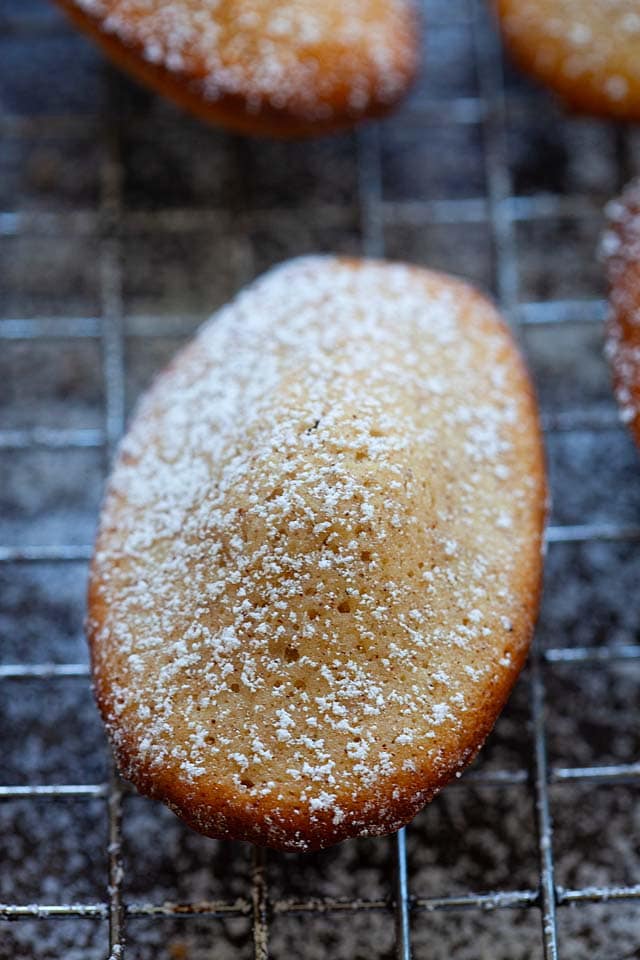 Other Recipes You Might Like
Madeleine Recipe
This Madeleine recipe is 100% fail-proof, with the gorgeous hump on each and every cookie. The method is super easy and novice baker friendly.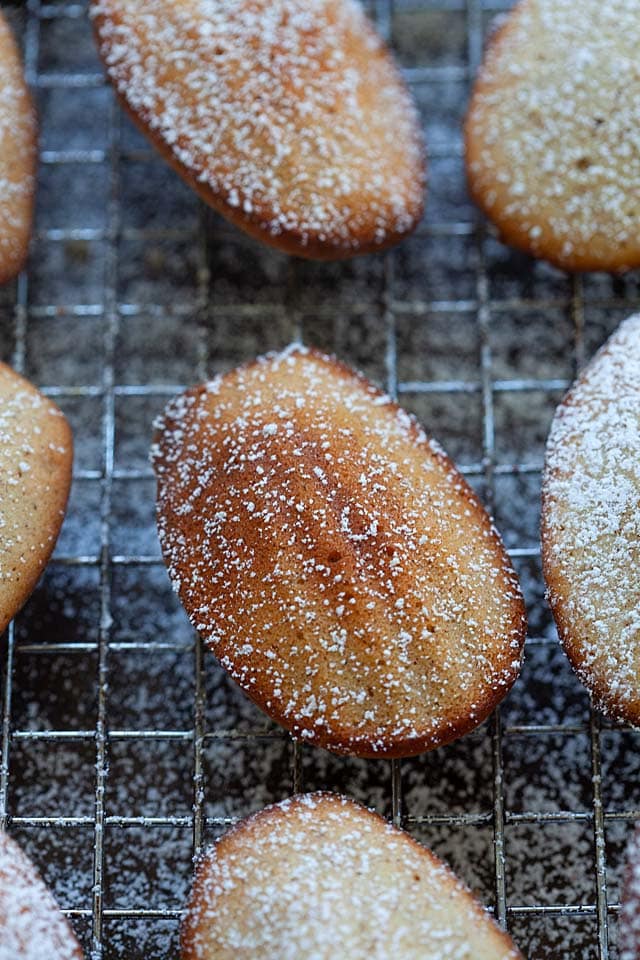 The recipe calls for the following ingredients:
Eggs
Sugar
All-purpose flour
Butter
Lemon juice
You don't need a stand mixer for this recipe. All you need is an electric mixer. Other than that, it's a simple mix and stir batter.
This time of year, I like madeleines with pumpkin spice. Trust me, they are much better than Starbucks Pumpkin Spice Madeleines.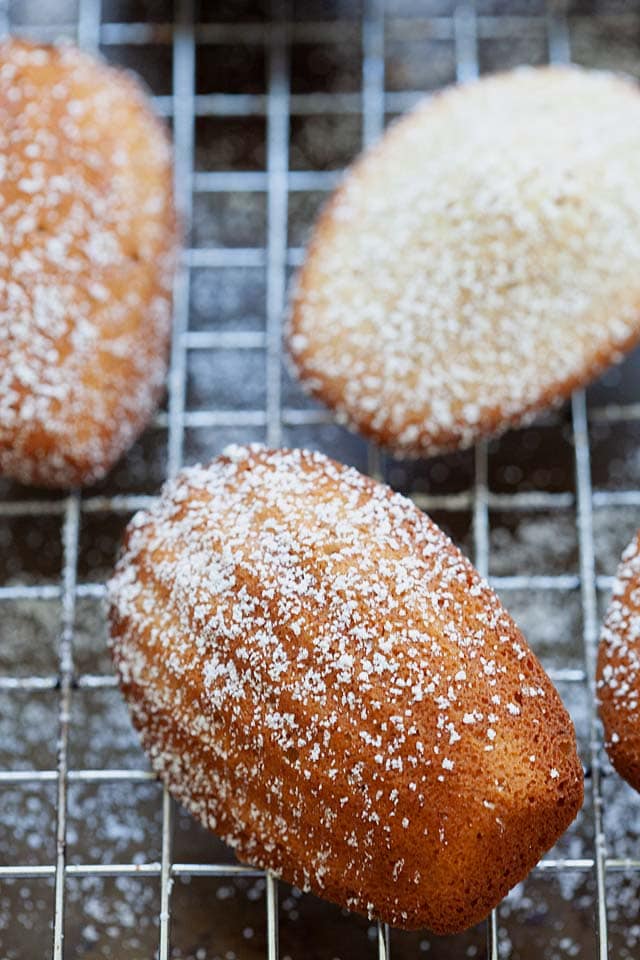 Baker's Tips
Here are my tips for the best tasting Madeleines.
Use the best quality unsalted butter. I use Challenge brand butter.
Sift the flour using a sieve. This will ensure a smooth batter.
This recipe calls for melted butter. Melt the butter in a microwave first and left cool. The melted butter is added to the egg batter; you don't want the hot melted butter to "cook" the egg batter.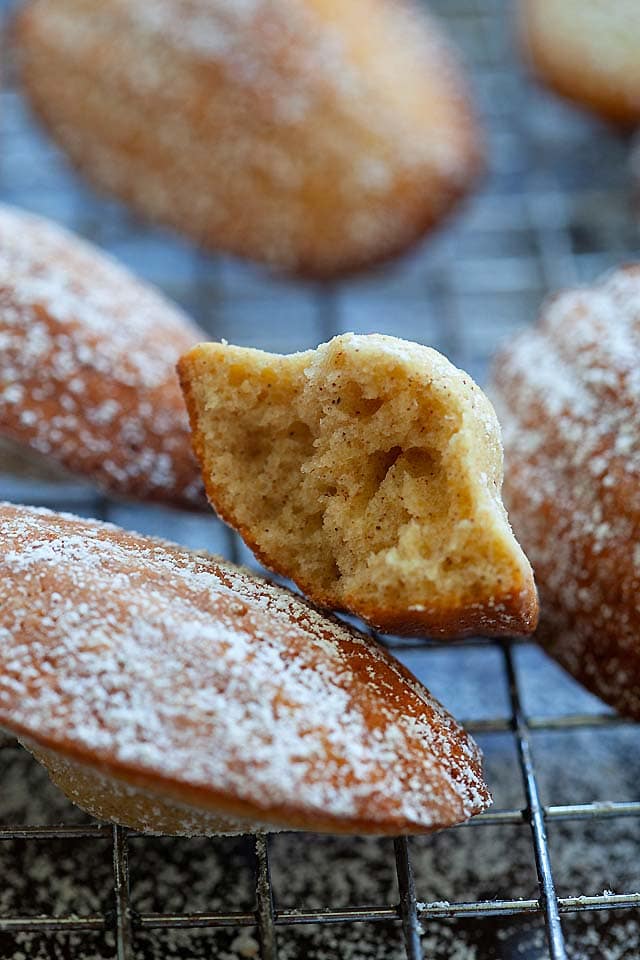 Frequently Asked Questions
Do I Need to Chill the Madeleines Batter before Baking?
You don't have to. You can bake them right away.
Why My Madeleines Have No Humps?
The appearance of the hump is because of the oven temperature. Bake the cookies at 400°F for 10-12 minutes and the high heat will make the batter rise in the center and hence forming the gorgeous humps.
If you would like your Madeleines to have taller humps, you can chill the batter in the oven for 1-2 hours.
How Many Calories per Piece?
Each piece is only 80 calories.
How to Serve Madelines?
These petite sweet cakes are great with coffee or tea, with French and English pastries. For an afternoon tea party, I recommend serving madeleines with the following.
5 Secrets to 20 Min Dinners
Get tricks for quick & easy meals!
How to Bake Madeleines?
Please refer to the recipe card below for detailed step-by-step method on how to make French Madeleines from scratch.
Yield: 24 Madeleines
Madeleines (with Pumpkin Spice)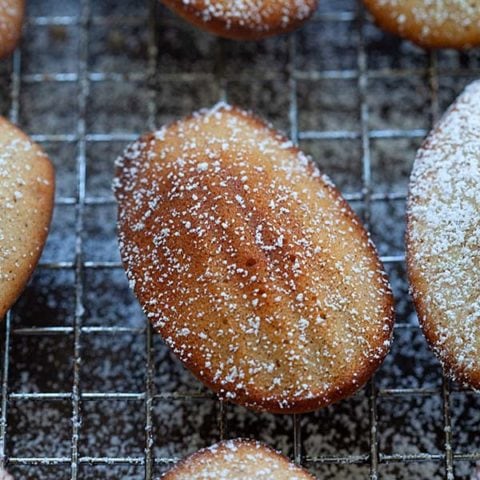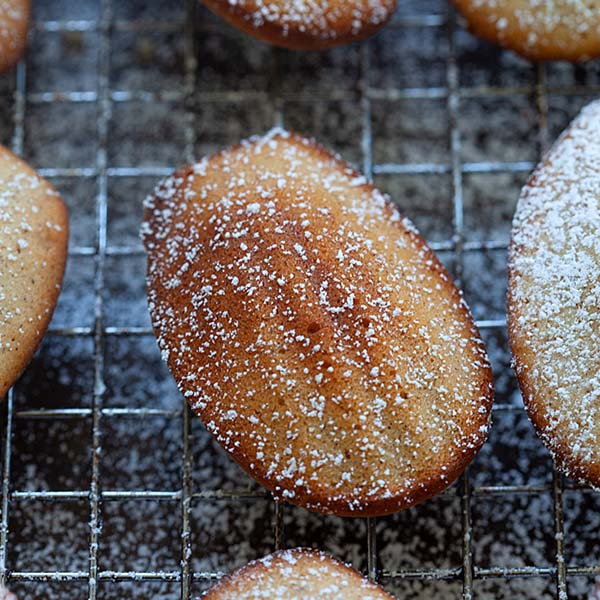 Madeleines - fail-proof and easy madeleine recipe. These madeleine cookies are buttery, sweet with crispy edges. Best served with a cup of coffee or tea.
Ingredients
2 large eggs plus 1 egg yolk
5 oz. (140 g) sugar
1 1/2 teaspoons lemon juice
5 oz. (140 g) all-purpose flour, sifted
1/4 teaspoon baking powder, added to the all-purpose flour
5 oz. (140 g) unsalted butter, melted
2 teaspoons pumkin spice
powdered sugar, for dusting
Instructions
Preheat oven to 400°F (207°C). Grease the Madeleine pan with butter.
Using an electronic hand mixer, beat the eggs and sugar until thick and foamy. Add the lemon juice into the egg mixture and blend well. Fold in the flour and use a spatula to mix well. Fold in the melted butter, stir and blend until the butter is well incorporated with the batter. Add the pumpkin spice, stir to mix well with the batter.

Transfer the batter into the Madeleine pan and fill about 90% of each mold. Tap and shake gently. Bake for 10-12 minutes or until they turn slightly golden brown and the center is cooked through. Remove from the oven and let cool on a cooling rack. Dust the Madeleines with powdered sugar before serving.

Notes
You can skip the pumpkin spice if you don't like them. Add them for Fall-themed Madeleines that taste much better than the ones at Starbucks.
Nutrition Information
Serving Size
24 Madeleines
Amount Per Serving
Calories

80
Total Fat

5g
Saturated Fat

3g
Cholesterol

30mg
Sodium

8mg
Carbohydrates

10g
Fiber

1g
Sugar

6g
Protein

1g