Zucchini Bread - easy, moist, and the BEST zucchini bread loaded with walnuts and crumb topping of cinnamon and butter. Quick and fool proof recipe!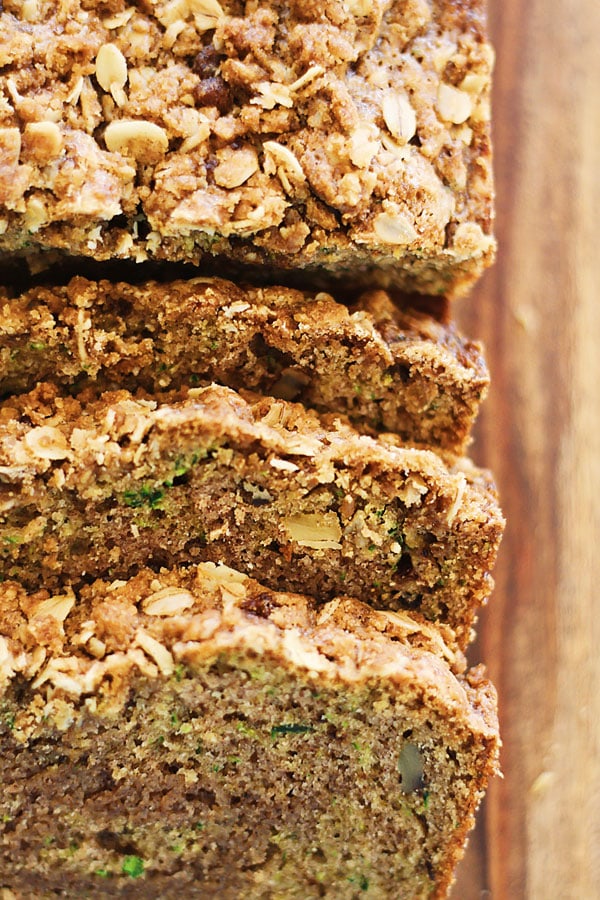 Contributor: Baked by Joanna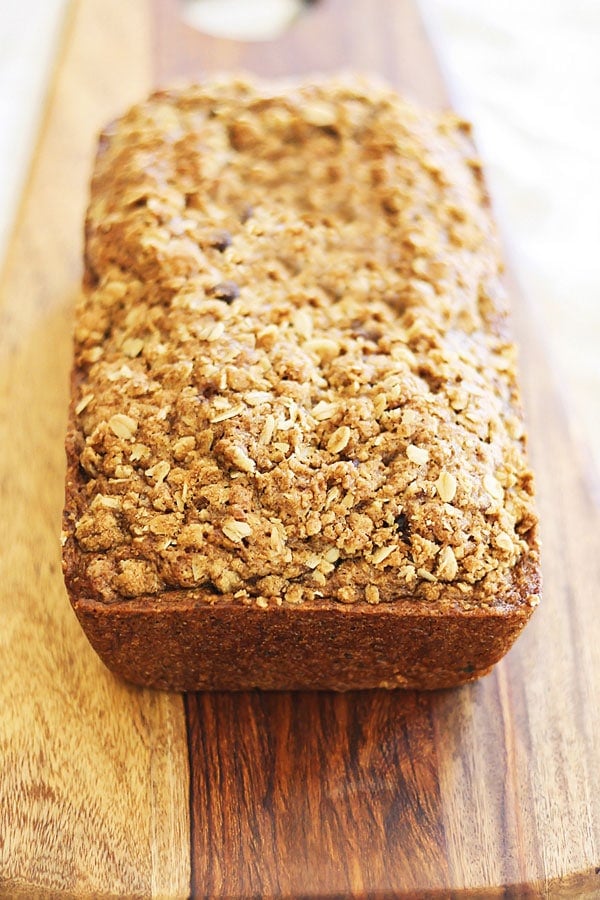 I am always a fan of quick breads, namely those that feature walnuts, one of my favorite nuts.
So my rendition of Zucchini Bread was simply all I needed to feed my craving for something sweet that takes no time to rise.
Filled with warm spices, this bread incorporates finely grated shreds of zucchini.
I prefer a finer grate because when mixing, there's more to go around.
Additionally, it extracts more juices, which I also add to the batter.
This keeps the bread from drying out while baking.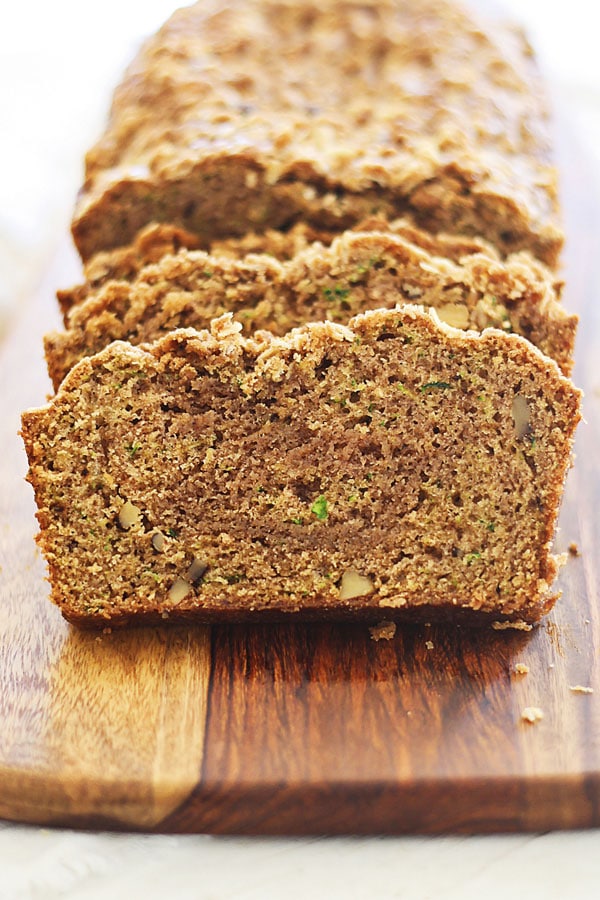 And if it wasn't enough, I had to add a crumb topping.
It's like sprinkles on a cupcake, possibly not neccessary, but it makes the dish taste a million times better.
My crumb topping is a simple mix of brown sugar, flour, cinnamon and butter.
I also incorporate oats for more crunch and heartiness.
How Many Calories per Serving?
This recipe is only 377 calories per serving.
What to Serve with This Recipe?
For a wholesome meal and easy weeknight dinner, I recommend the following recipes.

5 Secrets to 20 Min Dinners
Get tricks for quick & easy meals!
Yield: 4 people
Zucchini Bread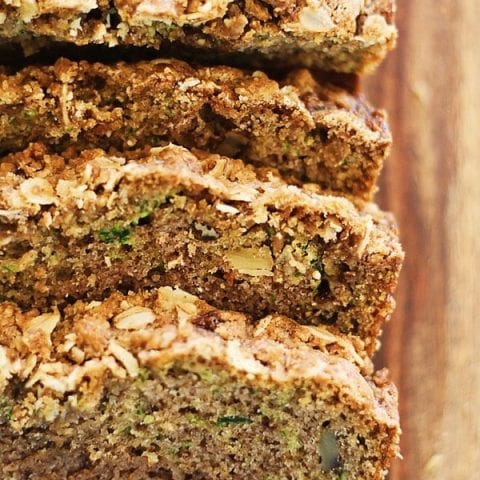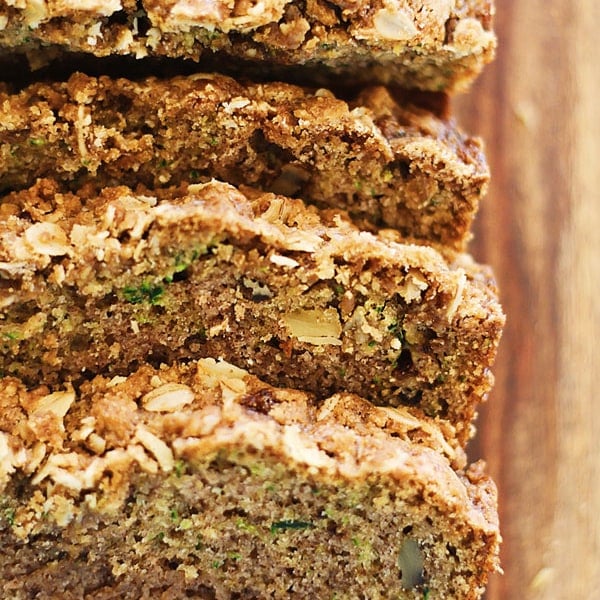 Zucchini Bread – easy, moist, and the BEST zucchini bread loaded with walnuts and crumb topping of cinnamon and butter. Quick and fool proof recipe!
Total Time
1 hour
15 minutes
Ingredients
Bread Ingredients:
3 eggs
1 1/4 cups (300 ml) vegetable oil
2 1/4 cups (250 g) white sugar
3 teaspoons (15 ml) vanilla extract
1 teaspoon (5 ml) salt
1 teaspoon (5 ml) baking soda
1 teaspoon (5 ml) baking powder
3 teaspoons (15 ml) ground cinnamon
1/4 teaspoon ground nutmeg
3 cups (360 g) all-purpose flour
2 zucchinis, finely grated
1 cup (150 g) walnuts, chopped
Crumb Topping Ingredients:
1/2 cup (45 g) old fashioned oats
1/2 cup (90 g) dark brown sugar, packed
1/4 cup (30 g) all-purpose flour
1/4 teaspoon (1.75 mL) cinnamon
1/4 cup (60 g) unsalted butter, diced small and chilled
Instructions
Preheat the oven to 325°F (162°C), and coat two 8 x 4-inch pans with nonstick spray.
In a stand mixer, beat the eggs, oil, sugar and vanilla extract on medium speed with the paddle attachment.
Add the salt, baking soda, baking powder, cinnamon and nutmeg and mix until thoroughly incorporated. Then mix in the flour in thirds. Scrape down the bowl, as needed, to ensure the ingredients are thoroughly combined.
Stir in the zucchini and walnuts.
Divide the batter evenly between the two pans, and bake for 1 hour or until a toothpick inserted into the center comes out clean.
After placing the bread in the oven, make the crumb topping by combining all the ingredients in a bowl and mixing with hands, until large crumbles form. Once the bread has baked for 15 minutes, divide the crumbs evenly and scatter them over the top of each pan of bread. Continue baking.
Allow the bread to rest on the counter for 20 minutes, before removing it from the pan to cool completely on a wire rack.
Notes
For more green coloring in the bread, grate the zucchini on a larger-sized setting.
Nutrition Information
Yield
4
Serving Size
4 people
Amount Per Serving
Calories

377
Total Fat

42g
Saturated Fat

16g
Unsaturated Fat

0g
Cholesterol

153mg
Sodium

924mg
Carbohydrates

233g
Fiber

7g
Sugar

143g
Protein

21g