Bacon Parmesan Hasselback Potatoes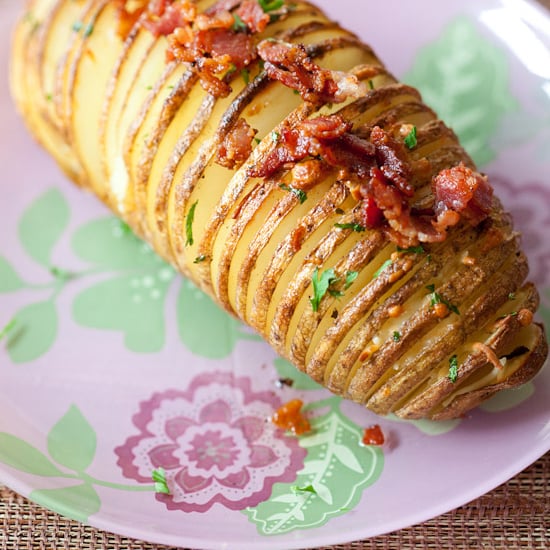 http://rasamalaysia.com/bacon-parmesan-hasselback-potatoes/
Bacon Parmesan Hasselback Potatoes
Hasselback Potatoes
Hasselback Potatoes with bacon & parmesan. Easy hasselback potatoes at its best. Sinfully delicious but quick and super easy to make.
I love hasselback potatoes. Recently, my good friend at WÜSTHOF sent me their new knife—a CLASSIC 7-inch Hollow Edge Chai Dao. As you all know, I specialize in Asian cooking and I can't do without a good Chinese cleaver in the kitchen. Literally, Chai Dao means "vegetable knife" in Chinese language…basically it is the most important knife we use in our kitchen. To test drive my new toy, I decided to make Bacon Parmesan Hasselback Potatoes.
Inspired by the traditional design of a Chinese Cleaver, WÜSTHOF's distinctively shaped CLASSIC 7-inch Hollow Edge Chai Dao features a wide blade with a razor-sharp fine edge that curves dramatically upwards as it nears the knife's squared-off tip. The blade's curvy profile allows chefs and home cooks to quickly mince, chop, dice, and slice a myriad of ingredients by employing an effortless "rocking" motion on cutting boards. The new knife's bevel-style hollow edge minimizes drag, and prevents potatoes, onions, and other sticky ingredients from adhering to the blade.
First of all, my 3-year old picky eater loves potatoes, parmesan cheese, and bacon, so this recipe will be his favorite. Secondly, this WÜSTHOF knife will be perfect for me to slice the potatoes thinly, and the hollow edge will allow me to control the cutting so I don't cut through the potatoes! If you have made Hasselback potatoes before, I am sure you know what I mean. If we are not careful, we will cut through the potatoes!
As you can see from my photos, I had a great looking and extremely delicious potato, sliced thinly, loaded with parmesan cheese in between each slit and topped with crispy bacon. Heavenly, so much so that my son gobbled it up during dinner.

While primarily designed for prepping vegetables and fruits, the agile and versatile CLASSIC 7-inch Hollow Edge Chai Dao has the power and heft to be able to easily transition from slicing paper-thin shallots, potatoes to cubing tough cuts of beef. It's definitely my favorite go-to knife these days!
Click Images Below for Similar Recipes:
LOVE THE RECIPE & PHOTOS? PLEASE SHARE:
Sign Up for Email Updates
Enter your email for new updates: recipes, giveaways, and more!