Butter Prawn Recipe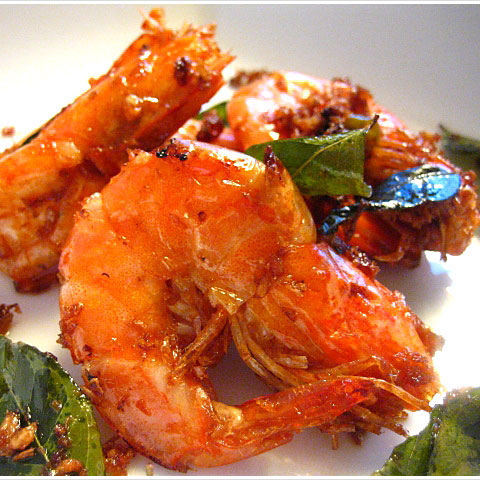 http://rasamalaysia.com/butter-prawns/
Recipe: Butter Prawn
Ingredients
1 lb large prawns
Oil for deep frying
3 tablespoons butter
6 bird's eye chilies (chopped)
3 sprigs of curry leaves (use only the leaves)
3 cloves garlic (finely chopped)
1/2 teaspoon salt
1 teaspoon sugar
1/2 teaspoon soy sauce
1 tablespoon Chinese cooking wine (rice wine preferred)
6 tablespoons of grated coconut (dry fried until golden brown)
Method:
Leave the prawn heads and shells on but chop off the eyes part. Slit down the back to remove the veins. Pat dry. Heat oil and deep fry the prawns. Drain and set aside.
Melt the butter, add bird's eye chilies, curry leaves, garlic, salt and fry for 2 minutes or until fragrant. Add prawns, sugar, soy sauce, wine, and grated coconut. Cook over high heat for 1-2 minutes, stirring frequently. Serve immediately.
Recipe adapted from "The Food of Malaysia: Authentic Recipes from the Crossroads of Asia."
Sign Up for Email Updates
Enter your email for new updates: recipes, giveaways, and more!