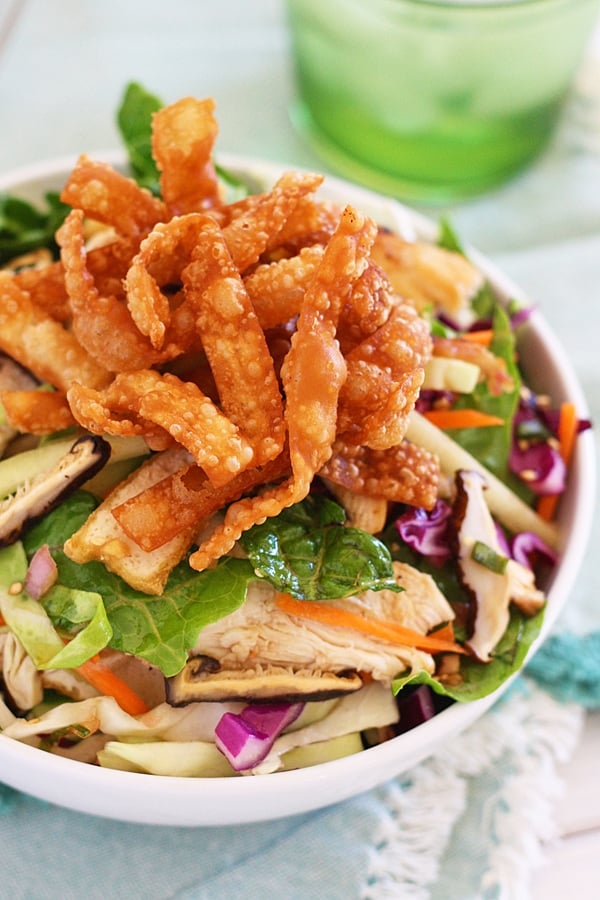 Chinese Chicken Salad Recipe
Ingredients:
3 cups mixed salad greens (1 1/2 cups bite-size romaine lettuce + 1 1/2 cups shredded green and red cabbage)
1/4 cup shredded carrots
1/2 cucumber, peeled, deseeded, and julienned
Sesame Ginger Salad Dressing
1 lb boneless, skinless chicken breast fillet
5 wonton wrappers
2 cups oil (to make crispy wontons)
Sesame Ginger Salad Dressing:
1/2 cup brown sugar
1/4 cup low-sodium or light soy sauce
1/4 cup pure sesame oil
2-inch ginger, peeled and minced
2-3 cloves garlic, peeled and minced
1 stalk scallion, cut into thin rounds
1 small shallot, peeled and minced
2 tablespoons red wine vinegar
2 tablespoons rice wine vinegar
1 teaspoon sesame seeds, lightly toasted
Whisk all the Salad Dressing ingredients together and set aside for at least 1 hour. Refrigerate until use.
Method
For Chicken:
1. Marinate chicken with a little salt, black pepper, and 2 1/2 tablespoons of Sesame Ginger Salad Dressing for 30 minutes. Discard marinade before cooking.
2. Preheat oven broiler/grill for 10 minutes.
3. Put the marinated chicken onto the broiler rack and broil for 8-10 minutes on each side, or until the meat is completely cooked. Remove chicken and cool down. Cut into thin slices.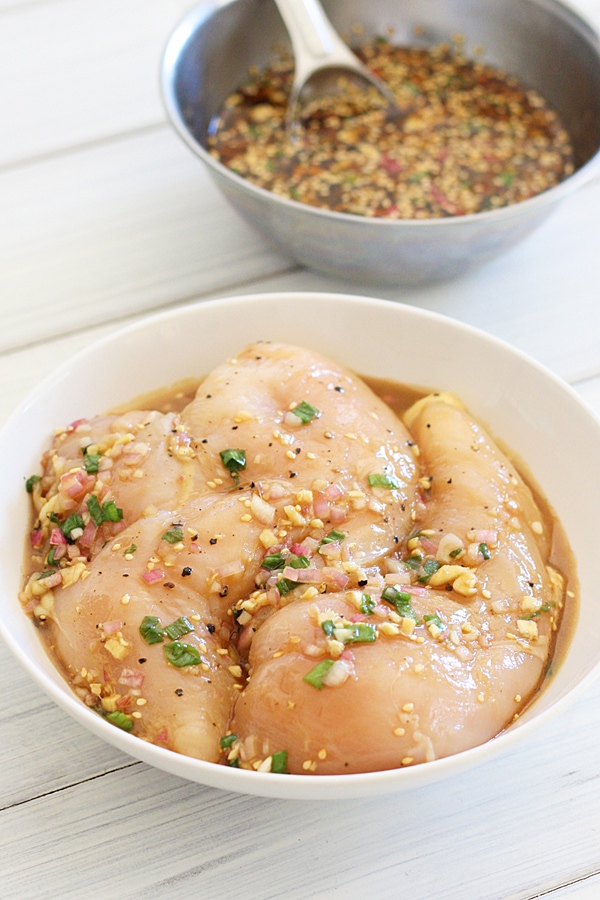 For Crispy Wontons:
1. For each wonton wrapper, cut into 8 strips.
2. Heat up oil in a wok to medium-high heat. When the oil starts to shimmer, briskly deep-fry the wonton strips until golden brown. Dish up and drain on paper towels. Cool down and store in an air-tight container.
For The Salad:
1. In a large bowl, mix the salad greens, sliced chicken, mushroom strips and tofu with generous amount of Sesame Ginger dressing. Toss well.
2. Chill for 5 minutes. Just before serving, spoon in extra Sesame Ginger Salad Dressing. Garnish with crispy wontons.
Cook's Notes:
To substitute crispy wontons, use store-bought crispy chow mein or home-made crispy rice stick noodles.
If you prefer a spicy Sesame Ginger Salad Dressing, add a teaspoon or two of chili sauce and/or chili oil to the dressing.