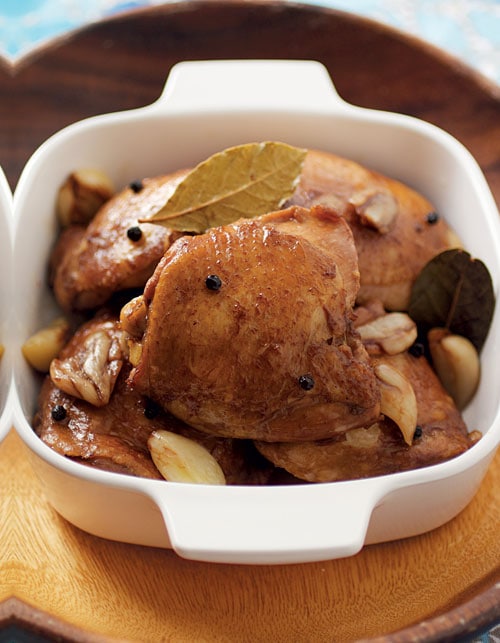 My friend Marvin Gapultos at Burnt Lumpia has come out with a new book: The Adobo Road Cookbook. I have known Marvin for many years, way back then when I first started blogging. All these years we stay connected via emails, exchanging emails once in a while. So, I am really happy that his cookbook is out and that we share the same publisher Tuttle. Marvin also asked me to write a back cover blurb for his book.
I got an early review copy of the book and fell absolutely in love with it. Marvin did a great job and shared precious knowledge and information about Filipino cooking. Every recipe comes with a colorful, well-styled and absolutely mouthwatering photo. More importantly, every recipe is accessible to the home cooks with easy-to-follow method, and some with photos guide.
When it comes to Filipino cooking, the first thing that most people would think of is adobo, the classic Filipino dish well loved by many. The most popular type of adobo is made with pork, or chicken, as featured in this classic chicken adobo recipe in The Adobo Road Cookbook. This recipe is just one of the many recipes featured in the coobook. Just look at the photo, and I am sure you want to pick up a copy and start learning and making Filipino food at home.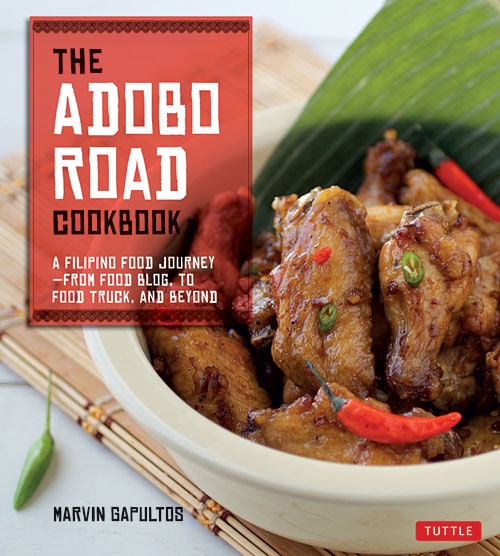 About The Adobo Road Cookbook:
The road to great Filipino food begins and ends at home. But the journey along the way introduces a combination of flavors and textures from around the world. In The Adobo Road Cookbook, Marvin Gapultos demonstrates that delicious Filipino food can be prepared anywhere–from Manila to Los Angeles and everywhere in between.
As a food blogger-turned-gourmet food trucker, Marvin interprets traditional Filipino flavors with equal parts kitchen savvy and street smarts–providing easy-to-follow, tried and true recipes that serve as a guide to the pleasures of Filipino cooking. The nearly 100 recipes in these pages pave a culinary road trip that transports home cooks to the roadside food stalls, bars and home kitchens of the Philippines, to the hungry streets of L.A., and even into the sage kitchen's of Marvin's own grandmother, mother and aunties.
A highly personal take on traditional Filipino cooking, The Adobo Road Cookbook boasts a tantalizing mix of native Filipino flavors, as well as influences from Spain, Mexico, China, and the U.S. From chapters featuring surefire entertaining foods like Filipino bar food, street food and cocktails, to a complete section of adobo recipes–both traditional and with a twist–the recipes found in The Adobo Road Cookbook express Marvin's unique approach to cooking. All of his recipes emphasize their authentic Filipino roots, taking advantage of traditional island flavors for which the Philippines is rightly renowned.
Recipes include:
Slow-Braised Pork Belly and Pineapple Adobo
Spicy Sizzling Pork (Sisig)
Salmon and Miso Sour Soup (Sinigang)
Chili Crab Spring Rolls (Lumpia)
Coconut Milk Risotto with Kabocha Squash and Long Beans
Chicken Adobo Pot Pies
Sweet Corn and Coconut Milk Panna Cotta
Gin Fizz Tropical
Banana-Nut Spring Rolls
The book is slightly over $10, so go buy a copy now at Amazon.