Firecracker Shrimp Recipe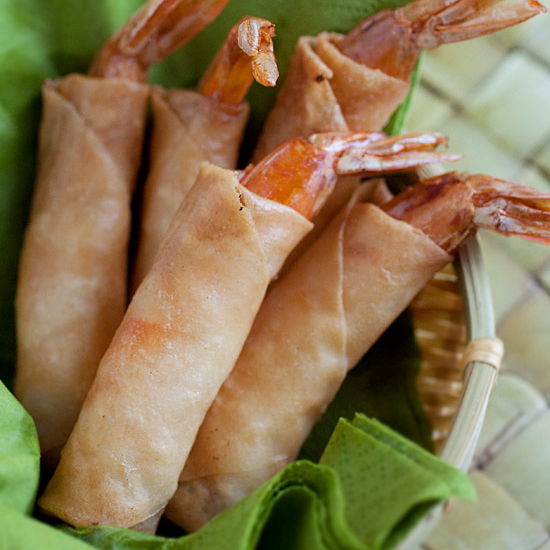 http://rasamalaysia.com/clearing-out-my-fridge-part-2/
Firecracker Shrimp Recipe
Click "Like" to Get New Recipes
and Updates on Facebook Daily!
Firecracker Shrimp Recipe
Ingredients:
20 shrimps (shelled and deveined but leave the tail on)
20 spring roll skins
1 stalk of scallion (finely chopped)
1/2 red chili (finely chopped)
Marinate:
3 inches of ginger (peeled, pounded with mortar and pestle, and squeezed for the juice)
1/8 teaspoon salt
1/4 teaspoon sugar
1/4 teaspoon lime juice
1/4 spoon of sesame oil
1/4 teaspoon of sesame seeds
1/4 teaspoon of corn starch
3 dashes of white pepper powder
1 egg white (lightly whisked for sealing purposes)
Method:
Pat dry the shrimps with paper towel and marinate with the above ingredients and the ginger juice. Add in the finely chopped scallion and red chili. Marinate for 20 minutes.
Wrap each shrimp with a spring roll skin. Heat up a frying pan with oil and deep fry the shrimp until light brown. Serve hot.
You Might Also Like These Recipes Below:
LOVE THE RECIPE & PHOTOS? PLEASE SHARE:
Sign Up for Email Updates
Enter your email for new updates: recipes, giveaways, and more!