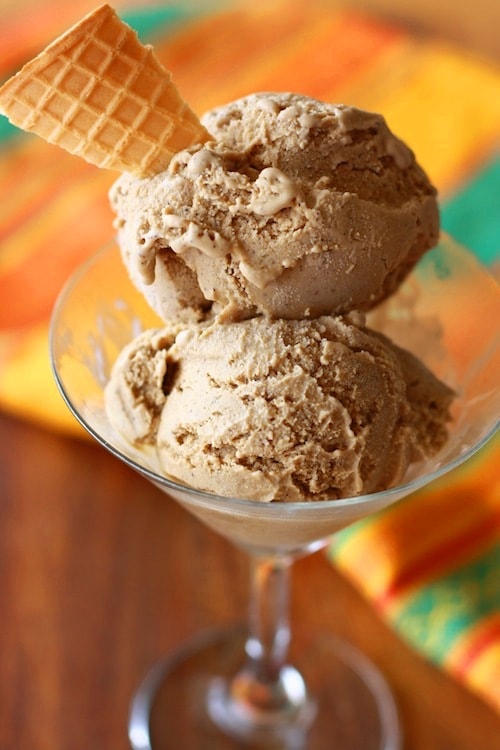 Masala Coffee (Espresso) Ice Cream Recipe
Makes about a liter of ice cream
Ingredients:
1 3/4 cups of heavy whipping cream
3/4 cup of espresso (cooled)
1 (or 2) black cardamom
3 green cardamoms
Pieces of Ceylon cinnamon bark (equal to 1 tsp of powder after grounding)
6 black peppercorns
2 clove
Dash of nutmeg
2 tsp of espresso grounds
1/2 cup of raw sugar (white or brown work fine too)
3 egg yolks
1/2 teaspoon of gelatin powder (or equivalent)
Method:
1. With a mortar and pestle, grind the pieces of Ceylon cinnamon bark until you have about a teaspoon of fine powder.
2. Crack open the black and green cardamoms and put the seeds into the mortar with the cinnamon, and set the shells to the side.  Add into the mortar – black peppercorns, clove, nutmeg, and espresso grounds – and grind up everything into a fine powder.
3. In a small pot, add the spice blend you just created, with the cream, cardamom shells and espresso (make sure the espresso has cooled to room temperature).  Using a heat resistant plastic spatula, stir frequently over medium-low heat until small bubbles appear along the edges (but don't let it boil). Should be about 10 minutes. Then turn heat off, cover, and let sit while you complete the next step.
4. In a bowl, whisk together sugar, egg yolks, and gelatin. Add a quarter of the mixture from the pot into the bowl, while constantly whisking (to prevent the eggs from cooking). Then repeat with another quarter of the mix. Finally, pour everything in the bowl back into the pot, while stirring with the plastic spatula.
5. Return the pot to the stove and heat on medium-low, stirring constantly to prevent the mixture from sticking to the bottom of the pot. Without allowing it to boil, heat until the mixture thickens enough to coat the back of a spoon (or if you have a cooking thermometer – when it reaches 180F to pasteurize the eggs). Should take about 10 minutes. Turn heat off and let sit for 5 minutes, stirring frequently.
6. Layer the bottom of a large bowl with ice cubes, and set a small metal bowl inside. Pour mixture through a strainer into the small, metal bowl.
7. Stir mixture occasionally to help cool faster. Once cool (should take about 15 minutes), transfer mixture into a plastic airtight container and place in refrigerator overnight.
8. On the following day, pour mixture into ice cream machine and churn.
9. Transfer the ice cream into a plastic container, lay plastic wrap directly on top of ice cream and press down gently (to prevent ice crystals from forming on top of the ice cream), and seal with airtight cover. Set freezer temperature to the coldest setting, so the ice cream freezes faster.
Cook's Notes:
1. The key to this spice blend is black cardamom, which is generally an ingredient in savory dishes.  However, the rich, smoky aroma of this spice adds a new dimension to coffee ice cream.
2. You can substitute cassia ('ground cinnamon' from the grocery store) for Ceylon cinnamon, but best to cut it down to 1/2 teaspoon since cassia has a much more pungent flavor.
3. You can use your normal drip coffee, but make it extra strong.
4. If you're new to making ice cream, please see my "Tips on Making Ice Cream at Home" on Season with Spice.