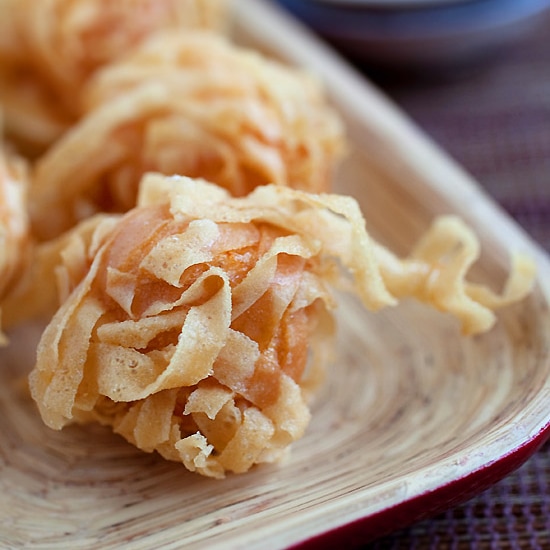 Fried Shrimp Balls
Fried shrimp balls with wonton skin. They're crispy, yummy and make a perfect appetizer. Easy fried shrimp balls recipe with simple ingredients
Ingredients:
1 lb. shrimp
1 teaspoon salt, or fish sauce
1 teaspoon sugar
1 tablespoon corn starch
1 egg white, lightly beaten
1/2 teaspoon sesame oil
1 tablespoon oil, or some pork fat
3 dashes white pepper powder
Wonton skins
Method:
Defrost, shell, and devein the shrimp. Set aside. In a mini food processor, beat the egg white until frothy and then add in the shrimp and the rest of the ingredients, except the wonton skins. Blend until the ingredients form the shrimp paste.
Cut the wonton skins into tiny strips and lay them on a flat surface. Wet your hands and form the shrimp paste into balls (slightly smaller than a ping pong ball) and roll the shrimp balls onto the bed of wonton skins. Make sure that the wonton skins coat the shrimp balls evenly. Deep fry the shrimp balls in a deep fryer or wok until they turn golden brown. Dish out and serve hot with Thai sweet chili sauce or your favorite chili sauce.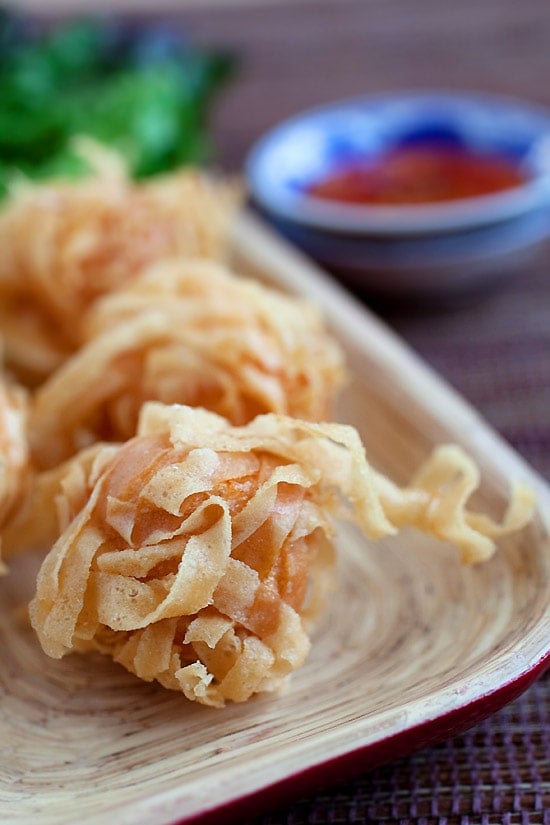 Today, I am presenting a shrimp dish—fried shrimp balls. Don't you think these shrimp balls look oh-so-adorable with the crispy wonton skin? This dish is inspired by my favorite Chinese restaurant in San Francisco—Ton Kiang, I absolutely love the place and strongly recommend it. Ton Kiang serves the best fried shrimp balls in the world, which unfortunately, something I don't get very often in the Chinese restaurants in Southern California.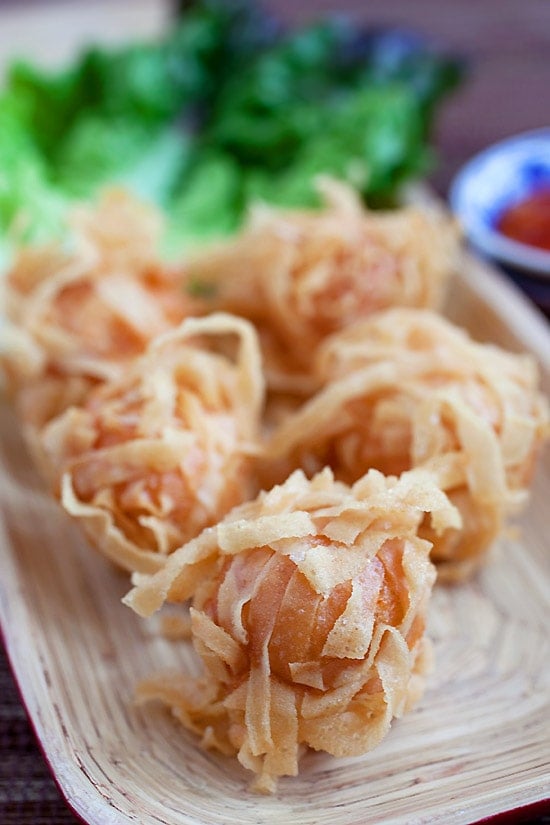 Making these fried shrimp balls was a fun exercise. First, you blend the frozen shrimp and the seasonings to form the shrimp paste. Then you cut up the wonton skin into little tiny and long strips. Wet your hands with some water, make the shrimp paste into balls, roll them over the bed of wonton strips, and off they go into a deep fryer or wok for deep-frying. Voila, you have these eye-candy shrimp balls waiting eagerly to be devoured.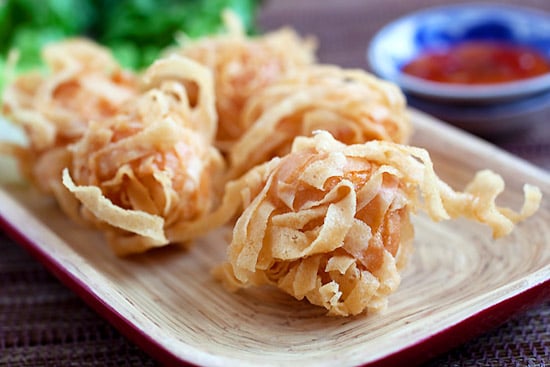 Fried shrimp ball is a great appetizer. For me, I can chow down dozens of these shrimp balls anytime of the day! They are just wonderful.