Fish Balls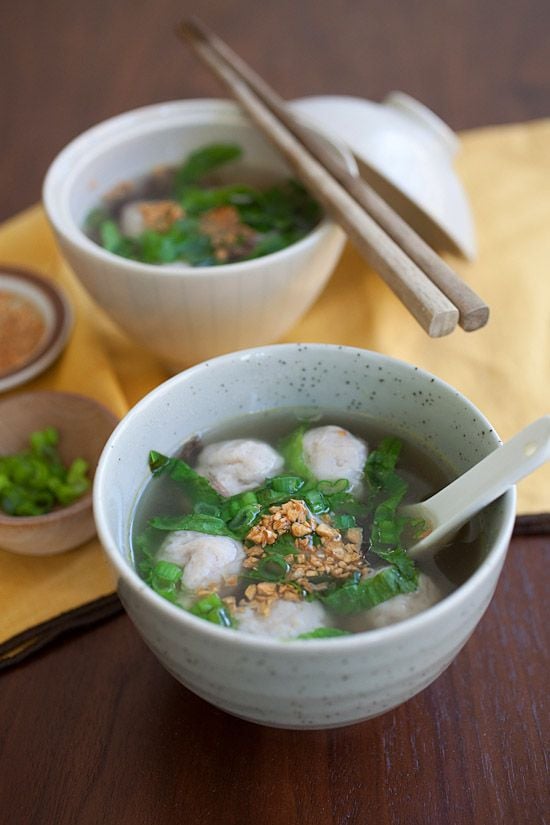 This step-by-step recipe with pictures shows you "how to make fish balls." Easy recipe for making bouncy, delicious fish balls at home.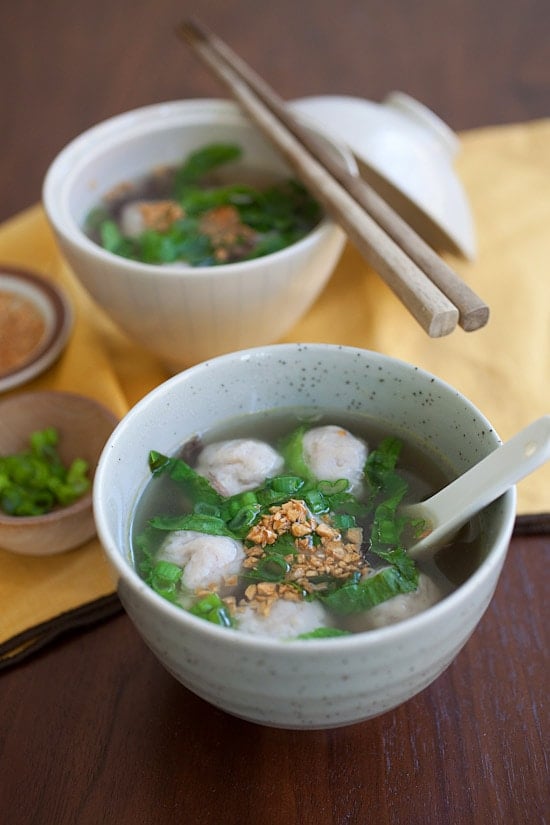 Other Recipes You Might Like
I have wanted to create this post "How to make fish balls from scratch" for the longest time…but it has taken me so long to do it. The reason is simple: the fish.
Living in Southern California, right off the Pacific coast, you would think that fresh fish is plentiful and bountiful and that I should be able to get any fish I like.
Wrong! The fish we get here in the market are not great. In fact, they are really bad considering how close we are to the ocean.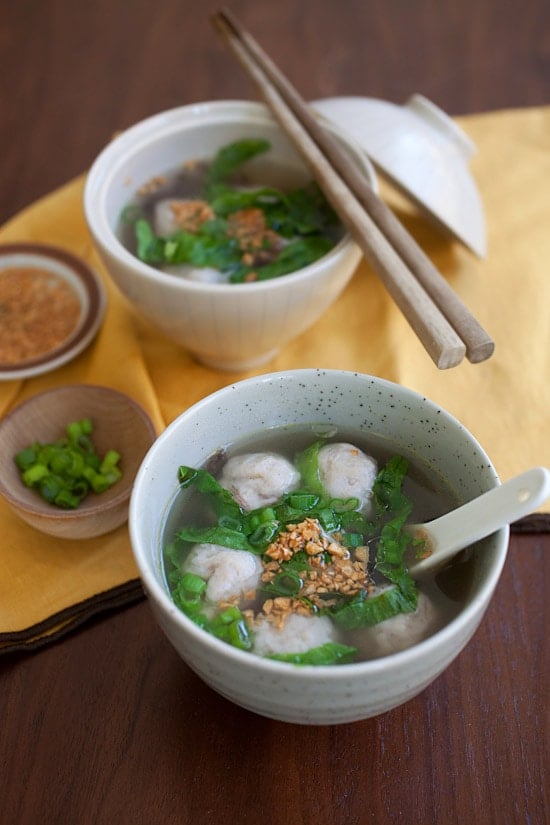 90% of the fish we get here are frozen, and most of them do not look fresh. Let's just put it this way, sometimes I wonder why people don't get sick eating the fish here.
They are really quite bad, red eyes, oozing blood, and just plain fishy. Once in a while you get some decent fish and that's when I would buy them to cook.
Otherwise, I usually eat steamed fish at Chinese restaurants, those alive ones and swimming in the tank.
Granted, I can get pretty decent salmon and deep-sea fish here but they are not what I normally like to eat. Other than that, I eat fish at Japanese restaurant.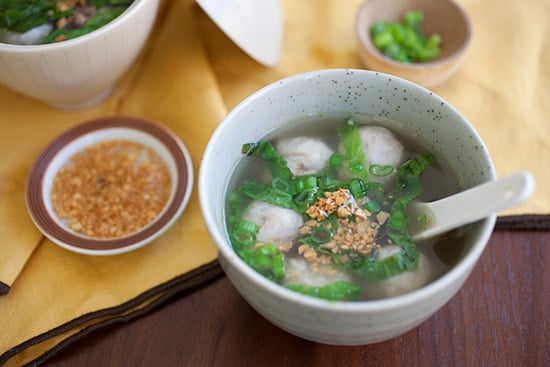 Anyway, simply put, to make fish balls from scratch, you need fresh fish so your fish balls won't be fishy, and you need certain kind of fish to give you the best and bouncy texture.
So finally, I chanced upon a big mackerel (马鲛鱼) that is great for fish balls so in this post, I will teach you the step-by-step how to make fish balls.
I will warn you that it's going to take some time but when you bite into a bouncy fish ball, you will realize that it's worth the effort. I have included step-by-step pictures in the gallery for your reference.
I will be honest I am not the best person to ask about the fish species, so check with your local fish monger if they can recommend a good fish for fish balls.
You can use mackerel (马鲛鱼), 西刀鱼 (not sure about its English name), eel (鳗鱼), etc., so please check with your fish vendors.
Please take note that the kinds of fish best for fish balls are not commonly found in western countries but you never know…so good luck!
How Many Calories per Serving?
This recipe is only 199 calories per serving.
What Dishes to Serve with This Recipe?
For a wholesome meal and easy weeknight dinner, I recommend the following recipes.
For more great recipes like this, sign up for our newsletter. We'll send daily recipes you'll love!
Join
Sign up for our newsletter!
How to Make Fish Balls
This step-by-step recipe with pictures shows you "how to make fish balls." Easy recipe for making bouncy, delicious fish balls at home.
Ingredients
1

whole mackerel with bones and head

(about 2 1/2 lbs. (1.2 kg))

2

teaspoons

salt

1

teaspoon

ground white pepper
Fish Ball Soup:
fish bones

(discard the fish head, chopped into 3 pieces)

1

can

chicken broth

4

cups

water

1

oz.

Chinese seaweed, 紫菜

1

tablespoon

soy sauce

1

teaspoon

sesame oil

white pepper and salt to taste
Fish Ball Soup Topping:
garlic oil

some shredded lettuce leaves

1

stalk scallion

(cut into rings)
Instructions
Fish Ball:
Clean the fish and rinse with cold water, pat dry with paper towels. Filet the fish along the bones from the tail up towards the head using a very sharp knife. Repeat on the other side.

Get a bowl to put the fish meat. Using a spoon, scrape the fish meat off the skin of the fish filet, from the tail upwards. Scrape until all meat is off the skin. Discard the skin. Use the spoon to scrape off the fish meat off the fish bone, too.

Place all the fish meat on a chopping board, using a Chinese cleaver (preferably) to chop the fish meat, for about 10 minutes.

The fish will become slightly sticky as you chop. Add the salt and pepper and continue chopping for another 10 minutes, the fish meat will become a fish paste.

Wet your hands with some water and take a tablespoon of the fish paste onto your palm and shape them into fish balls.
Fish Ball Soup:
Get a 5-quart soup pot, put in the chicken broth, water, and fish bones. Bring to boil over high heat, and then let it boil on low to medium heat for about 20 minutes or until the soup is flavorful.

Remove the fish bones, turn to high heat and drop the fish balls into the Soup.

Add the Chinese seaweed, soy sauce, sesame oil, salt and pepper to taste. When the fish balls float to the top, turn off the heat.

Transfer the fish balls soup into serving bowls, add the Toppings and serve immediately.
Notes
1. To view the step-by-step picture, please click on the gallery on page 1. 2. You can make the garlic oil by stir-frying some minced garlic with heated oil. 3. If you like, serve it with red chilies in soy sauce.
Nutrition

Nutrition Facts

How to Make Fish Balls

Amount Per Serving (4 people)

Calories 199

Calories from Fat 90

% Daily Value*

Fat 10g15%

Cholesterol 53mg18%

Sodium 1815mg79%

Carbohydrates 2g1%

Protein 24g48%

* Percent Daily Values are based on a 2000 calorie diet.

Notice: Nutrition is auto-calculated, using Spoonacular, for your convenience. Where relevant, we recommend using your own nutrition calculations.