Fried Rice - homemade Chinese fried rice recipe with Chinese sausage, shrimp, eggs and steamed rice. So easy, and much better than takeout.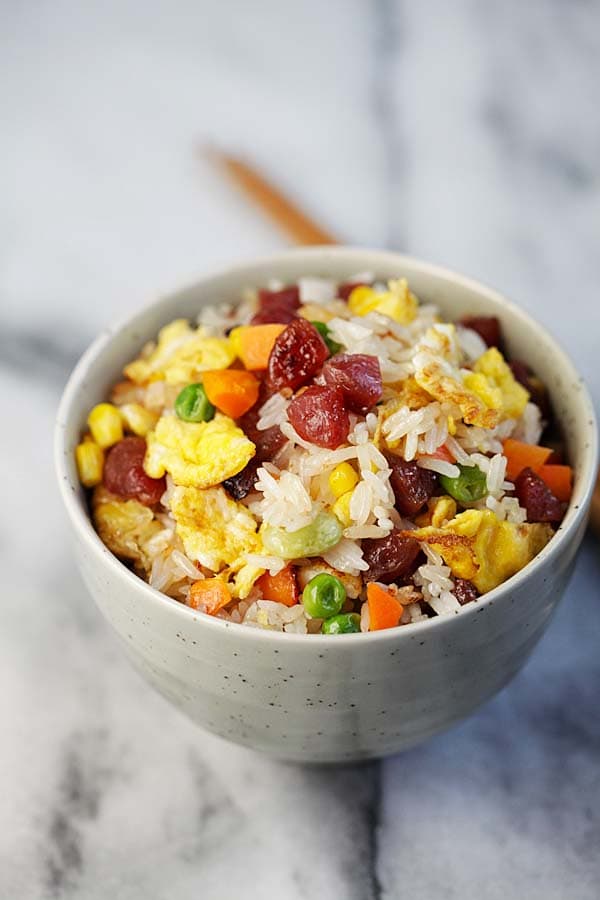 What is Chinese Fried Rice?
Fried rice is one of the most popular Chinese recipes ever.
I am sure everyone has had fried rice from takeouts or restaurants.
There are many variations of this dish; regardless of the types, fried rice fits everyone's palate and it's filling as a meal.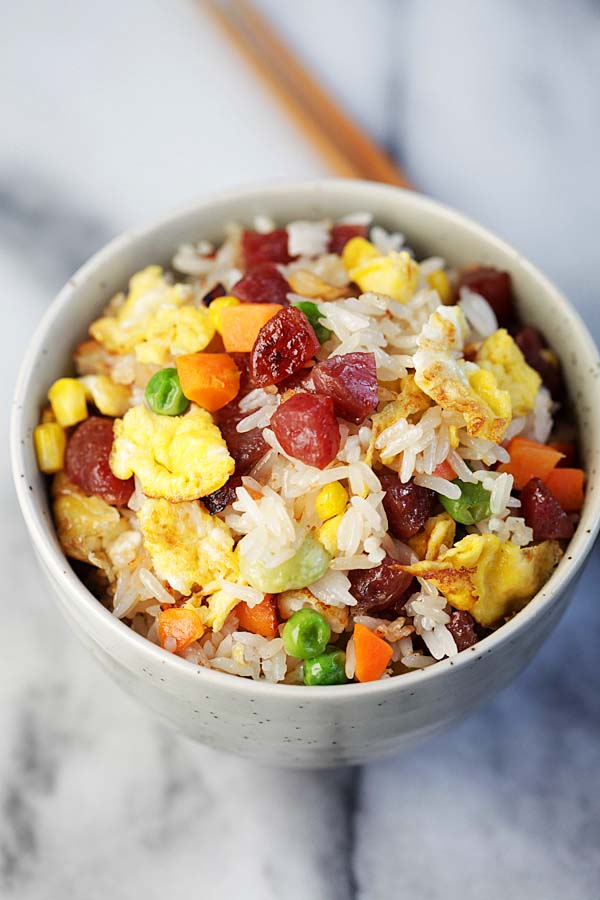 Other Recipes You Might Like
Ingredients for Chinese Fried Rice
Garlic
Chinese sausage, or lap cheong
Eggs
Frozen mixed vegetables
Steamed rice
Fish sauce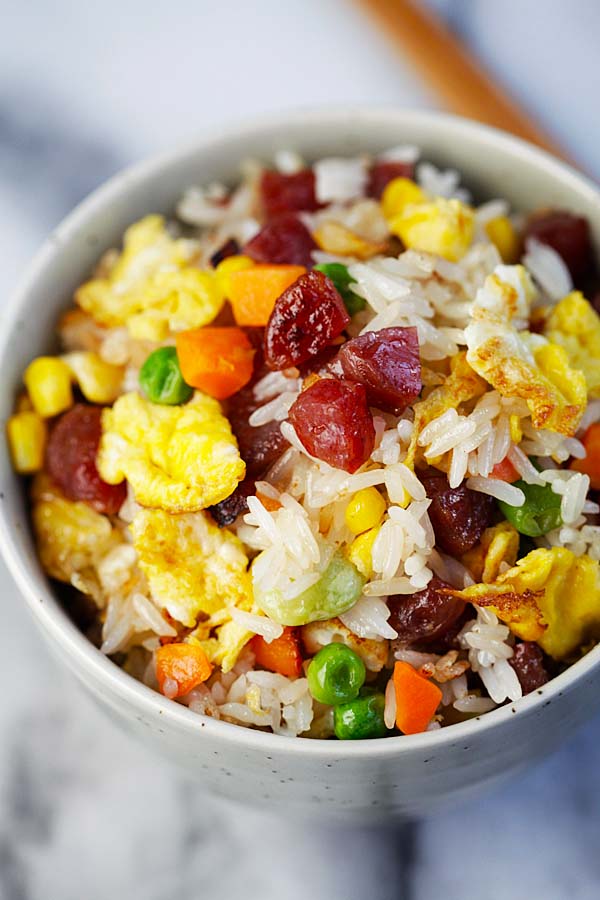 Cook's Tips
If you make steamed rice, make sure you cook extra so you will have some leftover. Keep the leftover rice in the fridge and the next day, you can turn the rice into a mouthwatering and homey fried rice that you can eat or pack to work.
You can buy Chinese sausage or lap cheong at Asian stores.
The sausage imparts an iconic flavor and aroma to the rice.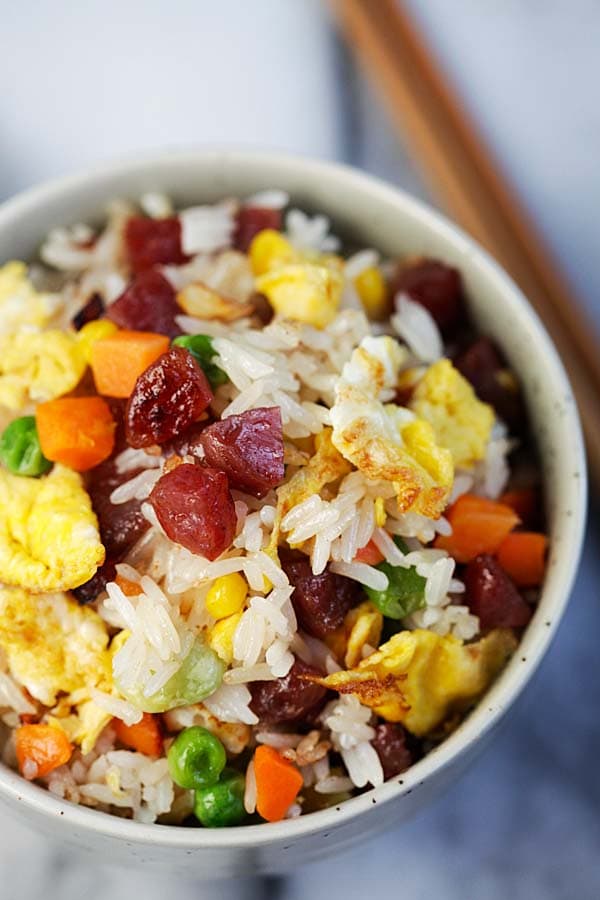 Frequently Asked Questions
What kind of rice do Chinese restaurants use?
Chinese restaurants will usually use Jasmine Rice.
How do you make fried rice with fresh rice?
Allow the rice to sit out while it's hot and give it a few minutes so that the moisture will evaporate. This way, you can still make great fried rice. As for day old rice, make sure to break it up before frying so it does not end up too chunky.
How many calories?
This recipe has 641 calories per serving.
What Dishes to Serve with this Recipe?
This dish is best served with other Chinese entrees. For a wholesome meal and easy weeknight dinner, I recommend the following recipes.
5 Secrets to 20 Min Dinners
Get tricks for quick & easy meals!
Yield: 4 people
Chinese Fried Rice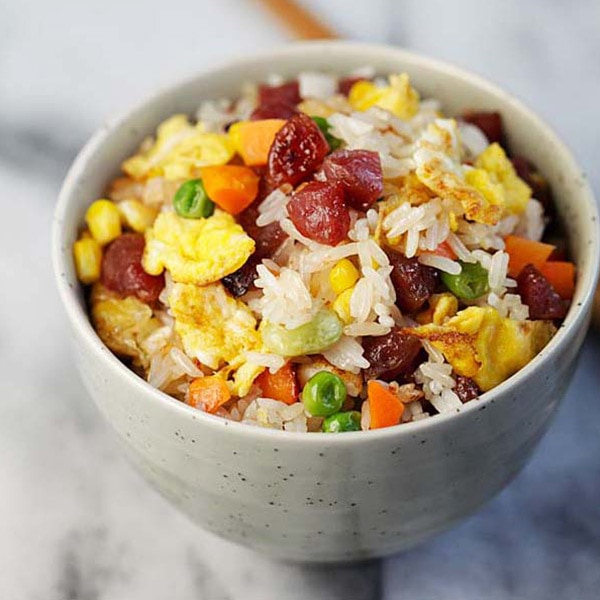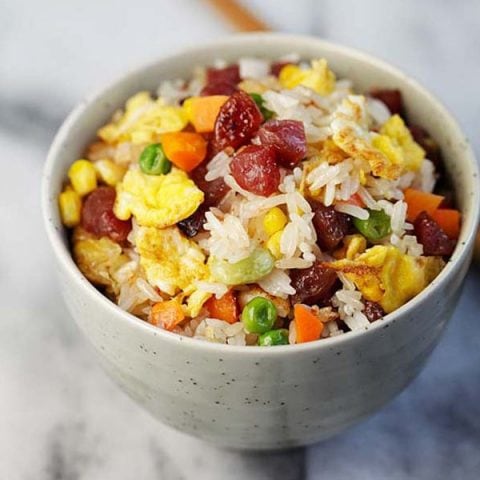 Fried Rice - homemade Chinese fried rice recipe with Chinese sausage, vegetables, eggs and steamed rice. So easy and much better than takeout.
Ingredients
2 tablespoons cooking oil
2 cloves garlic, minced
2 Chinese lap cheong sausage, cut into small pieces
2 large eggs, lightly beaten
1 cup frozen mixed vegetable, thawed
4 cups overnight, leftover steamed rice
1 tablespoon fish sauce
1 tablespoon soy sauce
3 dashes ground white pepper, or black pepper
Salt, to taste
Instructions
Heat up a wok or skillet with the cooking oil on medium heat. Add and saute the garlic until aromatic. Add the Chinese lap cheong sausage, stir and cook for about 1 minute. Add the eggs, let cook and break the eggs into pieces using spatula. Add the mixed vegetables and stir well. Add in the rice, stir to combine well with all the ingredients.
Add the fish sauce, soy sauce, ground pepper, salt and continue to stir-fry for a minute or two. As soon as the rice becomes toasty, dish out and serve immediately.
Notes
Leftover rice is ideal for making fried rice due to the lower moisture content in the rice. Freshly made rice is too "starchy" and "wet" for a good fried rice as the rice would be mushy and stick together. Leftover rice that has been refrigerated is dry and perfect for fried rice.
Nutrition Information
Serving Size
4 people
Amount Per Serving
Calories

641
Total Fat

22g
Saturated Fat

5g
Cholesterol

108mg
Sodium

1037mg
Carbohydrates

156g
Fiber

4g
Sugar

0g
Protein

25g