Hunan Chicken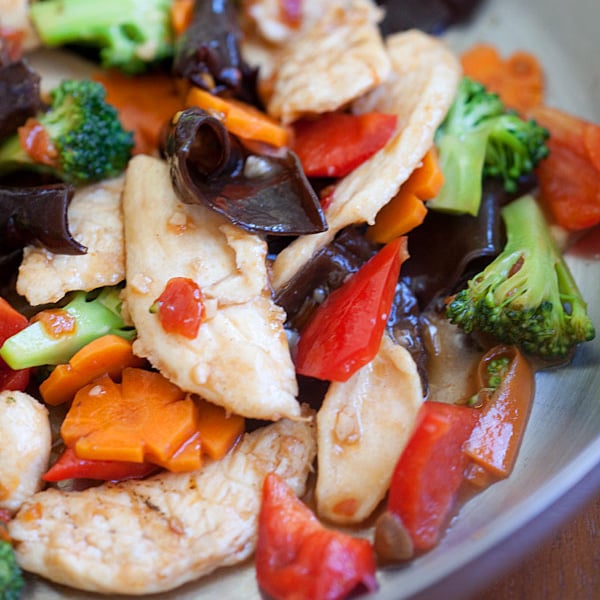 http://rasamalaysia.com/hunan-chicken-recipe/
Click "Like" to Get New Recipes
and Updates on Facebook Daily!
Hunan Chicken Recipe
Serves 2 | Prep Time: 20 Minutes | Cook Time: 10 Minutes
Ingredients:
8 oz chicken breast fillet, cut into about 1/4-inch thick slices
2 tablespoons peanut oil
2 cups mixed vegetables of your choice
(ie.broccoli florets, sliced carrots, sliced mushrooms, red bell peppers, etc.)
2 oz dry black fungus, optional (soaked in water and drained)
2-3 cloves garlic, minced
5 tablespoons Hunan Sauce
1 tablespoon Chinese cooking wine (dry Sherry wine, Shaoxing, etc.)
Salt and sugar as per taste
Marinade:
1 egg white, beaten
1/2 teaspoon cornstarch
A dash of ground white pepper
1/2 teaspoon salt
Hunan Sauce:
Yields 2/3 cup
1/4 cup chicken broth
1 tablespoon light soy sauce
2 tablespoons oyster sauce
3 tablespoons chili bean sauce (Spicy Toban Djan aka Spicy fermented soybean and broad bean sauce)
2 1/2 tablespoons ketchup
1/2 teaspoon apple cider vinegar
1 1/2 tablespoons sugar
2 dash of ground white pepper
1 teaspoon cornstarch
Method:
Prepare marinade in a bowl and mix well. Marinate chickene and set aside for 10 minutes.
Make Hunan Sauce. In a seperate bowl, mix in all the Hunan Sauce ingredients. Set aside until further use.
In a wok, heat 1/3 cup of oil to smoky hot, gently drop in marinated chicken slices, briskly fry for 30 seconds, or until the chicken turns silky white on surface and still pink on the inside. Dish out, drain on paper towel and set aside. Reserve 2 tablespoons of oil for stir-fry later.
Heat up oil in wok over high heat, stir-fry minced garlic until lightly browned and fragrant. Toss in mixed vegetables, black fungus and continue to stir-fry for 2 minutes.
Toss in the chicken, put 5 tablespoons of Hunan Sauce seasoning and mix well. Add in cooking wine, stir well, cover wok and simmer for about 1-2 minutes, or until chicken is completely cooked. Add extra Hunan Sauce, if needed, and adjust salt and sugar as per taste. Dish up and serve with hot steamed rice.
Cook's Note:
Extra Hunan Sauce seasoning may be stored in refrigerator for other stir-fry recipes.
Click Images Below for Similar Recipes:
LOVE THE RECIPE & PHOTOS? PLEASE SHARE:
Sign Up for Email Updates
Enter your email for new updates: recipes, giveaways, and more!