Ice Kacang/ABC (Malaysian Shaved Ice)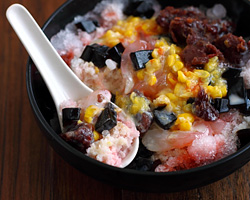 http://rasamalaysia.com/ice-kacang-abc-malaysian-shaved-ice/
Ice Kacang/ABC (Malaysian Shaved Ice)
Other than BBQ, my summer favorite has got to be shaved ice—a thirst quencher and lovely dessert for the hot summer days. Shaved ice is very popular in Malaysia; called Ice Kacang (in Penang) or simply ABC elsewhere in Malaysia, it's a popular dessert commonly sold by street vendors. In a hot and humid country like Malaysia, nothing beats the icy cold and pleasant dessert that soothes the throat and cools down the body. Plus, everyone loves the sweet-tasting shaved ice, with numerous toppings such as red beans, creamy sweet corn, grass jelly, attap chee (palm nuts), etc. You can also add ice cream, fruits, peanuts, and/or raisins…
The version I made this afternoon is the most common ones found in Penang. I would have used some palm sugar or gula melaka to flavor the ice kacang but I ran out of it. As a result, I used dark brown sugar instead, and added a little red coloring as ice kacang is always red in color.
Shaved ice has certainly become more popular in the United States now, with Chinese (Taiwanese) dessert shops sprouting all over Chinatown or Asian suburbs. It's a great alternative to the likes of frozen yogurt, ice cream, or sorbet. Try it out!
Sign Up for Email Updates
Enter your email for new updates: recipes, giveaways, and more!